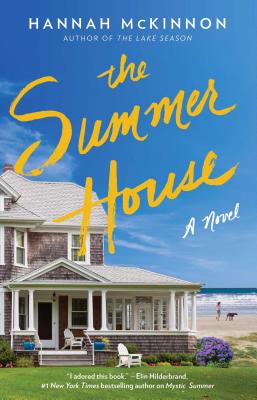 The Summer House
A Novel
Paperback

* Individual store prices may vary.
Description
When Flossy Merrill summons her children to the beloved family beach house to celebrate their father's eightieth birthday, both cherished memories and long-kept secrets come to light in this charming and lyrical novel from the author of The Lake Season and Mystic Summer.

Flossy Merrill has managed to—somewhat begrudgingly—gather her three ungrateful grown children from their dysfunctional lives for a summer reunion at the family's Rhode Island beach house. Clementine, her youngest child and a young mother of two small children, has caused Flossy the most worry after enduring a tragically life-altering year. But Samuel and his partner Evan are not far behind in their ability to alarm: their prospective adoption search has just taken a heart-wrenching turn. Only Paige, the eldest of the headstrong Merrill clan, is her usual self: arriving precisely on time with her well-adapted teens. Little does her family know that she, too, is facing personal struggles of her own.

No matter. With her family finally congregated under one seaside roof, Flossy is determined to steer her family back on course even as she prepares to reveal the fate of the summer house that everyone has thus far taken for granted: she's selling it. The Merrill children are both shocked and outraged and each returns to memories of their childhoods at their once beloved summer house—the house where they have not only grown up, but from which they have grown away. With each lost in their respective heartaches, Clementine, Samuel, and Paige will be forced to reconsider what really matters before they all say goodbye to a house that not only defined their summers, but, ultimately, the ways in which they define themselves. Featuring McKinnon's "sharp and evocative" (Kirkus Reviews) voice, this warm-hearted novel is perfect for fans of Elin Hilderbrand and Mary Alice Monroe.
Praise For The Summer House: A Novel…
"Completely absorbing . . . Sure to appeal to fans of Elin Hilderbrand and Dorothea Benton Frank, THE SUMMER HOUSE is an intriguing glimpse into a complicated yet still loving family."
— Shelf Awareness

"A crisis, unforgettable characters, and dramatic secrets make this book resonate long after the last page is turned."
— RT Book Reviews

"Charming and warm-hearted."
— Popsugar

"McKinnon bottles summer escapist beach reading in her latest, full of sunscreen-slathered days and bonfire nights. Fans of Elin Hilderbrand and Mary Alice Monroe will appreciate the Merrill family's loving dysfunction, with sibling rivalries and long-held grudges never far from the surface. This sweet-tart novel is as refreshing as homemade lemonade."
— Booklist

"Beach read veteran Hannah McKinnon returns with a summer family drama that needs to be in your straw tote bag immediately."
— Bookstr

"The Summer House by Hannah McKinnon is a classic family drama that made me long for a summer at a beach house with my own family."
— A Book Junkie Reviews

"I loved both of the author's previous books, and The Summer House did not disappoint! . . . The Summer House should definitely be on your summer reading list this year--it is a delightful read!"
— Palmer's Page Turners

"When two roads diverge. . . take the one that leads to the beach! Hannah McKinnon delivers a charming gem of a novel in Mystic Summer. I adored this book."
— Elin Hilderbrand, #1 New York Times bestselling author of The Rumor

"Hannah McKinnon's Mystic Summer is a heartwarming story of lost love and the against-all-odds chance of finding it again. . .Mystic Summer is a lovely summer beach read that will keep readers turning the page until the very end!"
— Nan Rossiter, New York Times Bestselling Author of Under a Summer Sky

"Hannah McKinnon's new book reminds readers that the right choice isn't always the logical one. Beautifully written, Mystic Summer blends the simple allure of past summers with the messiness of the present. It's the perfect summer read—any time of the year."
— Amy E. Reichert, Author of Luck, Love & Lemon Pie

"Hannah McKinnon's The Lake Season is a pure delight. Iris Standish is such an appealing woman, handling an overload of family calamities with good sense and good will, not to mention a few really good times. It's a bonus that the setting on Lake Hampstead is as enticing and refreshing as McKinnon's voice."
— Nancy Thayer, New York Times bestselling author of Nantucket Sisters

"McKinnon's voice is sharp and evocative…Making use of a gorgeous setting and serious themes, this novel rises above a flock of fluffier beach reads."
— Kirkus on THE LAKE SEASON

"If you enjoy a novel with a gorgeous setting and a side of dark family secrets, you will enjoy The Lake Season, which I recommend to fans of Nancy Thayer and Elin Hildebrand."
— Confessions of a Book Addict on THE LAKE SEASON

"Two sisters, a glittering New England lake, and one desperate, last-chance summer set the stage for Hannah McKinnon's emotionally affecting new novel, The Lake Season. The story features the complex Iris and her unpredictable sister Leah but its power extends well beyond the beautiful, heartbreaking bond between these two women. A memorable rumination on life, loss, and how to find a path home."
— Michelle Gable, nationally bestselling author of A Paris Apartment

"Family and secrets colliding at a lakeside wedding…[a] must-read."
— Cosmopolitan on THE LAKE SEASON

"This is a beautiful tale of sisters, a heartfelt journey of truth and choices that will leave you deeply satisfied."
— Linda Francis Lee, bestselling author of The Glass Kitchen

"Hannah McKinnon's lyrical debut tells the story of a pair of very different sisters, both at a crossroads in life. McKinnon's great strength lies in her ability to reveal the many ways the two women wound - and ultimately heal - each other as only sisters can."
— Sarah Pekkanen, New York Times bestselling author

"Fans of Debbie Macomber and those looking for a great summer read will enjoy this first foray into adult fiction by McKinnon (Franny Parker; The Properties of Water)...the story features engaging character development and an on-again, off-again romance that will keep readers intrigued."
— Library Journal on THE LAKE SEASON

"Charming and heartfelt! Hannah McKinnon's The Lake Season proves that you can go home again; you just can't control what you find when you get there."
— Wendy Wax, nationally bestselling author

"Seasons of change take us home to the places and the people who shelter us. Well-told, and in turns sweet and bare, The Lake Season offers a compelling tale of family secrets, letting go, and the unbreakable bonds of sisterhood."


— Lisa Wingate, Nationally Bestselling Author

"The Lake Season is one of those rare gems of a book that's both impossible to put down and emotionally complex. Do yourself a favor and put The Lake Season on your summer reading list: you'll love getting to know Iris Standish and her family and Hannah McKinnon's writing is so beautifully evocative that even the most landlocked of readers will swear s/he can smell the fresh New England summer air."
— L. Alison Heller, author of The Never Never Sisters

"This warm-hearted novel is perfect for fans of Elin Hilderbrand and Mary Alice Monroe."
— Mrs. Leif's Two Fangs About It

"The sibling rivalries, parental stresses, childhood drama, family traditions, captivating memories, hidden secrets, and life tragedies were all told in such a way that it felt like this family was familiar. I grew to love each and every character."
— Goodreads, 4 Stars
Atria/Emily Bestler Books, 9781501162800, 336pp.
Publication Date: June 6, 2017
About the Author
Hannah McKinnon is the author of nine novels, including The Lake Season, Mystic Summer, The Summer House, Sailing Lessons, The View from Here, Message in the Sand, and The Darlings. She graduated from Connecticut College and the University of South Australia. She lives in Connecticut, with her family, a flock of chickens, and two raggedy rescue dogs.