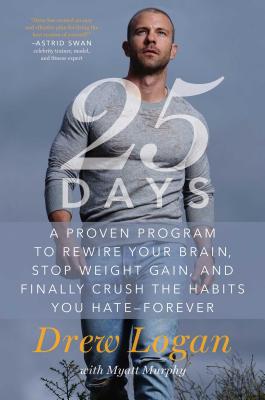 25Days (Hardcover)
A Proven Program to Rewire Your Brain, Stop Weight Gain, and Finally Crush the Habits You Hate--Forever
Gallery Books, 9781501162985, 288pp.
Publication Date: September 12, 2017
Other Editions of This Title:
Paperback (9/11/2018)
* Individual store prices may vary.
Description
Celebrity trainer and cast member of NBC's Strong, Drew Logan shows us how to rewrite our neurological patterns and break the habits that prevent us from losing weight and living a healthy life.

What if we could train our brains to stop weight gain in our quest to be lean, healthy, and fit?

Well, we can.

Celebrity trainer and cast member of NBC's Strong, Drew Logan knows firsthand how the brain affects our ability to perform and function at our best. After dying three times in three hours—becoming the world's only known medical case to survive three sudden cardiac arrests—he lost his short-term memory. He could no longer follow the complicated diet and fitness regimens he'd used on himself and his clients. He needed to create something simpler. He was shocked to discover that the resulting program was even more effective than his complicated regime of the past.

In 25 Days, Drew outlines a unique, multifaceted approach that helps readers rewrite their neurological patterning—what lies underneath those pesky habits that get in our way over and over again—so that the brain's neural pathways, biochemistry, and hormones work together effectively, seamlessly, and efficiently. He defines what neurological patterns are, how they form, and the reason they're secretly behind why most people fail to lose weight and get in shape. He breaks down these "unhealthy" patterns and shows how to erase them by creating healthier ones with diet, exercise, and a reward system. Included in the book are the 25 Days Grading System, Diet, and Workout Plan, as well as tools that will alert and assist readers throughout the book.

25 Days is one of the easiest—and effective—diets to follow, and Drew will show you that all you need is to adjust your diet and retrain your brain to be in peak shape.
About the Author
Drew Logan is a renowned exercise and nutrition expert, celebrity trainer, and cast member of NBC's hit TV show Strong. Logan also speaks nationally on health, nutrition, fitness, motivation, overcoming obstacles, weight loss, and taking responsibility for reaching one's full potential. His celebrity client base includes Keith Urban, Lance Bass, and Nazr Mohammed, and his expertise has been called upon for projects including The Hunger Games, The Flash, The Vampire Diaries, and Quantico. A former consultant for the United States Marines, Logan is currently a spokesperson for the Cedars-Sinai Heart Institute and has made it his mission to raise awareness about heart disease and sudden cardiac arrest. He is the only known medical case to ever survive three SCAs (sudden cardiac arrests). He wears an implanted cardiac defibrillator device to monitor his heart function and has a very special heart therapy service dog, Lucky, who works with Drew twenty-four hours a day.

Myatt Murphy is a journalist who has written for many of the world's top publications, including Better Homes and Gardens, Men's Health, Women's Day, and Cooking Light. He is the author of many best-selling books—including The Body You Want in The Time You Have, Ultimate Dumbbell Guide, and the Men's Health Gym Bible—and has also written books for many of today's top lifestyle specialists, including Harley Pasternak, Gunnar Peterson, and Jenna Wolfe.
Praise For 25Days: A Proven Program to Rewire Your Brain, Stop Weight Gain, and Finally Crush the Habits You Hate--Forever…
"A good trainer can change your body, but a GREAT trainer can change your life…Drew Logan changed my life! 25Days will change YOUR life!"

— Bruno Gunn, Actor (The Hunger Games: Catching Fire, Westworld, Sons of Anarchy)

"Drew tells it like it is. No double-talk. No pulling punches. No gimmicks or nonsense. The 25Days workout is awesome, the food is great, and the methods for re-programming your habits are smart...I love it!

— Kim Lyons (Celebrity Fitness Expert, Biggest Loser Trainer, IFBB Fitness Pro, Fit Mom)

"25Days is the ultimate tool for fitness. Drew's practical and precise methods are, all at once, efficient and effective. He's able to break down and demystify the process of getting into your best shape; both physically many fit and healthy people."

— Jesse L. Martin, Actor (RENT, Law & Order, The Flash)

"Despite daily physical and psychological reminders of his SCA, Drew works hard to deliver an invigorating shock to anyone looking to transform their body! In 25Days…he succeeds!

— Jeff Ricks, M.D. (3 Combat Tour Veteran, Emergency Medicine/Mass Casualty & Trauma Expert)

"Drew is one of the toughest trainers I ever had as a professional athlete. He really knows his stuff, and I am thrilled to see him putting that knowledge in 25Days for everyone to read!"

— Nazr Mohammed (18yr NBA Veteran and World Champion)

"I LOVE the message of 25Days, as well as the simplicity of Drew's programming. Too often we look for quick fixes that don't last but Drew has created an easy and effective plan for living the best version of yourself!"

— Astrid Swan (Celebrity Trainer, Model, Fitness Expert)

"…a true Master can strip away the nonsense and focus on the details that are responsible for success! In 25Days, Drew masterfully guides the reader towards self discovery & empowerment by making getting in the best shape of your life and attainable goal that can last FOREVER! This is more than a valuable tool…it is an indispensable guide!"

— Robert Cabral (7th degree Martial Arts Master, Founder Bound Angels Foundation)

"There a very few people in our line of work that I consider a peer 100% across the board, but Drew Logan is one of them. In 25Days, Drew shows why he is one of the top elite professionals in the fitness industry by teaching you how working smarter, not just harder, can change your life forever!"

— Bennie Wylie Jr., Strength Coach (Dallas Cowboys, University of Texas, University of Tennessee, NBC Strong Trainer)

"Without Drew, I would not have the amazing and fulfilling career I am now enjoying! I fulfilled my potential because Drew gave me the tools to get me where I wanted to go & beyond - If there is anyone capable of changing your life, it's this guy! 25Days will change your life in ways you never dreamed…GET THIS BOOK!"

— Rick Cosnett, Actor (Vampire Diaries, The Flash, Quantico)

"Drew Logan is a rare force of nature! His 25Days book is a proven approach to get your mind and body right. If you want an innovative, no nonsense, creative program to get you great results in little time…read this book!"

— Todd Durkin, Trainer/Author/Speaker (Founder FitnessQuest 10, The WOW book, IMPACT body plan, Under Armour Lead Fitness Advisor)
or
Not Currently Available for Direct Purchase