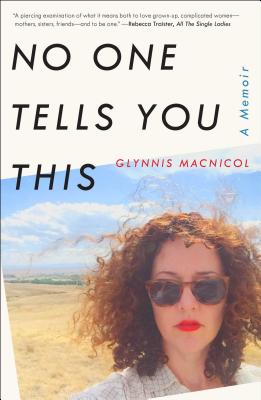 No One Tells You This
A Memoir
Hardcover

* Individual store prices may vary.
Other Editions of This Title:
Digital Audiobook (7/9/2018)
Paperback (7/16/2019)
Compact Disc (7/10/2018)
Description
"I found myself underlining sentences, and then entire passages, that resonated with me, articulating the extreme inadequacy and sense of dislocation single women of a certain age, like MacNicol—and like me —experience in moments when others are growing closer without you…an anthem to choosing the single, family-free life."—Amanda Stern, The New York Times Book Review

BuzzFeed: "Exciting Summer Books"
Goop: "15 Books We're Reading This Summer"
Vogue.com: "13 Books to Thrill, Entertain, and Sustain You This Summer"
Bustle: "15 Best Nonfiction Books Coming Out In July 2018"
Town & Country: "Best New Books to Read This July"
Elle.com: "The 40 Best Books to Read This Summer"
InStyle: "11 Books to Bury Your Nose in This Summer"

If the story doesn't end with marriage or a child, what then?

This question plagued Glynnis MacNicol on the eve of her 40th birthday. Despite a successful career as a writer, and an exciting life in New York City, Glynnis was constantly reminded she had neither of the things the world expected of a woman her age: a partner or a baby. She knew she was supposed to feel bad about this. After all, single women and those without children are often seen as objects of pity, relegated to the sidelines, or indulgent spoiled creatures who think only of themselves.

Glynnis refused to be cast into either of those roles and yet the question remained: What now? There was no good blueprint for how to be a woman alone in the world. She concluded it was time to create one.

Over the course of her fortieth year, which this memoir chronicles, Glynnis embarks on a revealing journey of self-discovery that continually contradicts everything she'd been led to expect. Through the trials of family illness and turmoil, and the thrills of far-flung travel and adventures with men, young and old (and sometimes wearing cowboy hats), she is forced to wrestle with her biggest hopes and fears about love, death, sex, friendship, and loneliness. In doing so, she discovers that holding the power to determine her own fate requires a resilience and courage that no one talks about, and is more rewarding than anyone imagines.

Intimate and timely, No One Tells You This is a fearless reckoning with modern womanhood and an exhilarating adventure that will resonate with anyone determined to live by their own rules.
Praise For No One Tells You This: A Memoir…
PRAISE FOR NO ONE TELLS YOU THIS

"No One Tells You This takes readers from Canada to New York to Wyoming in its mapping of contemporary adulthood, unmoored from the institutions that once defined it for women. Wrestling with loneliness, independence, grief and exhilaration, MacNicol offers a piercing examination of what it means both to love grown-up, complicated women—mothers, sisters, friends, intergalactic princesses—and to be one."

—Rebecca Traister, author of All The Single Ladies

"Revealing as a three-martini lunch with a smart friend, this candid memoir shows a woman choosing to live happily (if also conflictedly) ever after on her own."

—Ada Calhoun, author of Wedding Toasts I'll Never Give

No One Tells You This is the story of a woman living by her own rules—alone—and having the audacity to enjoy it. Glynnis lays bare the complexity of being a woman on her own in the world, in all its heartbreak, humor and, yes, joy."

—Jessica Bennett, author of Feminist Fight Club

"Glynnis has written a book that is honest, hilarious and raw—it misses nothing. Her voice literally jumps off the page and becomes your friend, sister, caretaker, asskicker."

—Alyssa Mastromonaco, author of Who Thought This Was a Good Idea

"Glynnis MacNicol generously imparts the kind of wisdom we are usually so loathe and suspicious to receive. She doesn't proselytize, she doesn't pander, she doesn't beat you over the head with inspirational buzzwords. She simply tells the truth about her life. In my 20s, I was too dumb and terrified to articulate my desires. In my 30s, my fear is that society won't let me become the woman I want to be. This is the blueprint."

— Aminatou Sow, co-host of the Call Your Girlfriendpodcast


"Beguiling"—Washington Post

"Sharp, intimate… Unapologetic in her embrace of the ups and downs of the improvised solo life, MacNicol offers a refreshing view of the possibilities—and pitfalls—personal freedom can offer modern women. A funny, frank, and fearless memoir."
—KIRKUS REVIEWS

"A memoir that will help women of all ages and life circumstances understand the experience of today's single-and-joyful woman."
—BOOKPAGE

"No One Tells You This is the most empowering memoir you'll read all summer."

—Hello Giggles

"Rapturous. Enjoying every line!"
—Sally Kohn, ReadItForward.com

"How does the single, middle-aged woman live when she's not relegated to the role of the cautionary tale, the punchline spinster, the wacky aunt whose family suffers her visits out of equal parts love and pity? In No One Tells You This, MacNicol forges her own storyline, drawing power from herself. It's a year of dating unabashedly, traveling freely, surviving grief, and redefining family. That she lets us in on this journey is a gift."
—BuzzFeed

"Sharp, hilarious, enthralling…This book is an essential read for women who both are and aren't checking off all the boxes we're told we're supposed to."
—NYLON

Journalist Glynnis MacNicol has written one of the most frank and refreshing stories about turning forty without a husband or a baby. She manages to both entertain and challenge the reader as she grapples with the best and worst parts of choosing not to build her life around a traditional family. It's smart and hilarious and exactly as nuanced as you want it to be."
—GOOP

"Amid the raft of motherhood memoirs out this summer, it's refreshing to read a book unapologetically dedicated to the fulfillment of single life. Like a more zoomed-in chapter from Rebecca Traister's All the Single Ladies, MacNicol's offering is a personable, entertaining reflection on the author's 40th year. Though she is known for her exacting, emotional, and poignant writing on things like career burnout and parental illness, as well as founding the women's networking organization The List, this memoir allows MacNicol a broader and looser canvas."
—VOGUE.com

"Engaging and honest...MacNicol is relatable, and the joy she finds in her life, lived on her own terms, is striking."
—BOOKLIST
Simon & Schuster, 9781501163135, 304pp.
Publication Date: July 10, 2018
About the Author
Glynnis MacNicol is a writer and cofounder of The Li.st. Her work has appeared in print and online for publications including Elle.com (where she was a contributing writer), The New York Times, The Guardian, Forbes, The Cut, Daily News (New York), W, Town & Country, The Daily Beast, mental_floss, and Capital New York. Her series of articles on the Brownsville neighborhood in Brooklyn for Chase's award-winning "From the Ground Up" package won a 2015 Contently Award. She is the author of the memoir No One Tells You This and the coauthor of There Will Be Blood, a guide to puberty, with HelloFlo founder Naama Bloom. She lives in New York City.
or
Not Currently Available for Direct Purchase