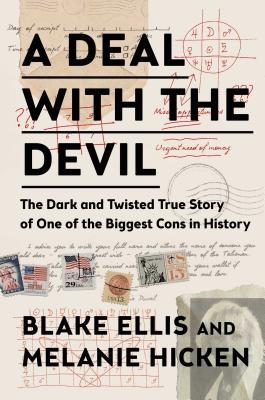 A Deal with the Devil (Hardcover)
The Dark and Twisted True Story of One of the Biggest Cons in History
Atria Books, 9781501163845, 304pp.
Publication Date: August 7, 2018
Other Editions of This Title:
MP3 CD (8/31/2018)
Compact Disc (8/31/2018)
Pre-Recorded Audio Player (11/7/2018)
* Individual store prices may vary.
Description
In this spellbinding true story, a pair of award-winning CNN investigative journalists track down the mysterious French psychic at the center of an international scam targeting the elderly and emotionally vulnerable, resulting in an exposé of one of the longest running cons in history.

While investigating financial crimes for CNN Money, Blake Ellis and Melanie Hicken were intrigued by reports that elderly Americans were giving away thousands of dollars to mail-in schemes. With a little digging, they soon discovered a shocking true story.

Victims received personalized letters from a woman who, claiming amazing psychic powers, convinced them to send money in return for riches, good health, and good fortune. The predatory scam has continued unabated for decades, raking in more than $200 million in the United States and Canada alone—with investigators from all over the world unable to stop it. And at the center of it all—an elusive French psychic named Maria Duval.

Based on the five-part series that originally appeared on CNN's website in 2016 and was seen by more than three million people, A Deal with the Devil picks up where the series left off as Ellis and Hicken reveal more bizarre characters, follow new leads, close in on Maria Duval, and connect the dots in an edge-of-your-seat journey across the US to England and France. A Deal with the Devil is a fascinating, thrilling search for the truth and is long-form investigative journalism at its best.
About the Author
Blake Ellis lives in Denver and is a graduate of Kenyon College in Gambier, Ohio. With Melanie Hicken, she is an award-winning investigative journalist with CNN. Their investigations have uncovered everything from nursing home abuse to widespread consumer fraud.

Melanie Hicken lives in Los Angeles and is a graduate of Syracuse University's Newhouse School and New York University. With Blake Ellis, she is an award-winning investigative journalist with CNN. Their investigations have uncovered everything from nursing home abuse to widespread consumer fraud.
Praise For A Deal with the Devil: The Dark and Twisted True Story of One of the Biggest Cons in History…
"A Deal with the Devil is one of those can't-believe-it, can't-put-down books. Blake Ellis and Melanie Hicken draw you in from the first page and, before you know it, you've sunk deep into the heart of a labyrinthine investigation that raises bigger questions about greed, manipulation and the desperate hunger to believe."
— Megan Abbott, Edgar-winning author of Give Me Your Hand and You Will Know Me

"An engaging, quick-paced read, loaded with twists, turns, consiracies, and secrets galore."

"A Deal with the Devil shows the power of investigative journalism."

"An entertaining exposé of an epic episode from the chronicles of consumer fraud."

"This page-turner is the product of a remarkable, in depth pursuit of a fraud perpetrated on the weakest among us. The victims aren't anyone you'd know...or are they? On behalf of society' most vulnerable and voiceless, Ellis and Hicken travel to dusty towns and dig deep into obscure records to find the perpetrators of a silent but devastating crime. In the telling of their story, they weave a cautionary tale that reads like a novel."

— Ali Velshi, NBC business correspondent and anchor

"A Deal with the Devil, by the investigative duo Blake Ellis and Melanie Hicken, is a personal how-to guide for investigative journalists, a twisted tale of a scam of huge proportions and a really good read. You won't want to put it down."
— Bethany McLean, Vanity Fair contributor and author of The Smartest Guys in the Room

"Journalists Ellis and Hicken out-sleuthed professional law enforcement in unraveling the mystery of a $200 million global scam. What they have wrought would have made a gripping novel. The fact that every word is true is what makes this book downright shocking."
— Adam L. Penenberg, Journalism Professor at NYU, author of Viral Loop

"A thrilling adventure."