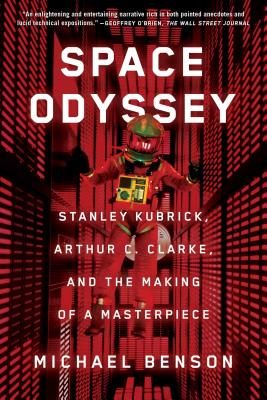 Space Odyssey
Stanley Kubrick, Arthur C. Clarke, and the Making of a Masterpiece
Paperback

* Individual store prices may vary.
Other Editions of This Title:
MP3 CD (6/26/2018)
Compact Disc (6/26/2018)
Hardcover (4/3/2018)
Description
The definitive story of the making of 2001: A Space Odyssey, acclaimed today as one of the greatest films ever made, and of director Stanley Kubrick and writer Arthur C. Clarke—"a tremendous explication of a tremendous film….Breathtaking" (The Washington Post).

Fifty years ago a strikingly original film had its premiere. Still acclaimed as one of the most remarkable and important motion pictures ever made, 2001: A Space Odyssey depicted the first contacts between humanity and extraterrestrial intelligence. The movie was the product of a singular collaboration between Stanley Kubrick and science fiction visionary Arthur C. Clarke. Fresh off the success of his cold war satire Dr. Strangelove, Kubrick wanted to make the first truly first-rate science fiction film. Drawing from Clarke's ideas and with one of the author's short stories as the initial inspiration, their bold vision benefited from pioneering special effects that still look extraordinary today, even in an age of computer-generated images.

In Space Odyssey, author, artist, and award-winning filmmaker Michael Benson "delivers expert inside stuff" (San Francisco Chronicle) from his extensive research of Kubrick's and Clarke's archives. He has had the cooperation of Kubrick's widow, Christiane, and interviewed most of the key people still alive who worked on the film. Drawing also from other previously unpublished interviews, Space Odyssey provides a 360-degree view of the film from its genesis to its legacy, including many previously untold stories. And it features dozens of photos from the making of the film, most never previously published.

"At last! The dense, intense, detailed, and authoritative saga of the making of the greatest motion picture I've ever seen…Michael Benson has done the Cosmos a great service" (Academy Award-winning actor Tom Hanks).
Praise For Space Odyssey: Stanley Kubrick, Arthur C. Clarke, and the Making of a Masterpiece…
"At last! The dense, intense, detailed, and authoritative saga of the making of the greatest motion picture I've ever seen, 2001: A Space Odyssey. I now have reason to see Kubrick's 'proverbial "really good" science fiction movie' another 200 times. Michael Benson has done the Cosmos a great service."
— Tom Hanks

"Over the years, so much has been written about 2001 and its creation that I thought we knew all that there was to know. And then, I received a copy of Michael Benson's lively, exciting and exhaustively researched book, which further expands our understanding of what is truly one of the greatest films ever made."
— Martin Scorsese

"Michael Benson's Space Odyssey: Stanley Kubrick, Arthur C. Clarke and the Making of a Masterpiece is a masterpiece about a masterpiece—a passionately written, impeccably researched book about a great director's pushing himself, his cast and crew beyond safety or sanity in a relentless quest for a non-verbal vision of the transcendent future of both space and film itself."

— Scott Eyman, author of John Wayne: The Life and Legend and Hank and Jim: The Fifty-Year Friendship of Henry Fonda and James Stewart

"Despite the attention Benson lavishes on the humans—Kubrick and Clarke—HAL-9000 would have been proud of this smart, fluent, and meticulously researched account of the making of a sci-fi classic."
— Peter Biskind, author of Easy Riders, Raging Bulls: How the Sex, Drugs, and Rock 'n' Roll Generation Saved Hollywood

"A fascinating, detail-rich account of the long slog to make the science-fiction masterpiece 2001: A Space Odyssey. . . . [An] endlessly interesting narrative. Essential for students of film history, to say nothing of Kubrick's most successful movie."
— Kirkus Reviews (starred review)

"If Kubrick's masterpiece was a remarkable voyage into the future, Michael Benson's book is a delightful voyage back in time. For those of us inspired by the film, this book provides a delicious peek into landmark collaboration of two creative geniuses and the lasting gift they provided for all of us."
— Lawrence M. Krauss, Foundation Professor in the School of Earth and Space Exploration, Director of the Origins Project at Arizona State University, and author of The Physics of Star Trek, A Universe from Nothing, and The Greatest Story Ever Told.. So Far

"A new and remarkably comprehensive look at the complex relationship between the two men whose collaboration led to one of the greatest films of all time. . . . This story about the making of 2001 is as compelling and eye-opening as the film itself."
— Booklist (starred review)

"[An] engrossing, immersive examination of the long path to Stanley Kubrick and Arthur C. Clarke's masterpiece. . . . The pair's fraught but hugely successful relationship forms the backdrop of this astonishing tale of obsessive genius at work."
— Ben Dickinson
Simon & Schuster, 9781501163944, 512pp.
Publication Date: April 23, 2019
About the Author
Michael Benson works at the intersection of art and science. An artist, writer, and filmmaker, he's a Fellow of the NY Institute of the Humanities and a past Visiting Scholar at the MIT Media Lab's Center for Bits and Atoms. In addition to Space Odyssey he has written such books as Cosmigraphics: Picturing Space Through Time, a finalist for the Science and Technology award at the 2015 Los Angeles Times "Festival of Books." Benson's planetary landscape photography exhibitions have been shown internationally. He has contributed to many publications including The New Yorker, The New York Times, The Washington Post, The Atlantic, Smithsonian, and Rolling Stone. Visit Michael-Benson.com.