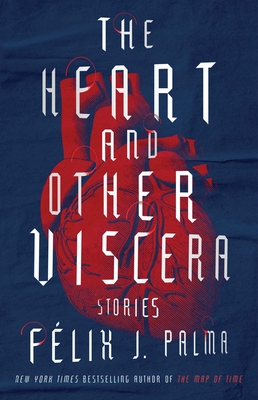 The Heart and Other Viscera
Stories
Paperback

* Individual store prices may vary.
Other Editions of This Title:
Compact Disc (9/17/2019)
Description
The New York Times bestselling author of the "supernatural tour de force" (M.J. Rose, bestselling author) The Map of Time crafts an enchanting collection of twelve evocative and macabre stories delving into the magical, ordinary, and darker aspects of love in all its powerful forms.

A young girl receives letters from her lost doll; a cat madly in love with her human neighbor; a bored office worker escapes his monotonous life by traveling on his grandfather's model train; a man gives all of himself to the woman he loves, piece by piece.

These are just a few of the unforgettable characters that inhabit Félix J. Palma's gorgeously wrought short story collection, by turns mesmerizing, morbid, and melancholy. This collection contains selections from three previously published anthologies, bringing together in one volume some of Palma's most celebrated stories. Available for the first time in English and with his signature "lyrical storytelling and a rich attention to detail" (Library Journal), The Heart and Other Viscera explores the wonder, madness, and heartbreak of love, and the lengths to which some are willing to go to protect, honor, and cherish the ones they love.
Praise For The Heart and Other Viscera: Stories…
"In Félix J. Palma's captivating new collection of short stories, The Heart and Other Viscera, the celebrated Spanish author bores into the interior life of the mind, extracting spellbinding tales from the worlds we create inside our heads. The collection, recently released in a fluid English-language translation by Nick Caistor and Lorenza García, at times reads like an assemblage of Twilight Zone episodes made even more vivid on the printed page. . . . What elevates Palma's storytelling is that he plumbs the most mundane aspects of everyday life and the most invisible of human beings, the sort of people we pass on the street without noticing, and uses them as launching pads for phantasmagoric flights of the imagination."
— The Washington Post

"In the realm of fantastic short fiction, fantasy often lives right next door to horror, and Spanish writer Palma's collection of dark fantasy is a very good example of that. The stories center around the general theme of love, though how this love is expressed is often bizarre or gruesome. . . . This book is just the ticket for readers seeking escape from the mundane into a dark dreamworld. Fans of the short fiction of Neil Gaiman will find much to like in Palma's dark fantasy tales."
— Booklist

"Palma has a piercing imagination . . . Twelve well-paced stories straddling the line between parody, magical realism, mystery, and farce."
— Kirkus Reviews

"In Palma's solid collection, the surreal collides with the deeply mundane in transformative ways. . . . The scope of [his] imagination is undeniable . . . Palma proves he is an assured, creative writer with a knack for the unsettling."
— Publishers Weekly

Praise from press in Spain for Félix J. Palma's short stories

"Palma's love of fantasy is no mere exercise in escapism nor a clever game of mirrors, but a way of intuiting the world by freeing oneself from rationalism. His stories demonstrate a perfect tension between poetry, tenderness, and humor."
— El Mundo

"[Palma's] works are infused with gifted ideas, unforgettable imagery and reflections that haunt you long after you've finished the last page. An author of deliciously disquieting short stories."
— La Razón

"An amalgam of perfect style, astonishing imagery, and unsettling narrative to chart a disturbing world."
— ABC Cultural

"Meticulous, disconcerting and inspired, Palma exemplifies the very best of short fiction being written in Spanish today."
— Muface

Praise for The Map of Time

"The Map of Time recalls the science fiction of Wells and Verne, and then turns the early masters on their heads. A brilliant and breathtaking trip through metafictional time."
— Scott Westerfeld, New York Times bestselling author

"The Map of Time is a singularly inventive, luscious story with a core of pure, unsettling weirdness. With unnerving grace and disturbing fantasy, it effortlessly straddles that impossible line between being decidedly familiar, and yet absolutely new."
— Cherie Priest, author of Boneshaker

"Strange and wonderful. Magical and smart. Félix J. Palma has done more than written a wonderful novel, he's concocted a supernatural tour de force. Time travel, tragic love, murder, and mystery all combine in what is nothing short of a surprising, satisfying, and mesmerizing read."
— M.J. Rose, New York Times bestselling author

"A big, genre-bending delight."
— The Washington Post

"Palma makes his U.S. debut with the brilliant first in a trilogy, an intriguing thriller that explores the ramifications of time travel in three intersecting narratives."
— Publishers Weekly (starred)

"Lyrical storytelling and a rich attention to detail make this prize-winning novel an enthralling read."
— Library Journal (starred)
Atria Books, 9781501164040, 240pp.
Publication Date: September 17, 2019
About the Author
Félix J. Palma has been acclaimed by critics as one of the most brilliant and original storytellers of our time. His devotion to the short story genre has earned him more than a hundred awards. The Map of Time, his first book published in the United States, was an instant New York Times bestseller and received the prestigious 2008 Ateneo de Sevila XL Prize. It has been published in more than thirty countries. Along with The Map of Time Trilogy, he is also the author of The Heart and Other Viscera. Palma lives in Spain. Please visit FelixJPalma.es.
or
Not Currently Available for Direct Purchase