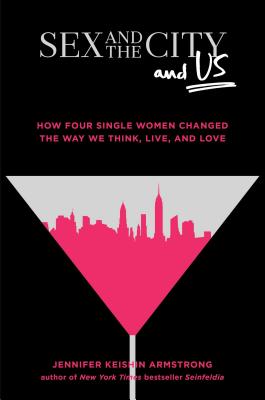 Sex and the City and Us
How Four Single Women Changed the Way We Think, Live, and Love
Hardcover

* Individual store prices may vary.
Other Editions of This Title:
Digital Audiobook (6/4/2018)
Paperback (5/7/2019)
Description
By the bestselling author of Seinfeldia, a fascinating retrospective of the iconic and award-winning television series, Sex and the City, to coincide with the show's twentieth anniversary.

This is the story of how a columnist, two gay men, and a writers' room full of women used their own poignant, hilarious, and humiliating stories to launch a cultural phenomenon. They endured shock, slut-shaming, and a slew of nasty reviews on their way to eventual—if often begrudging—respect. The show wasn't perfect, but it revolutionized television for women.

When Candace Bushnell began writing for the New York Observer, she didn't think anyone beyond the Upper East Side would care about her adventures among the Hamptons-hopping media elite. But her struggles with singlehood struck a chord. Beverly Hills, 90210 creator Darren Star brought her vision to an even wider audience when he adapted the column for HBO. Carrie, Miranda, Charlotte and Samantha launched a barrage of trends, forever branded the actresses that took on the roles, redefined women's relationship to sex and elevated the perception of singlehood.

Featuring exclusive new interviews with the cast and writers, including star Sarah Jessica Parker, creator Darren Star, executive producer Michael Patrick King, and author Candace Bushnell, Sex and the City and Us brings us a both a critical and nostalgic, behind-the-scenes look at a television series that changed the way women see themselves.
Praise For Sex and the City and Us: How Four Single Women Changed the Way We Think, Live, and Love…
PRAISE FOR SEX AND THE CITY AND US

"Armstrong brings readers inside the writers' room and into the scribes' lives… Looking back on SATC so many years later, [producer Darren] Star said, 'After us, sex was seen differently. We made it pink. And fizzy. We took it into the light and made it something empowering, but also funny.' The same could be said for Armstrong's book. The writing is fizzy and funny, but she still manages an in-depth look at a show that's been analyzed for decades, giving readers a retrospective as enjoyable as a $20 pink cocktail."
— The Washington Post

"Armstrong's book is in-depth and insightful, with a fangirl's reverence for the nitty-gritty of the creative process."
—Vogue

"[A] bubbly, yet fierce cultural dissection of the groundbreaking show"
—Chicago Tribune

"Armstrong delves deeply into the stories, not to mention the cocktails and cupcakes, that made the show a cultural phenomenon."
—Parade

"Because she proves she's willing to tell the full story, you genuinely want to follow Armstrong along as she continues to dissect seasons, behind-the-scenes conversations, and opens the door to the writers' room. (Or Magnolia Bakery.) But perhaps most importantly, you glean a bright and colourful picture of a TV show that changed the way television works."

—The Globe and Mail

"Packed with interviews from the cast, creators, and writers that take you inside how the show was made like never before. Jennifer Keishin Armstrong truly had full access and brings the same level of detail to Sex and the City and Us as she did to Seinfeldia that superfans crave.
—HelloGiggles

"With Miranda (Cynthia Nixon) running for governor of New York and Carrie (Sarah Jessica Parker) at the helm of her own book imprint with Hogarth, it's never been a better time to dive into a book about the cultural and political impact of their fictional counterparts on 'Sex and the City.'"
—Bustle

"Balanced and insightful...An entertaining, well-documented consideration of a significant TV series—thoughtful fare for TV historians as well as fans of the show."
—Kirkus Reviews

"Sophisticated, highly readable, and thought-provoking fodder for Carries, Mirandas, Samanthas, Charlottes, and all pop-culture junkies at large."
—Booklist

PRAISE FOR NEW YORK TIMES BESTSELLER SEINFELDIA

"Ms. Armstrong can write . . . Her book, as if she were a marine biologist, is a deep dive…"
—Dwight Garner,The New York Times

"Even completists will eat up the stories Armstrong unearths."
—New York Magazine

"Savvy and engaging . . . A discerningly reported account of what turned out to be the most successful and lucrative television program of all time and its impact on TV and the rest of pop culture."
—Wall Street Journal

"Armstrong scatters delicious details throughout her book, like so many Jujyfruits we can't resist . . . spectacular."
—The Washington Post

"A smart, fun read by a writer who truly is the master of her domain."
—Esquire
Simon & Schuster, 9781501164828, 256pp.
Publication Date: June 5, 2018
About the Author
Jennifer Keishin Armstrong is the author of Sex and the City and Us, Seinfeldia, and Mary and Lou and Rhoda and Ted. She writes about pop culture for several publications, including The New York Times Book Review, Fast Company, Vulture, BBC Culture, Entertainment Weekly, and several others. She grew up in Homer Glen, Illinois, and now lives in New York City. Visit her online at JenniferKArmstrong.com.
or
Not Currently Available for Direct Purchase