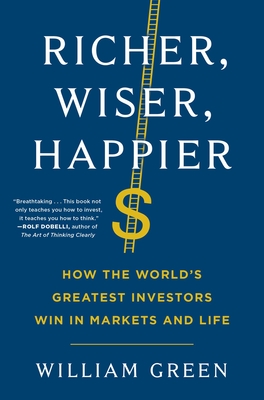 Richer, Wiser, Happier
How the World's Greatest Investors Win in Markets and Life
Hardcover

* Individual store prices may vary.
Description
From an award-winning financial journalist who has written for The New Yorker, Time, and Fortune, a fresh and unexpectedly profound book that draws on interviews with more than forty of the world's super-investors to demonstrate that the keys for building wealth hold other life lessons as well.

Billionaire investors. If we think of them, it's with a mixture of awe and suspicion. Clearly, they possess a kind of genius—the proverbial Midas Touch. But are the skills they possess transferable? And would we really want to be them? Do they have anything to teach us besides making money?

In Richer, Wiser, Happier, award-winning journalist William Green has spent nearly twenty-five years interviewing these investing wizards and discovered that their talents expand well beyond the financial realm and into practical philosophy. As he discovered, most of these men and women view the world in a more interconnected way. They look broadly at the culture, are remarkably intuitive about trends, practice fanatical discipline, and have developed a high tolerance for pain. They are also stunningly good at boiling down the maddeningly complex to two or three easy variables.

Green ushers us into the lives of more than forty of the world's super-investors, visiting them in their offices, vacation homes, and even their places of worship—all to share what they have to teach us. Richer, Wiser, Happier brings together the thinking of some of the best investors, from Warren Buffett to Howard Marks to John Templeton, and provides gems of insight that will enrich you not only financially but also professionally and personally.
Praise For Richer, Wiser, Happier: How the World's Greatest Investors Win in Markets and Life…
"UNEXPECTEDLY ILLUMINATING…Those who finish this book will find, to their delight, that they're smarter about much more than money."
—Peter H. Diamandis, MD, author of the New York Times bestsellers Abundance and Bold

"BREATHTAKING… This book not only teaches you how to invest, it teaches you how to think."
—Rolf Dobelli, author of the million-copy bestseller The Art of Thinking Clearly

"ONE OF THE MOST IMPORTANT BOOKS I'VE EVER READ… If I'd had Richer, Wiser, Happier when I started investing it would have saved me twenty years of reading and studying."
—Phil Town, author of the #1 New York Times bestseller Rule #1

"BRILLIANT…packed with powerful insights from the world's most successful investors…. Read Richer, Wiser, Happier and take its invaluable lessons to heart."
—Tony Robbins, author of the #1 New York Times bestseller Money: Master the Game

"CAPTIVATING…offers pragmatic ideas to ponder, reflect on, and live by."
—Daniel Goleman, author of the #1 New York Times bestseller Emotional Intelligence

"EXTRAORDINARY… a compelling meditation on ideas, and on the profound subjects of risk, resilience, and success."
—Jon Gertner, author of the New York Times bestseller The Idea Factory

"WONDERFUL… a profound, eloquent, and much-needed call for a reassessment of how we build our portfolios and live our lives."
—Stig Brodersen, Cofounder of The Investor's Podcast Network and host of the podcast "We Study Billionaires"

"HIGHLY RECOMMENDED… a thoroughly engaging book that is brimming with unique insights into investing and life."
—John Mihaljevic, Chairman of MOI Global and author of The Manual of Ideas

"INVALUABLE…destined to become a timeless classic on lifelong learning, self-improvement, and becoming the best version of ourselves."
—Gautam Baid, author of The Joys of Compounding

"SUPERB... does a wonderful job of showing how to consistently stack the odds in your favor, both in markets and life, by dramatically improving the way you think and reach decisions."
—Annie Duke, professional poker champion and bestselling author of Thinking in Bets and How to Decide
Scribner, 9781501164859, 320pp.
Publication Date: April 20, 2021
About the Author
William Green has written for many publications in the US and Europe, including Time, Fortune, Forbes, Fast Company, The New Yorker, The Spectator (London), and The Economist. He edited the Asian edition of Time while living in Hong Kong, then moved to London to edit the European, Middle Eastern, and African editions of Time. As an editor and coauthor, he has collaborated on several books, including Guy Spier's much-praised memoir, The Education of a Value Investor. Born and raised in London, Green studied English literature at Oxford University and received a master's degree in journalism at Columbia University. He lives in New York with his wife and their two children.