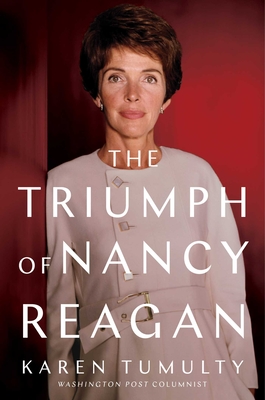 The Triumph of Nancy Reagan
Hardcover

* Individual store prices may vary.
Other Editions of This Title:
Digital Audiobook (4/12/2021)
Paperback (4/12/2022)
Compact Disc (4/13/2021)
Description
A Washington Post Notable Book

The definitive biography of the fiercely vigilant and politically astute First Lady who shaped one of the most consequential presidencies of the 20th century: Nancy Reagan.

The made-in-Hollywood marriage of Ronald and Nancy Reagan is more than a love story—it's the partnership that made him president. Of the pair, Nancy was the one with the sharper instincts about people, the superior radar for trouble, and the keen sense of how to secure his place in history. The only person in the world to whom Ronald Reagan felt truly close, Nancy understood how to foster his strengths and compensate for his weaknesses. Neither timid nor apologetic about wielding her power, Nancy Reagan made herself a place in history.

But that confidence took years to develop. Nancy's traumatic early childhood instilled in her a lifelong anxiety and a craving for security. Born into a broken marriage, she spent seven years yearning for the absent mother who abandoned her to pursue an acting career. When she met Ronnie, who had a difficult upbringing of his own, the two fractured halves became whole. And as Ronnie turned from acting to politics, she did too, helping build the scaffolding of his rise and cultivating the wealthy and powerful figures who would help pave his way. Not only was Nancy crucial in shaping Ronald's White House team and in softening her husband's rhetoric, she became an unseen force pushing her husband toward what she saw as his grandest purpose—to shake his image as a warmonger and leave behind a more peaceful world.

This book explores the multifaceted character of Nancy Reagan and reveals new details surrounding the tumultuous presidency. The Washington Post columnist Karen Tumulty spent four years interviewing the people who knew this couple best and draws on overlooked archives, letters, memoirs, and White House records, compiling the most extensive biography of Nancy Reagan yet. From the AIDS epidemic to tensions with the Soviets and the war on drugs, this book shows how Nancy Reagan became one of the most influential First Ladies of the century.
Praise For The Triumph of Nancy Reagan…
Named one of the Best Books of the Year by The Washington Post, Financial Times, and National Review

"A thorough, compelling biography that underscores what was always hidden in plain sight. Her Nancy is a driven, savvy, indomitable operative, a dogged domestic diplomat on behalf of her affable yet oddly remote ideologue of a husband." —
USA Today

"[Tumulty] doesn't make excuses for her subject, and her clarity about Nancy (as she calls her throughout; her husband is "Ronnie") gives substance to an engaging, well-written narrative. Tumulty's Nancy is humanly comprehensible and compelling, and comes out looking better than do many of her worst critics and her husband's strongest allies—two categories that often overlapped." — New Yorker


"This biography of the former first lady makes clear the extent to which Ronald Reagan depended on her social skills and psychological instincts as he moved from Hollywood into politics." — New York Times Book Review

"Karen Tumulty combines years of original research and sharply readable prose to effect a near-miracle: the complete rescue of former first lady Nancy Reagan from the hands of slanderers and trivializers. The woman who emerges from these pages might not always be likable, but she's the most formidable first lady in half a century."— The Christian Science Monitor

"In this riveting, beautifully written portrait, Nancy Reagan assumes her rightful place as her husband's most powerful and influential advisor. A masterful storyteller, Tumulty captures our interest and our emotions from beginning to end. This work will remain the gold standard of books on First Ladies for generations to come."— Doris Kearns Goodwin, Pulitzer Prize winning and #1 New York Times bestselling author of Leadership

"Nancy Reagan was the most influential and complex First Lady of our time. She was guided not by ideology or her own agenda but by one thing: what was best for her husband. With great reporting and insight, Tumulty shows how she shaped his image and his presidency." – Walter Isaacson, New York Times bestselling author of The Code Breaker

"Tumulty has given us a compelling and illuminating portrait of the woman who never faltered in her love for—and protection of—Ronald Reagan. An engaging addition to the literature of the consequential Age of Reagan." —Jon Meacham, Pulitzer Prize-winning and #1 New York Times bestselling author of The Truth is Marching On

"A brilliant and incandescent biography of one of America's most influential first ladies. Every chapter shines with fresh vignettes, historical insights, unabashed intimacy, and delightful storytelling. Nancy Reagan always exuded a fierce and clear-eyed pragmatism that got important things accomplished for American democracy. The love story between Ronnie and Nancy is pure magic." —Douglas Brinkley, Katherine Tsanoff Brown Chair in Humanities and professor of history at Rice University and editor of The Reagan Diaries

"Tumulty manages to disclose so much that we didn't know about her personal demons and her remarkable role as Ronald Reagan's crucial partner. This is the definitive biography of a woman at the center of American politics for a generation." —Susan Page, USA Today Washington bureau chief and author of The Matriarch: Barbara Bush and the Making of an American Dynasty

"Penetrating ... Readers of this remarkable book will realize how much Ronald Reagan needed Nancy Reagan. He could not have been president without her." – Lou Cannon, author of Governor Reagan and President Reagan

"The wonderful Karen Tumulty has brought us a shrewd and fascinating portrait, with new revelations and insights, of a glittering and complex figure who was one of the most consequential women in American history."—Michael Beschloss, New York Times bestselling author of Presidents of War

"Washington Post columnist Tumulty debuts with an astute reassessment of former first lady Nancy Reagan, a woman who "America never quite figured out." ... The book's greatest strength is the nuanced, in-depth portrayal of the Reagans' relationship and Nancy's fierce stewardship of her husband's political goals. The result is a complex and engrossing portrait of one of the 20th century's most quietly influential political figures." — Publisher's Weekly (starred review)

"Luminous... The definitive biography of the woman who drove her husband's presidential ambitions—a shoo-in for the silver screen." — Kirkus Reviews (starred review)

"Recounts every known detail of this driven, complicated woman's life... Chapters detail how Nancy persistently assisted and manipulated her husband's political career, and explore her reputation as a kingmaker who exerted profound influence over matters large and small, increasingly so as her husband succumbed to Alzheimer's... Expect high demand." — Booklist (starred review)


"Tumulty does a great service in her new book by taking us behind the public façade. The Triumph of Nancy Reagan is a detailed, insightful, and gossipy look... ultimately succeeds in bringing the subject to life." — Common Reader

"[A] thoroughly researched, comprehensive biography. Tumulty effectively summarizes the main challenges of the Reagan administration, including the AIDS epidemic and the Iran Contra crisis, adding to the history, the extent and nature of Nancy's involvement... A stimulating and fascinating book, written by a woman who effortlessly combines detailed research with a talent for very readable prose. Tumulty's triumph is that she convincingly reveals a dynamic, complicated and — if not always likeable — formidable woman." — Policy Magazine

"Intimate and balanced—a triumph for Tumulty and a definitive contribution to history." — Fredericksburg Free Lance Star
Simon & Schuster, 9781501165191, 672pp.
Publication Date: April 13, 2021
About the Author
Karen Tumulty is a political columnist for The Washington Post. Before joining the Post, Tumulty wrote for Time magazine. She is based in Washington, DC.
or
Not Currently Available for Direct Purchase