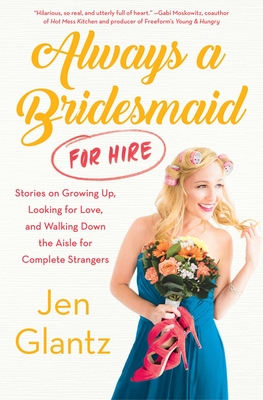 When You Least Expect It (Paperback)
Essays on Living without a Five-Year Plan
Atria Books, 9781501165498, 336pp.
Publication Date: June 5, 2018
* Individual store prices may vary.
Description
One New York City millennial shares her journey of finding her dream career and true love, all while juggling a truly unique job as the world's only professional bridesmaid in this hilarious memoir that "will be relatable to anyone looking for love or just trying to figure things out" (PopSugar).

After moving to New York City in her mid-twenties to pursue her dream of writing—and of not living with her parents anymore—Jen Glantz looked forward to a future of happy hours and Sunday brunches with her besties.

What she got instead was a string of phone calls that began with, "Jen, I have something exciting to tell you!" and ended with, "I'd be honored if you would be my bridesmaid." At first she was delighted, before she realized two things: all of her assets were tied up in bridesmaid dresses, and she was no closer to finding the One herself. She couldn't do much about the second thing (though her mother would beg to differ), but she could about the first.

One (slightly tipsy) night, Jen posted an ad on Craigslist advertising her services as a professional bridesmaid. When she woke up the next morning, it had gone viral. What began as a half-joke suddenly turned into a lifetime of adventure for Jen—and more insight into the meaning of love than she was getting from Tinder—as she walked down the aisle at one complete stranger's wedding after another.

Fresh, funny, and surprisingly sweet, When You Least Expect It is an entertaining reminder that even if you don't have everything together, you can still be a total boss—or, at the very least, a BFF to another girl in need.
About the Author
Jen Glantz is the world's first professional bridesmaid and founder of Bridesmaid for Hire. She's the heartbeat behind the website The Things I Learned From and is the author of the bestselling All My Friends are Engaged. She can be found in New York City wearing old bridesmaid dresses to the grocery store, or two-handing slices of one-dollar pizza.
Praise For When You Least Expect It: Essays on Living without a Five-Year Plan…
"Writing with wit, self-awareness, and genuine interest in the life stories all around her, Glantz expresses a warm appreciation for everyone confronting the challenges she faces. Readers will feel as if they're chatting with a friend, laughing while trading horror stories about the trials of dating, wedding mishaps, and that crazy job you love to hate. A winning suggestion for fans of Faith Salie, Sloane Crosley, and Mindy Kaling."

"Funny and at times touching, the book is a thoroughly modern story about love and youth, right down to the open, not necessarily happy-ever-after ending. Quirky and bighearted."

"If you've ever been to a wedding, been in a wedding, or had a wedding, this book will go down easier than the third rum and coke at your best friend's cousin's bachelorette party you somehow had to go to. With warmth, humor, optimism, and more than a few embarrassing moments, you'll bring a little bit of Jen Glantz to every wedding you go to from here on out. You can practically feel her cheering you on, or at least stressing out with you. I feel you, girl. And so will many others."
— Alida Nugent, author of You Don't Have to Like Me

"Meet the new best friend you didn't know you needed. Jen Glantz will find her way into your heart one first dance at a time. Always a Bridesmaid For Hire is the amusing real-life story of what happens when you carve a career path no one has ever heard of, and make everything up as you go along. This taffeta tale will leave you in stitches, wondering what REALLY happened behind the scenes at every wedding you've ever been to."
— Laurie Davis, author of Love at First Click

"Reading Always a Bridesmaid (for Hire) feels like splitting a bottle (or three) of wine with your funniest, most honest bestie, as she regales you with disastrous, thrilling, and just plain ridiculous stories from her life. Jen is hilarious, so real, and utterly full of heart--you can't help but fall more and more in love with her with every page."
— Gabi Moskowitz, co-author of Hot Mess Kitchen and producer of Freeform's Young & Hungry

"Humorous and poignant, Jen Glantz is the perfect blend of talented writer meets everyday girl. Jen is the kind of writer you admire while secretly wishing she were your best friend. This book will leave you nodding your head in agreement while cheering Jen on in her quests to embrace adulthood and discover love. A beautiful read!"

"Always a Bridesmaid (For Hire) reminds me of the esteemed Nora Ephron, with the laugh-out-loud moments of David Sedaris. I read the last page and then thumbed right back to the first to re-read again. This book will introduce Jen Glantz to the world; you don't want to miss this skilled humorist's debut."
— Molly Ford Beck, founder of Smart, Pretty, & Awkward and host of Forbes's Two Inboxes podcast

"[Glantz] writes in a charming and funny fashion that makes her easy to root for."