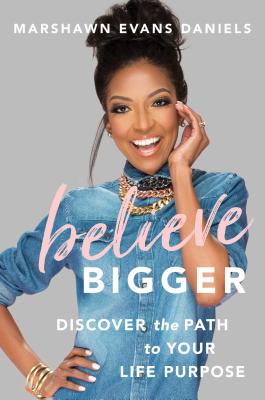 Believe Bigger (Hardcover)
Discover the Path to Your Life Purpose
Howard Books, 9781501165672, 352pp.
Publication Date: March 13, 2018
* Individual store prices may vary.
Description
Reinvention strategist Marshawn Evans Daniels delivers a practical and inspirational guide for women ready to reclaim their lives and discover a higher purpose after experiencing regret and disappointment—demonstrating that through disruption, life can become sweeter than ever imagined.

Marshawn thought she was on the right path. She was an accomplished business woman and high-powered sports attorney ready to marry the man of her dreams—until she learned just days before a fairytale wedding that he was cheating on her. After betrayal flipped her seemingly perfect world upside down, she found herself craving significance, not just success.

Believe Bigger is about resilience, reclaiming your life, and how God uses rejection, hardship, and unexpected circumstances to awaken something greater within...if you're willing to embrace disruption. You'll see her go from heartbroken and hitting rock bottom financially, to building a multi-million dollar faith-centered enterprise, and finding something super sweet along the way. Calling. Marshawn shares what it takes to turn pain into purpose and your mess into a larger message and life mission.

Whether you are drowning in self-doubt and regret, feeling stuck, or sensing a shift but unable to discern what's next, Marshawn's Purpose Map outlining the 5 Stages of Divine Reinvention, will give you insight into your true gifts and calling—and the courage to pursue them. You'll see that difficulties are not designed to devastate you, but to ignite the bigger dreams, life, love, and abundance you were destined for all along.
Praise For Believe Bigger: Discover the Path to Your Life Purpose…
"Meet this year's breakout voice in self-help books... Believe Bigger is something special."

"Reminds readers that God calls us not just to live, but to thrive. Your most inspiring girlfriend in book form."

Believe Bigger is a refreshing source of mind renewal mixed with a blueprint for fulfilling your life purpose. You'll learn how to release the past, believe again in your dreams, and be motivated to start living them out loud.

"Marshawn is a powerhouse! Believe Bigger cuts a trail for others to follow so they can live a life soaked in divine significance."



Marshawn tells a very compelling personal story of betrayal, heartbreak, and - in the end - healing. Every person, especially women, dealing with issues of trust, betrayal, and emotional adversity must read this book.

Believe Bigger inspires you to increase your faith while providing a bonafide roadmap for discovering your calling and living the life you were truly destined for.

Believe Bigger will empower you to stretch beyond self-sabatoging limitations and to become your God intended best. A great guide to making seemingly impossible dreams a reality.

Marshawn is a leaders' leader who has mastered how to empower women to BE more, DO more, and MAKE more.

Captivating and honest - Marshawn has literally written the blueprint for turning your personal pain into power. Walking into one's purpose is no easy feat without first aligning with spirit and believing in a higher purpose for your life. With this reflective guide, you will begin to believe in your personal power, embrace the responsibility of your higher calling, and unlock your greatest potential.

"Marshawn's vulnerability along with her five stages of divine reinvention show how to reap resilient roses on the thorny path of life."

Marshawn's life story embodies the messages she is stewarding to believe God. In spite of heart-breaking, soul-crushing defeats she rises with God's power to fulfill her destiny.