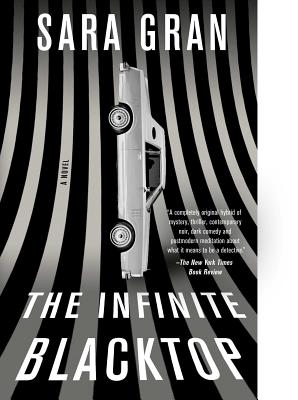 The Infinite Blacktop
A Novel
Paperback

* Individual store prices may vary.
Other Editions of This Title:
Digital Audiobook (9/17/2018)
Compact Disc (9/18/2018)
Description
The "delicious and addictive" (Salon) Claire DeWitt series returns with a thrilling, noirish knockout novel that follows three separate narratives starring the self-proclaimed "world's greatest detective." As Cara Hoffman, author of Running, says, this "is a hard-boiled, existential masterpiece."

Claire DeWitt, the hard-living and tough-talking private investigator, has always been something of a detective. As a young girl growing up in Brooklyn, Claire and her two best friends, Tracy and Kelly, fell under the spell of the book Detection by legendary French detective Jacques Silette. They solved many cases together, in the process witnessing human behavior at its worst. The three were inseparable—until the day Tracy vanished without a trace. That is still the only case Claire ever failed to solve.

Later, in her twenties, Claire is in Los Angeles trying to get her PI license by taking on a cold case that has stumped the LAPD. She hunts for the real story behind the death of a washed-up painter ten years earlier, whose successful, widely admired artist girlfriend had died a few months before him.

Today, Claire is on her way to Las Vegas when she's almost killed by a homicidal driver. In a haze of drugs and injuries, she struggles off the scene, determined to find her would-be killer's identity but the list of people who would be happy to see her dead is not a short one.

As these three "eccentric, enticingly artful" (Kirkus Reviews, starred review) narratives converge, some mysteries are solved and others continue to haunt. But Claire will continue her search for the answer to the biggest mystery of all: what is the purpose of our lives, and how can anyone survive in a world so clearly designed to break our hearts again and again?
Praise For The Infinite Blacktop: A Novel…
"A completely original hybrid of mystery, thriller, contemporary noir, dark comedy and postmodern meditation about what it means to be a detective."
— The New York Times

"A singular mystery experience...Claire DeWitt is one part Auguste Dupin, one part Jack Kerouac-type "Dharma Bum" and allover nasty woman on a mission."
— Maureen Corrigan, The Washington Post

"A thriller that is no ordinary, by-the-book crime procedural."
— The Associated Press

"There's a fascinating echo in these pages of classic LA noir detective fiction from the age of Hammett and Chandler...you'll be charmed by this eccentric, enticingly artful mystery."
— Kirkus (starred review)

"Bold and stunning…mixing classic tropes of teen detective fiction with elements of eastern philosophy and a profound sense of the absurd, Gran takes readers on an unforgettable journey."
— Publishers Weekly (starred review)

"A wonderful mystery, packed with unexpected gems of truth and humor and beauty, that reminded me of why I love reading fiction."
— Chris Pavone, author of The Expats

"Sara Gran's latest is a total delight. Infinite Blacktop is as captivating as it is unusual, an alchemical mixture of not one but three mysteries, scattered across time and America, all centered around the badass and deeply damaged Claire DeWitt, whose unconventional, unceasing, irrational mode of detection is like nothing else in crime fiction."
— Ben Winters, author of Underground Airlines

"I turned to Claire DeWitt when I was down and she gave me a week to remember that there is always a way onwards."
— Mark Z. Danielewski, author of House of Leaves

"A marvel of a novel, one that combines the mysteries of seemingly unsolvable crimes and the deeper mysteries of the human heart. Written with both a vivid edge and heartfelt compassion, The Infinite Blacktop is one of the most exciting books of the year."
— Jeff Abbott, author of Blame and Adrenaline

"Sara Gran's Infinite Blacktop is a hard-boiled, existential masterpiece. There's no detective as skilled or as strange as Claire Dewitt; mouse-whisperer, slumming angel, gnostic disciple. She always wins the day. Sara Gran is simply peerless."

— Cara Hoffman, author of Running and So Much Pretty

"Metaphysical, gritty . . . . Looks at the larger mysteries of life, love, and identity."
— Library Journal

PRAISE FOR SARA GRAN'S CLAIRE DEWITT NOVELS

"The most interesting private eye I've encountered since Stieg Larsson's Lisbeth Salander….Gran presents an unflinching, heartfelt portrait of the way many women of her generation have lived their lives: speeding down the fast lane… A fascinating read."


— The Washington Post

"Delicious and addictive."
— Salon

"Reads . . . as if David Lynch directed a Raymond Chandler novel."
— CNN

"Beautifully written in a tight, quirky style that distinguishes Gran as one of the more original writers working today."

— Associated Press

"The title character is the summer's most original new detective: part Lisbeth Salander, part Veronica Mars."
— Hollywood Reporter

"The hard-living, wisecracking titular detective bounces around post-Katrina New Orleans trying to track down a missing prosecutor in this auspicious debut of a new mystery series—and the Big Easy is every bit her equal in sass and flavor."
— Elle

"Reminds me why I fell in love with the genre."
— Laura Lippman

"Terrific, I love this book! Absolutely love it. This is the first fresh literary voice I've heard in years. Sara Gran recombines all the elements of good, solid story-telling and lifts something original from a well-loved form."
— Sue Grafton
Washington Square Press, 9781501165726, 304pp.
Publication Date: September 3, 2019
About the Author
Sara Gran is the author of Saturn's Return to New York, Come Closer, Dope, as well as two previous novels featuring Claire DeWitt. Her work has been published in more than a dozen countries. Born in Brooklyn, Sara lived in New York City until 2004. She now lives in Los Angeles and has a successful career writing for television.