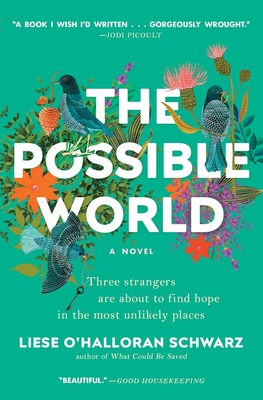 The Possible World
A Novel
Paperback

* Individual store prices may vary.
Description
"A brilliantly written, moving story" (The Washington Book Review) about the converging lives of a young boy who witnesses a murder, the ER doctor who tends to him, and a woman guarding her long-buried past, from the author of What Could Be Saved.

It seems like just another night shift for Lucy, an overworked ER physician in Providence, Rhode Island, until six-year-old Ben is brought in as the sole survivor from a crime scene. He's traumatized and wordless; everything he knows has been taken from him in an afternoon. It's not clear what he saw or what he remembers.

Lucy, who's grappling with the demise of her marriage, feels a profound connection to the little boy. She wants to help him…but will recovering his memory heal him or damage him further?

Across town, Clare will soon be turning one hundred years old. She has long believed that the secrets she's been keeping don't matter to anyone anymore, but a surprising encounter makes her realize that the time has come to tell her story.

As Ben, Lucy, and Clare struggle to confront the events that shattered their lives, something stronger than fate is working to bring them together.

The Possible World spans nearly a century—from the Great Depression through the Vietnam War era and into the present—and "in beautifully crafted prose" (Booklist) captures the complicated ways our pasts shape our identities, and how timeless bonds can triumph over grief. "A bittersweet story full of imagination and nostalgia, loss and redemption…The Possible World will seize readers from the first scene and hold tight until its satisfying conclusion" (Kirkus Reviews).
Praise For The Possible World: A Novel…
"Hauntingly beautiful . . . a bittersweet story full of imagination and nostalgia, loss and redemption . . . will seize readers from the first scene and hold tight until its satisfying conclusion."
—Kirkus Reviews

"Schwarz blends beautifully crafted prose with three highly compelling tales into one overarching saga of loss and memory."
—Booklist

"Schwarz blends a clear-eyed acceptance of life's pain and cruelties with a hopeful message about the enduring power of love in this rich and memorable novel . . . the prose is assured and lyrical, infusing each narrative with sensory and emotional detail."
—Publishers Weekly

"Schwarz weaves three captivating stories into one entertaining story, showing how our pasts shape our present, and how some human bonds can help us overcome our emotional and psychological pain. The Possible World is a brilliantly written moving story about human struggle with identity and loneliness."
—Washington Book Review

"Engrossing . . . Schwarz creates a realistic and compelling story of three characters' intertwined lives that completely immerses the reader in their worlds . . . a captivating and moving story of grief and loss and the power of love."
—Shelf Awareness

"Every now and then I come across a book I wish I'd written. The Possible World is one of those. Liese O'Halloran Schwarz's book is a gorgeously wrought exploration of who gets to tell the story of our lives, and who gets to inhabit that story with us."
—Jodi Picoult, New York Times bestselling author of Small Great Things

"Set, fittingly, in Providence, The Possible World follows a wide cast blown far off course by their various tragedies. Like her characters, Liese O'Halloran Schwarz is both tough-minded and tenderhearted, showing how fate tears us apart and brings us together. As all Rhode Islanders know, the state motto is Hope."
—Stewart O'Nan, author of Songs for the Missing and Emily, Alone

"The Possible World is a triple threat: a novel that offers up flesh-and-blood characters, a white-knuckle plot, and perfect prose. A quadruple threat if you consider the deep emotional journey, the characters' lives intersecting and diverging in the most surprising ways. Liese O'Halloran Schwarz writes like a dream."
—Diana Spechler, author of Who by Fire and Skinny

"The Possible World is a quietly stunning novel about solitude, redemption and the mysterious threads of human connection that tie us together in ways beyond what is tangible. An unforgettable book."
—Carolyn Parkhurst, author of The Dogs of Babel and Harmony

"Deeply felt, fully imagined, and paced so wonderfully that you hardly notice its tightening grip on your imagination. I read The Possible World obsessively, and will not soon forget Lucy, Leo, and Clare, these three unlikely voyagers, delivered in precise, sharp, graceful, governed, prose. Bravo!"
—Richard Bausch, author of Peace and Living in the Weather of the World
Scribner, 9781501166150, 368pp.
Publication Date: September 17, 2019
About the Author
Liese O'Halloran Schwarz, a former emergency medicine doctor, published her first novel Near Canaan while still in medical school. She is also the author of the acclaimed novel The Possible World and the forthcoming What Could Be Saved. She currently lives in Chapel Hill, North Carolina.