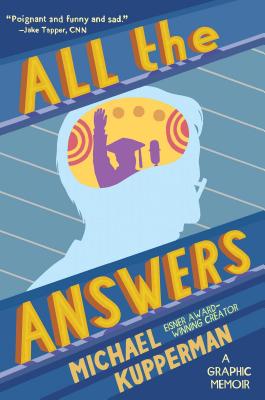 All The Answers
Hardcover

* Individual store prices may vary.
Other Editions of This Title:
Paperback (12/30/2045)
Description
A 2019 EISNER AWARD NOMINEE FOR BEST REALITY-BASED WORK
A NPR BEST BOOK OF 2018
A VULTURE BEST COMIC OF 2018
A PUBLISHERS WEEKLY BEST BOOK OF 2018
A LIBRARY JOURNAL BEST BOOK OF 2018
A NEW YORK PUBLIC LIBRARY BEST BOOK OF 2018
WINNER OF THE PUBLISHERS WEEKLY 2018 GRAPHIC NOVEL CRITICS POLL

In this moving graphic memoir, Eisner Award-winning writer and artist Michael Kupperman traces the life of his reclusive father—the once-world-famous Joel Kupperman, Quiz Kid. That his father is slipping into dementia—seems to embrace it, really—means that the past he would never talk about might be erased forever.

Joel Kupperman became one of the most famous children in America during World War II as one of the young geniuses on the series Quiz Kids. With the uncanny ability to perform complex math problems in his head, Joel endeared himself to audiences across the country and became a national obsession. Following a childhood spent in the public eye, only to then fall victim to the same public's derision, Joel deliberately spent the remainder of his life removed from the world at large.

With wit and heart, Michael Kupperman presents a fascinating account of mid-century radio and early television history, the pro-Jewish propaganda entertainment used to counteract anti-Semitism, and the early age of modern celebrity culture.

All the Answers is both a powerful father-son story and an engaging portrayal of what identity came to mean at this turning point in American history, and shows how the biggest stages in the world can overcome even the greatest of players.
Praise For All The Answers…
"All the Answers isn't just a fascinating slice of pop-culture history, it's also a moving and deeply personal portrait of America's first celebrity know-it-all."

—Ken Jennings, Parade columnist and longest-running Jeopardy! champion


"Really enjoyed reading All the Answers, a graphic novel telling the true story of [Kupperman's] 'Quiz Kid' father. Poignant and funny and sad."

—Jake Tapper, chief Washington correspondent, CNN

"Kupperman's varied angles, thick line work, staring seriocomic facial stylings, and sharp prose help turn an already incredible story into an electrifyingly fast-paced, yet intimate memoir about family secrets and the price children can pay for their parents' ambitions."

—Publishers Weekly (starred review)

"A moving tale of fathers and their sons. A cautionary fable from the primal dawn of the Age of Celebrity. This book is brilliant."

—Grant Morrison, #1 New York Times bestselling author of Doom Patrol and JLA

"Michael Kupperman has crafted a deeply personal and fascinating graphic novel about his father, a man whose life as a child prodigy was ironically both a dark family secret and one of the most well-documented in American history."

—"Weird Al" Yankovic

"A beautiful, haunting, unsettling book that will move anyone who's ever struggled to understand a loved one's silences."

—Greg Pak, writer of The Incredible Hulk, X-Men, and Batman/Superman

"[There is] no book this year about which I have a higher level of curiosity in addition to a high level of anticipation."

—Tom Spurgeon, Comics Reporter

"All the Answers is a revelation of a book. A fascinating biography enveloped in a poignant memoir, it transcends both, giving the readers an amazing insight into a time in history that reverberates into our present: the fascination with celebrity and the commodification of childhood. All skillfully rendered by one of the greats of American cartooning. I can't recommend it enough."

—Chip Zdarsky, artist and co-creator of Sex Criminals

"A heartbreaking exploration of memory and the devastating power of the human mind."

—Matt Kindt, writer and artist of MIND MGMT, Dept. H, and 3 Story

"In the vein of Alison Bechdel's Fun Home, Kupperman's remarkable graphic memoir brings his father—the Quiz Kid himself, Joel Kupperman—to gorgeous, painful life. There's also some fascinating insights here into the role of radio and television in mid-20th-century America."

—Entertainment Weekly; 20 New Books to Read in May

"It's such a surprising treat to read this thoughtful, pithy memoir."

—Lisa Hanawalt, designer of Bojack Horseman

"Tender, brilliant, beautiful, and fascinating. How lucky we are that Michael Kupperman has this story to tell."

—Julie Klausner, creator and star of Difficult People
Gallery 13, 9781501166433, 224pp.
Publication Date: May 15, 2018
About the Author
Michael Kupperman's comic drawings and strips have appeared in dozens of publications including The New Yorker, Fortune, The New York Times, Nickelodeon Magazine, Forbes, Fast Company, Esquire, Heavy Metal, and McSweeney's; comic books for DC, Marvel, and others; and been collected in multiple books, including five of his own. They've also been animated for Saturday Night Live, Adult Swim, and Comedy Central. Conan O'Brian described him as "probably one of the greatest comedy brains on the planet." This is his first serious book. Michael lives in Brooklyn with his wife, Muire, and son, Ulysses.
or
Not Currently Available for Direct Purchase