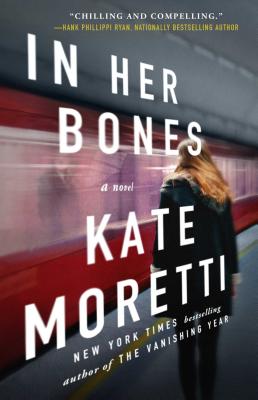 In Her Bones
A Novel
Paperback

* Individual store prices may vary.
Other Editions of This Title:
Digital Audiobook (9/3/2018)
Library Binding, Large Print (12/1/2018)
Compact Disc (9/4/2018)
Description
"A higher level than the standard thriller. Readers will enjoy this book for the suspense…[and] love it for the skill and mastery Moretti has for her craft." —New York Journal of Books

"Morbid…Moretti pulls some tricky tricks." —The New York Times

New York Times bestselling author Kate Moretti's next "exceptional…emotionally astute, [and] deliciously sinister" (Kirkus Reviews, starred review) thriller follows the daughter of a convicted serial killer who finds herself at the center of a murder investigation.

Fifteen years ago, Lilith Wade was arrested for the brutal murder of six women. After a death row conviction, media frenzy, and the release of an unauthorized biography, her thirty-year-old daughter Edie Beckett is just trying to survive out of the spotlight. She's a recovering alcoholic with a dead-end city job and an unhealthy codependent relationship with her brother.

Edie also has a disturbing secret: a growing obsession with the families of Lilith's victims. She's desperate to see how they've managed—or failed—to move on. While her escalating fixation is a problem, she's careful to keep her distance. That is, until she crosses a line and a man is found murdered.

Edie quickly becomes the prime suspect—and while she can't remember everything that happened the night of the murder, she'd surely remember killing someone. With the detective who arrested her mother hot on her trail, Edie goes into hiding. She's must get to the truth of what happened that night before the police—or the real killer—find her.

Unless, of course, she has more in common with her mother than she's willing to admit…

Perfect for fans of Ruth Ware, In Her Bones features Moretti's "riveting and insightful" (Megan Miranda, New York Times bestselling author) prose and "chillingly satisfying" (Publishers Weekly) twists, and will leave you questioning the nature of guilt, obsession, and the toxicity of familial ties.
Praise For In Her Bones: A Novel…
Praise for In Her Bones:

"Morbid...Moretti pulls some tricky tricks when she sends Edie on the run, where she slips in and out of some neat disguises and suffers just enough to satisfy the most judgmental reader."
— New York Times Book Review

"Heightened language takes In Her Bones to a higher level than the standard thriller. Readers will enjoy this book for the suspense and plot twists, but love it for the skill and mastery Moretti has for her craft."
— New York Journal of Books

"Captivating…Fans of twisty psychological thrillers will find plenty to like."
— Publishers Weekly

"Kate Moretti is incredibly talented! In Her Bones is at once chilling and compelling, frightening and insightful—and truly madly deeply satisfying. You'll gasp at every twist, and turn these hauntingly sinister pages as fast as you can."
— Hank Phillippi Ryan, nationally bestselling author of Trust Me

"Kate Moretti's In Her Bones is a suspenseful, whirling spiral of mysteries within mysteries, plot twists you won't see coming, and characters linked by deadly fates that stretch across the years. Moretti's prose is crisp and masterful, her people rich and real. Don't miss this haunting, wild thrill ride."
— David Bell, author of Somebody's Daughter

"Reading In Her Bones is like watching a true crime documentary...And you seriously won't be able to put it down."
— Hello Giggles

"A masterfully crafted, multilayered novel...Kate Moretti manages to cover all the angles, making the story deep and dynamic...In Her Bones is complex, honest and heartbreaking. It is much more than merely a mystery and is well worth reading."
— BookReporter

"Sensational; a stunning psychological thriller that kept me riveted from the first page to the last. A dark and compelling exploration of what it's like to grow up with someone who just may be the worst mother in the world, Moretti's chilling and insightful novel answers the question: If your mother is a serial killer and you're obsessed with her victims, what does that make you?"
— Karen Dionne, internationally bestselling author of The Marsh King's Daughter

"Suspense at its best: A chilling voice, an unlikely heroine, a haunting story. In Her Bones is Kate Moretti at the top of her game."
— Jessica Strawser, author of Not That I Could Tell

"We dove head-first into In Her Bones, its riveting twists and turns keeping us up well past our bedtime. Moretti has meticulously crafted this gripping mystery, which begs the question: Is it possible to escape our own fate? Another stellar contribution to the suspense genre."
— Liz Fenton & Lisa Steinke, authors of The Good Widow

Praise for The Blackbird Season:

"Crime fiction adores girls in trouble. Moretti's latest nail-biter is no exception, but it is exceptional...Though Moretti's emotionally astute tale can be heart-rending, readers won't be able to look away. As slow, creeping dread sets in, so does the inevitability of the terrible situation the town finds itself in, offering a deliciously sinister glimpse into the duplicity of small-town lives and the ease with which people turn on each other when tragedy comes calling. Moretti's tale of jealousy and obsession is nothing less than dark magic. Witchery indeed."
— Kirkus Reviews (starred review)

"A powerful story about a missing girl and an accused suspect that takes a haunting look into the characters and relationships you think you know. The Blackbird Season explores the fine line between guilt and innocence, truth and perception, the moments that break people apart—and those that bring them together. Riveting and insightful, this is a book that lingers long after you turn the final page."
— Megan Miranda, New York Times bestselling author of All the Missing Girls

"With her stunning new novel told through multiple perspectives, Moretti weaves a story that is equal parts suspenseful and chilling. The clear, concise storytelling will draw readers into Nate and Alecia's journey. The authentic, honest dialogue between Nate, Alecia and Bridget will engage readers as their individual pain and loss is captured. With the strangely haunting character of Lucia, steady pacing and an intricately woven plot, Moretti's latest will leave its mark on readers."
— RT Magazine

"This cautionary tale keeps the reader guessing to the end."
— Publishers Weekly

"The tale's suspenseful core should catch and hold most readers, especially Gone Girl fans."
— Booklist

"A suspenseful mystery about small-town secrets and scandals."
— PopSugar

"Bestselling author Kate Moretti's minute attention to the way people's brains shift, how the floodgates of all they've been ignoring or repressing can suddenly open, pushes her novel into something more discomfiting than a saga of small-town sins. An incisive portrait of midlife disappointment and suburban paranoia, wrapped up in a cleverly plotted mystery, The Blackbird Season is an absorbing thriller that lingers long after you put it down."
— BookPage

"Kate Moretti's insightful, starkly human mystery about a girl they call 'witch' has that sit-down, gotta-cry eloquence readers long for. Mean girl alliances and small town loyalties collapse in unison on the day the blackbirds fall. This story will hold you tight to its pages well past your bedtime. The Blackbird Season is Moretti's best yet."
— Lisa Turner, Edgar Award finalist author of The Gone Dead Train and Devil Sent the Rain

"The Blackbird Season pulls off a very difficult thing: it's nail-biting and thought-provoking all at once. It's a rare that a book can make you turn pages like your life depends on it, but also give you food for thought because the characters are so perfectly drawn. A stunning achievement from an extremely talented writer."
— Gilly Macmillan, New York Times bestselling author of What She Knew

"Moretti spins a tale of suspicion, deceit, and dreams that die as suddenly as a flock of starlings falling from the sky. A thrilling morality tale of the highest order, The Blackbird Season will make you question the lines between right and wrong, victim and criminal, and the unknowable intentions that form our innocence and guilt."
— Mindy Mejia, author of Everything You Want Me to Be

"Moretti begins The Blackbird Season with a sinister premise — a cloud of birds fall from the sky on the same day a teenage girl people call 'the witch' goes missing. A spellbinding tale of long-held secrets and small-town scandal, The Blackbird Season is one of those stories that sneaks up on you, each chapter building steadily to an ending that will haunt you long after you turn the last page."
— Kimberly Belle, bestselling author of The Marriage Lie

"The characters are authentically flawed and believable, and part of the mystery is the unfolding of their motivations…The Blackbird Season is about how people—teens and adults alike—get lost and disconnected. All that, plus a suspenseful mystery—what more can you ask for?"
— Holly Brown, author of Don't Try to Find Me

"When a troubled teenaged girl goes missing in The Blackbird Season, the town in which she lives is ripped apart by suspicion. As disturbing secrets bubble to the surface, no one is safe. Kate Moretti's trademark vivid characterizations, surprising storyline, and heart-stopping suspense kept me eagerly turning pages long into the night."
— Carla Buckley, author of The Good Goodbye

"The Blackbird Season is more than a haunting mystery; it's an intense exploration of a family in crisis and a community rocked by scandal. How well can you truly know the ones you love? How far can you trust them? I couldn't stop reading until I knew the whole and harrowing truth."
— Laura McHugh, award-winning author of The Weight of Blood and Arrowood

"For readers who love small town dynamics where everyone knows everyone else's business and nothing is what it seems, The Blackbird Season is the perfect novel to pick up this fall."
— Bookish
Atria Books, 9781501166471, 320pp.
Publication Date: September 4, 2018
About the Author
Kate Moretti is the New York Times bestselling author of Thought I Knew You, Binds That Tie, and While You Were Gone. She lives in eastern Pennsylvania with her husband and two kids. Find out more at KateMoretti.com or follow her on Twitter: @KateMoretti1 or Facebook: /KateMorettiWriter.
or
Not Currently Available for Direct Purchase