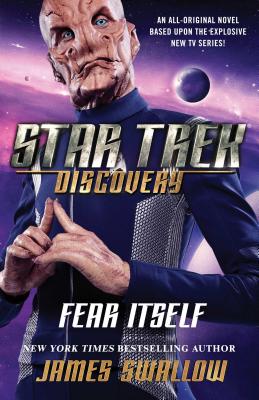 Star Trek (Paperback)
Discovery: Fear Itself (Star Trek: Discovery #3)
Pocket Books/Star Trek, 9781501166594, 304pp.
Publication Date: June 5, 2018
* Individual store prices may vary.
Description
An original novel based upon the explosive new Star Trek TV series on CBS All Access.

Lieutenant Saru is a Kelpien, a member of a prey species born on a world overrun by monstrous predators…and a being who very intimately understands the nature of fear. Challenged on all sides, he is determined to surpass his origins and succeed as a Starfleet officer aboard the U.S.S. Shenzhou. But when Saru breaks protocol in order to prove himself to his crewmates, what begins as a vital rescue mission to save a vessel in distress soon escalates out of control. Forced into a command role he may not be ready for, Saru is caught between his duty and the conflicting agendas of two antagonistic alien races. To survive, he will need to seek a path of peace against all odds, and risk compromising the very ideals he has sworn to uphold….
About the Author
James Swallow is a New York Times and Sunday Times bestselling author and BAFTA-nominated screenwriter, the only British writer to have worked on a Star Trek TV series. His Star Trek fiction includes The Latter Fire, Sight Unseen, The Poisoned Chalice, Cast No Shadow, Synthesis, Day of the Vipers, The Stuff of Dreams, Myriad Universes: Seeds of Dissent, and short stories in Seven Deadly Sins, Shards and Shadows, The Sky's The Limit, and Distant Shores. His other work includes the Marc Dane thriller series and tales from the worlds of 24, Doctor Who, Star Wars, Halo, Warhammer 40,000, and more. He lives and works in London.