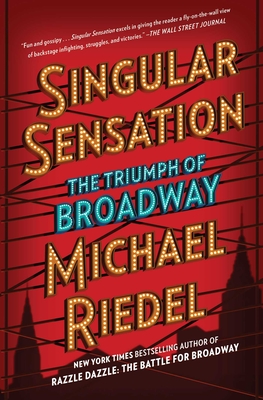 Singular Sensation
The Triumph of Broadway
Paperback

* Individual store prices may vary.
Other Editions of This Title:
Digital Audiobook (11/9/2020)
Hardcover (11/10/2020)
Compact Disc (11/10/2020)
Description
"Fun and gossipy." —The Wall Street Journal * "A masterful history." —Publishers Weekly (starred review) * "Engaging." —Newsweek

A "brisk, insightful, and deliciously detailed take" (Kirkus Reviews) on a transformative decade on Broadway, featuring behind-the-scenes accounts of shows such as Rent, Angels in America, Chicago, The Lion King, and The Producers—shows that changed the history of the American theater.

The 1990s was a decade of profound change on Broadway. At the dawn of the nineties, the British invasion of Broadway was in full swing, as musical spectacles like Les Miserables, Cats, and The Phantom of the Opera dominated the box office. But Andrew Lloyd Webber's Sunset Boulevard soon spelled the end of this era and ushered in a new wave of American musicals, beginning with the ascendance of an unlikely show by a struggling writer who reimagined Puccini's opera La Bohème as the smash Broadway show Rent. American musical comedy made its grand return, culminating in The Producers, while plays, always an endangered species on Broadway, staged a powerful comeback with Tony Kushner's Angels in America. A different breed of producers rose up to challenge the grip theater owners had long held on Broadway, and corporations began to see how much money could be made from live theater.

And just as Broadway had clawed its way back into the mainstream of American popular culture, the September 11 attacks struck fear into the heart of Americans who thought Times Square might be the next target. But Broadway was back in business just two days later, buoyed by talented theater people intent on bringing New Yorkers together and supporting the economics of an injured city.

"Told with all the wit and style readers could wish for" (Booklist) Michael Riedel presents the drama behind every mega-hit or shocking flop. From the bitter feuds to the surprising collaborations, all the intrigue of a revolutionary era in the Theater District is packed into Singular Sensation. Broadway has triumphs and disasters, but the show always goes on.
Praise For Singular Sensation: The Triumph of Broadway…
"Fun and gossipy . . . Singular Sensation excels in giving the reader a fly-on-the-wall view of backstage infighting, struggles, and victories. . . . Riedel can spin a yarn with zest . . . [making] for a jolly read." —Wall Street Journal

"Riedel's top note is 'dish'. . . . Singular Sensation feels like a gossipy conversation, after a show, at a restaurant in the theater district. . . . His gimlet eye for masterstrokes of marketing and producing is still there, enriching our understanding of the business, as is his ear for the sharp retort and the clash of egos. . . . Had you never thought about the poster design for Chicago? Why not? Someone put passion into it, and that passion draws Riedel like honey. It's not a sentimental book, not at all. But it reads like a love letter all the same." —New York Times

"[A] juicy, jaunty book . . . This is just the kind of stuff Riedel was born to write about. No one gets a quote like him, or an anecdote that speaks to the alternately vicious and thrilling nature of Broadway. . . . It's a blast." —Los Angeles Review of Books

"A masterful history . . . Broadway aficionados and pop culture geeks will be entertained by this fascinating survey." —Publishers Weekly (starred review)

"Riedel is among the cognoscenti for all things Broadway-related. . . . Readers of this breezy, fun, and informative work are the beneficiaries of the rarefied theatrical air of Broadway inhabited by Riedel. An obligatory purchase for all theater collections." —Library Journal (starred review)

"A very smart, very serious look at the business of Broadway, told with lacerating wit and keen insights into how it works—and how it doesn't." —Scott Rudin

"Engaging . . . There is indeed something for everyone. . . . Singular Sensation is filled with plenty of stories that will be catnip for theater-starved readers." —Newsweek

"[Michael Riedel is] the meticulous, gimlet-eyed historian who sees all and puts the pieces in context. . . . Singular Sensation is meticulously structured, well sourced, beautifully written and easily accessible. . . . It belongs in every theater-lover's library." —Theater Pizzazz

"A stellar tome . . . In many ways, the book is a guidebook on how to produce (and not produce) a success on Broadway. . . . Singular Sensation is required reading and the book of the year." —Hollywood Soapbox

"House lights down, stage lights up and, within minutes, you're transported to another place and time. . . . Michael Riedel takes readers backstage, overseas, onstage, and in rehearsals and meetings with people you'll recognize if you're perpetually Broadway-bound. . . . This serious-but-lighthearted, semi-scandalous collection of related stories will make a non-fan happy, too. Indeed, Riedel gives readers a fly-on-the-wall feel . . . like reading Variety with a delightfully droll PhD. It's likely been a minute since you sat in a theater seat and you miss it very much, but that shouldn't stop you from enjoying Broadway on paper. So grab Singular Sensation and roll with it." —Terri Schlichenmeyer

"Singular Sensation is an irresistible combination of scandal, history, gossip and diva behavior. . . . Riedel interviewed more than 100 people, so even familiar behind-the-scenes tales gain freshness through first-hand accounts. . . . A vivacious overview of a turbulent decade that revitalized Broadway and energized theatergoers." —Shelf Awareness

"Told with all the wit and style readers could wish for . . . Theater fans longing to see a show during this sequestered time will enjoy this entertaining look at what happens before and after the curtain goes up." —Booklist

"[A] brisk, insightful, and deliciously detailed take [on Broadway] . . . An entertaining diversion for fans until the curtains rise again." —Kirkus Reviews

"Singular Sensation offers a happier, insightful look back at some of Broadway's biggest triumphs, from Sunset Boulevard to The Lion King. From one of Broadway's most respected commentators and Post columnist." — New York Post, "Best of Fall"
Avid Reader Press / Simon & Schuster, 9781501166655, 352pp.
Publication Date: October 19, 2021
About the Author
Michael Riedel has been the theater columnist for the New York Post since 1998. New York magazine has called his column a "must-read" for the theater world. Michael began his radio career as regular on the Imus in the Morning show in 2011. In 2017 WOR, New York's oldest and highest-rated station, asked him to cohost its morning show with well-known sportscaster Len Berman. The Len Berman and Michael Riedel in the Morning show is the highest-rated morning radio program in the New York City area. Michael's book Razzle Dazzle: The Battle for Broadway won the Marfield Prize for arts writing in 2015 and is widely considered to be the successor to William Goldman's celebrated 1967 book about Broadway, The Season. A graduate of Columbia University, Michael lives in the West Village.