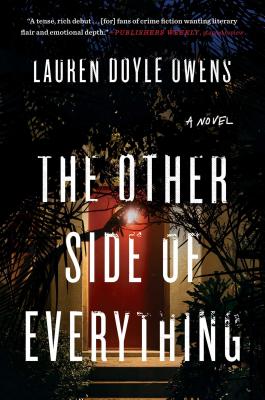 The Other Side of Everything (Hardcover)
A Novel
Atria Books, 9781501167799, 272pp.
Publication Date: January 23, 2018
Other Editions of This Title:
Paperback (10/9/2018)
* Individual store prices may vary.
Description
"A first-rate murder mystery." —People

"[For] fans of crime fiction wanting literary flair and emotional depth." —Publishers Weekly, starred review

Laura Lippman meets Megan Abbott in this suspenseful literary debut about three generations of neighbors whose lives intersect in the aftermath of a crime.

Bernard White is a curmudgeonly widower who has lived in Seven Springs, Florida for decades and has kept to himself since his wife passed. When his neighbor is murdered, he emerges from his solitude to reconnect with his fellow octogenarians. These connections become a literal lifeline as a second, and then a third, elderly woman is murdered, and "the originals" as they call themselves, realize that they are being targeted.

Amy Unger is an artist and cancer survivor whose emotional recovery has not been as successful as her physical one. After the woman next door is murdered, she begins to paint imagined scenes from the murder in an effort to cope with her own loss. But when her paintings prove to be too realistic, her neighbors grow suspicious, and she soon finds herself in the crosshairs of the police.

And then there's Maddie Lowe, a teenage waitress whose mother recently abandoned the family. As Maddie struggles to keep her family together and maintain the appearance of normal teenage life, she finds herself drawn to the man the police say is the killer.

As they navigate their increasingly dangerous and tumultuous worlds, Bernard, Amy, and Maddie begin to uncover the connections between them, and the past and present, in a novel that ultimately proves the power of tragedy to spark renewal.
About the Author
Lauren Doyle Owens is a graduate of Florida International University's MFA program. Her work has recently appeared in The Seventh Wave and Concho River Review. She lives in Florida.
Praise For The Other Side of Everything: A Novel…
"Owens sets up a wicked premise—someone is murdering elderly women in a Florida town—then transcends the serial-killer genre, digging deep into the lives of the victims' neighbors: a widower, a painter and a teenager, all broken in some way. The result is a compelling tale of survival and hope." —People

"Someone is killing the widows in Seven Springs, Florida. And there are plenty of suspects. The Other Side of Everything is a dazzling, and often unsettling, debut novel full of honesty, charm, and insight, and it is much more than a murder mystery. It will remind you of just why you started reading stories in the first place—to be transported to a world more vivid and compelling than the one you're living in. Lauren Doyle Owens has an expansive heart, a keen eye, and a lyrical voice. This sorry of loneliness, loss, compassion, and renewal will carry you away." —John Dufresne, author of I DON'T LIKE WHERE THIS IS GOING

"Lauren Doyle Owen's illuminating novel shows us the power of community to both bind and separate. Its multi-generational characters shift between internal demons and a real-world killer, looking for connection. The beauty of the story lies in its ability to find hope in tragedy. A wonderful read!" —Janis Cooke Newman, author of A MASTER PLAN FOR RESCUE

"The Other Side of Everything is a riveting murder mystery that also, amid all the fabulous mayhem, offers a tender, empathetic exploration of what it's like to stand at life's two great precipices: adolescence and old age. You won't be able to put it down, and after you turn the last page you won't forget its characters, young and old, who struggle to find the seeds of renewal in the shadow of tragedy. This is a fantastic debut." —Heather Young, author of THE LOST GIRLS

"[A] tense, rich debut....Owens impressively captures the emotional landscape of three generations and the varying compromises required of women in each. Fans of crime fiction wanting literary flair and emotional depth will gladly follow this trio of complicated characters." —Publishers Weekly, starred review

"A literary thriller with everything book groups are looking for: fine writing, a flawlessly constructed story, and relatable characters providing plenty of questionable decisions rife for discussion." —Booklist, starred review

"Each character's reaction to the murders, as well as how the invasion of violence galvanizes the neighborhood, creates a solid plot. Each realizes a strength, as well as a vulnerability, they didn't know they had. Owens delivers a quiet mystery in The Other Side of Everything that expertly uncovers the emotional depth of each character… A terrific debut." —Sun-Sentinel

"Lauren Doyle Owens… is someone to watch. Her stunning literary murder mystery debut is at once a nail-biter and a brilliantly nuanced evocation of how communities work and don't work….Ms. Owens builds a vibrantly realized world spreading across three generations. She traces the ebbs and flows of individual and collective destinies, her narrative charged by a lyricism that is constantly evocative and revealing. A large cast of well-drawn supporting characters reinforces the themes of connectedness and renewal. This is a remarkable debut by a distinctive talent of great promise." —Florida Weekly

"A penetrating look behind the faces we present to the world." —Shelf Awareness

"Intriguing and expertly paced, The Other Side of Everything is a tantalizing literary thriller you'll want to finish in one sitting." —Bustle