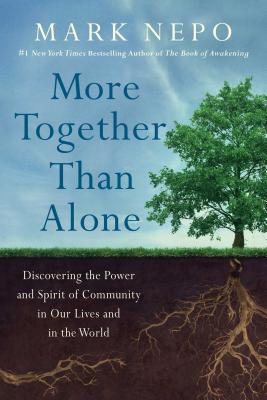 More Together Than Alone
Discovering the Power and Spirit of Community in Our Lives and in the World
Hardcover

* Individual store prices may vary.
Other Editions of This Title:
Digital Audiobook (7/16/2018)
Paperback (7/9/2019)
Library Binding, Large Print (7/18/2018)
Description
The #1 New York Times bestselling author and popular spiritual teacher presents a poignant and timely meditation on the importance of community, and demonstrates how we live more enriching lives by cultivating connectedness.

At once a moving meditation and an empowering guide, More Together Than Alone is an compelling testament to the power of community and why it's so essential in our lives, now more than ever. Mark Nepo draws from historical events, spiritual thought leaders, and the natural world to show how, in every generation, our tendency is to join together to accomplish our greatest achievements, from creating education to providing clean drinking water, and preserving the arts.

Nepo's historical snapshots, from ancient times to contemporary examples, show how community creates a light in the darkest of times, and gets to the heart of how we come together in varied and beautiful ways, whether forming resistance groups during the Holocaust or rebuilding after the nuclear devastation in Nagasaki. These inspiring stories teach us that even in the bleakest days, we have the power to create connections and draw strength from one another.

Featuring thought-provoking analysis and practical takeaways, More Together Than Alone will help us inhabit a stronger sense of togetherness where we live and in the world so we can achieve our highest potential, as individuals, and as communities.
Praise For More Together Than Alone: Discovering the Power and Spirit of Community in Our Lives and in the World…
"More Together than Alone is a beautifully crafted message from the heart, a powerful cry that we are one, interconnected living community, stretching through time and space. Weaving together stories with profound reflections, this book strikes at the deepest need of our time. It is such a profound book, so many stories across millennia, so much on which to meditate deeply, that a few words of endorsement seem inadequate. Mark Nepo offers a vital message that belongs to all of our human history, but is especially needed at this moment in our shared destiny."
— Llewellyn Vaughan-Lee, Ph.D, author, Spiritual Ecology, the Cry of the Earth

"What is more needed in our time than a book about the power and promise of community, a book rooted in the simple fact that we are part of one another, whether or not we know it? And who better to issue the call to community than a gifted poet and philosopher who's spent his life helping to "stitch the world together?" Every word in this book has been tested in the fire and can be trusted. So please read this book, breathe in Mark Nepo's teachings, and help stitch the fabric of trust across our tattered world."
— Parker J. Palmer, author of On the Brink of Everything, Let Your Life Speak, and The Courage to Teach

"In our digital age, we can be connected to everybody and everyone, but not truly connected in the ways that matter most. More Together Than Alone is a compelling testament to the power of community to help us lead happier, healthier, and more fulfilling lives. Mark Nepo has given us not only a much-needed message of hope and inspiration, but a practical guide on how to build a better tomorrow, together."
— Arianna Huffington, Founder & CEO, Thrive Global and Founder, Huffington Post

"In this dazzling series of meditations, Mark Nepo returns us to an enduring truth: We must love one another—or perish. Just as medieval monks kept literacy alive during the dark ages, he shows us how we too must keep alive the literacy of the heart, no matter how deafening the noise of hate. For this essential task, More Together Than Alone is required reading."
— Valarie Kaur, Sikh activist and founder of the Revolutionary Love Project

"In an age of racial divisions, school shootings, and international conflict, this book's message about the necessity of coming together is timely, and its examples of human compassion and unity often comforting."
— Publishers Weekly

"A series of short, optimistic pep talks with a collective message: We can all get along. . . . Readers feeling a need for an inspirational kick in the pants will enjoy this book"
— Kirkus Reviews

"A poignant and timely meditation on the importance of community, and demonstrates how we live more enriching lives by cultivating connectedness."
— Elevated Existence Magazine

"A timely reflection on the importance of community and how we can deepen our sense of togetherness to improve both our individual lives and the world."
— Thrive Global

"Poet and spiritual writer Mark Nepo, one of our Living Spiritual Teachers, brings to this masterwork on community his skills of observation, his ability to reflect in universal terms, and his personal openness to the many ways people approach their life together."
— Spirituality & Practice

"More Together Than Alone is not a business book, but any person, in any business, can heed Mark Nepo's call."
— Anthony Salvanto, author of Where Did You Get This Number?

"Mark Nepo has written a guidebook for our complicated, polarized time, with his poet's heart and compassion . . . The combination of practicality and inspiration leaves readers with hope for our world, and gratitude for this beautiful book."
— Light of Consciousness, Journal of Spiritual Awakening
Atria Books, 9781501167836, 352pp.
Publication Date: July 17, 2018
About the Author
Mark Nepo is the author of twenty books, including Seven Thousand Ways to Listen, The Endless Practice, and the #1 New York Times bestseller, The Book of Awakening. His work has been translated into more than twenty languages. Mark traveled the country with Oprah Winfrey on her sold-out 2014 "The Life You Want" tour and has appeared several times with Oprah on her Super Soul Sunday program (OWN TV). He lives in southwest Michigan. Visit him online at MarkNepo.com and ThreeIntentions.com.
or
Not Currently Available for Direct Purchase