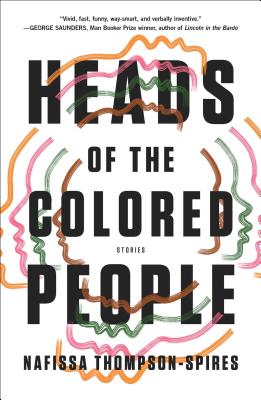 Heads of the Colored People
Stories
Hardcover

* Individual store prices may vary.
Other Editions of This Title:
Digital Audiobook (7/9/2018)
Paperback (1/22/2019)
Library Binding, Large Print (6/19/2019)
Description
Longlisted for the National Book Award for Fiction and Kirkus Prize Finalist

Calling to mind the best works of Paul Beatty and Junot Díaz, this collection of moving, timely, and darkly funny stories examines the concept of black identity in this so-called post-racial era.

A stunning new talent in literary fiction, Nafissa Thompson-Spires grapples with black identity and the contemporary middle class in these compelling, boundary-pushing vignettes.

Each captivating story plunges headfirst into the lives of new, utterly original characters. Some are darkly humorous—from two mothers exchanging snide remarks through notes in their kids' backpacks, to the young girl contemplating how best to notify her Facebook friends of her impending suicide—while others are devastatingly poignant—a new mother and funeral singer who is driven to madness with grief for the young black boys who have fallen victim to gun violence, or the teen who struggles between her upper middle class upbringing and her desire to fully connect with black culture.

Thompson-Spires fearlessly shines a light on the simmering tensions and precariousness of black citizenship. Her stories are exquisitely rendered, satirical, and captivating in turn, engaging in the ongoing conversations about race and identity politics, as well as the vulnerability of the black body. Boldly resisting categorization and easy answers, Nafissa Thompson-Spires is an original and necessary voice in contemporary fiction.
Praise For Heads of the Colored People: Stories…
"Nafissa Thompson-Spires has a way of staring intense, awkward, comic, and sorrowful situations right in the face. There's no escaping her honest gaze. Heads of the Colored People is a necessary and powerful new collection with, thankfully, not a dull sentence to be found."
— Peter Orner

"With devastating insight and remarkable style, Nafissa Thompson-Spires explores what it means to come to terms with one's body, one's family, one's future. The eleven vignettes in Heads of the Colored People elevate the unusual and expose the unseen, forming an original—and urgent—portrait of American life."
— Allegra Hyde

"Vivid, fast, funny, way-smart, and verbally inventive, these stories by the vastly talented Thompson-Spires create a compelling surface tension made of equal parts skepticism towards human nature and intense fondness of it. Located on the big questions, they are full of heart."
— George Saunders

"Heads of the Colored People by Nafissa Thompson-Spires is an unusually intricate matrix of clear-eyed observation and devastating revelation about what it means to be a human being alive on this aching, raucous, unjust planet in the early 21st century. It is also, often, extremely funny, and is very smart on every page and gorgeously, rewardingly varied in its sentences and forms."
— Laird Hunt

"The stories here are dazzling, wise, wicked and tender. Nafissa Thompson-Spires' debut is a knockout."
— Kelly Link



"What a true pleasure it is to spend time with this alive mind thinking so openly and interestingly on the page about character and culture and storytelling and one's everchanging role in it all. This book made me laugh many times, and I also sometimes stopped midpage to read a paragraph aloud just to relish how Thompson-Spires was moving her story along. A marvel of a debut."
— Aimee Bender

"The stories in Heads of the Colored People bring layer after layer of awe, humor, style, and vividness. All of that comes as Nafissa Thompson-Spires finds new and distinct angles to show the contours of each story's world. On the bus. At the DMV. On social media. The fine details and the narrative style show the minds, bodies, and circumstances of an evocative mixture of folks. There's so much to recommend here, from the commentary to the line, where these sentences build feelings, rooms, and the people we find there. The fidelity of the voices comes through in a way that makes Nafissa Thompson-Spires work stay with you."
— Ravi Howard

"Nafissa Thompson-Spires' stories fearlessly tackle broad issues of race, identity politics, and the body, while never losing sight of the intricately-faceted individuals inhabiting those bodies. She writes with a precision of psychological insight that is both moving and profound. Dignified, controlled, and, above all, original: Thompson-Spires is an important new voice in contemporary fiction."
— Jamie Quatro

"Nafissa Thompson-Spires has taken the best of what Toni Cade Bambara, Paul Beatty, Morgan Parker and Junot Diaz do plus a whole lot of something we've never seen in American literature, blended it all together and giving us one of the finest short story collections I've ever read. The super thin lines between terror, intimacy, humor and hubris are masterfully toed, jumped and ultimately redrawn in the most exciting and soulful fiction I've read this century. The nation needed Heads of Colored People 40 years ago. Thankfully, Nafissa Thompson-Spires gave it to us now."
— Kiese Laymon

"Stuffed with invention… Thompson-Spires proves herself a trenchant humorist with an eye for social nuance."
— Publishers Weekly

"We need a new word for this story collection. Dark humor isn't quite it. But it's close. It's dark; it's funny; but it's kind, too."
— Tayari Jones

Nafissa Thompson-Spires brilliantly delves into the concept of black identity in modern times in Heads of the Colored People, a collection that echoes the power of Junot Díaz and cements her role as an incredibly important voice in literature right now.
— PopSugar.com

"What's interesting is the use Nafissa Thompson-Spires makes of race – as a plot-driver, irony engine, and comic goad – in the self-aware manner of Paul Beatty and others."
— New York Magazine

"Presenting unique characters, gifted storyteller Thompson-Spires navigates the black experience with humor and poignancy while also acknowledging the inherent tensions and exposure to violence black citizens encounter. Highly Recommend."
— Library Journal, Starred Review

Darkly humorous and incredibly moving, Heads of the Colored People is a wonderful collection of short stories that tackles what it means to be black in a world that thinks it's "post-racial." (Spoiler alert: It's not.) The book couldn't be more timely — and even the stories that seem light-hearted on the surface are, at their center, incredibly intelligent reflections on race, identity, and blackness. Nafissa Thompson-Spires has written a masterpiece.
— Shondaland.com

"For the freshest voice in literature, look no further than Nafissa Thompson-Spires blisteringly clever short story collection, Heads of the Colored People… Sometimes, a voice comes around that is so singular, so funny, so wholly original, that you go back and reread each story once you finish it… In each of these humorous, intelligent vignettes, Thompson-Spires explores aspects of being Black and middle-class in today's America. This is a special collection. Buy it so you can read it more than once."
— Refinery29.com

"This collection resonates on many frequencies. There are direct links between characters in several of the stories, many of whom are foils for each other, and their nuances are sure to strike a chord with any reader who's struggled with insecurity and a search for self… Thompson-Spires writes with grace, a lightly bitter humor, and a real eye for a detail that calls attention to the simultaneous reality and fictionality of each story… A profound and truly enjoyable collection."
— The Riveter Magazine

"An unforgettable debut, Heads of the Colored People examines black identity in boundary-pushing new ways. Full of unique characters, the stories offer a mixture of humorous and dark tales. From mothers exchanging snide notes to a teen struggling with her identity, Thompson-Spires shines a light on the insecurity inherent in black citizenship."
— Redbook

"Nafissa Thompson-Spires' exquisitely original Heads of the Colored People is fresh, inventive and sure not to disappoint. Each short story starts in the familiar and then leads to unexpected and compelling revelations."
— TheRoot (TheRoot.com)

"In an era when writers of color are broadening the space in which class and culture as well as race are examined, Thompson-Spires' auspicious beginnings auger a bright future in which she could set new standards for the short story."
— Kirkus Reviews

"Thompson-Spires' dazzling collection of short fiction addresses black identity in the so-called post-racial era... Transgressive and wildly funny, Heads announces a major new talent."
— Ms. Magazine

"With a well-tuned ear for the cadence of comedy and dialogue, Thompson-Spires uses her characters to illustrate what real conversations about identity can be."
— Booklist

"A writer to watch… Extraordinarily powerful.Thompson-Spires distinguishes her work by keeping explicit violence off the page and focusing on raw grief, pushing her readers to confront the senselessness based solely on the strength of her voice and her characters… [E]loquent, funny, forceful and occasionally shocking."
— amNewYork

"Here's an author to watch. Thompson-Spires' first story collection is a fascinating, lyrical, and profoundly moving examination of contemporary black identity."
— Entertainment Weekly

"Funny, smart, and #ofthemoment, this electrifying debut marks the emergence of a daring talent whose characters are as comfortable referencing Octavia Butler and Flannery O'Connor as they are dropping allusions to Fetty Wap and Patti Mayonnaise."
— O, the Oprah Magazine

"Superbly witty debut… The topics [Nafissa Thompson-Spires] takes on are often deadly serious (one is about an impending suicide), but every story flashes grim humor. She is also a brutally sharp observer. The epistolary story 'Belles Lettres' could have been written with a scalpel?"
— Janet Maslin
37 Ink, 9781501167997, 224pp.
Publication Date: April 10, 2018
About the Author
Nafissa Thompson-Spires earned a doctorate in English from Vanderbilt University and a Master of Fine Arts in Creative Writing from the University of Illinois. Her work has appeared in Story Quarterly, Lunch Ticket, and The Feminist Wire, among other publications. She was a 2016 fellow of the Callaloo Writer's Workshop.
Coverage from NPR
or
Not Currently Available for Direct Purchase