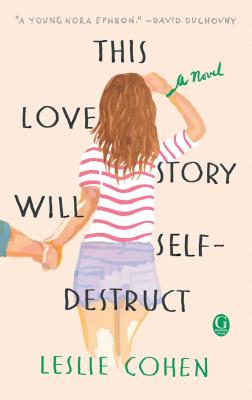 This Love Story Will Self-Destruct
Paperback

* Individual store prices may vary.
Other Editions of This Title:
Digital Audiobook (1/22/2018)
Description
This is the classic tale of boy meets girl: Girl…goes home with someone else.

Meet Eve. She's a dreamer, a feeler, a careening well of sensitivities who can't quite keep her feet on the ground, or steer clear of trouble. She's a laugher, a crier, a quirky and quick-witted bleeding-heart-worrier.

Meet Ben. He's an engineer, an expert at leveling floors who likes order, structure, and straight lines. He doesn't opine, he doesn't ruminate, he doesn't simmer until he boils over.

So naturally, when the two first cross paths, sparks don't exactly fly. But then they meet again. And again. And then, finally, they find themselves with a deep yet fragile connection that will change the course of their relationship—possibly forever.

Follow Eve and Ben as they navigate their twenties on a winding journey through first jobs, first dates, and first breakups; through first reunions, first betrayals and, maybe, first love. This is When Harry Met Sally reimagined; a charming tale told from two unapologetically original points of view. With an acerbic edge and heartwarming humor, debut novelist Leslie Cohen takes us on a tour of what life looks like when it doesn't go according to plan, and explores the complexity, chaos, and comedy in finding a relationship built to last.
Praise For This Love Story Will Self-Destruct…
"Leslie Cohen's writing floats effortlessly. She is like a young Nora Ephron who finds the hysteria, hysterics, and hysterical humor in this New York City novel of 21st century manners. But after laughing, look more closely and you will find real heart, hard earned wisdom, and a fresh original voice for her generation."
— David Duchovny

"Leslie Cohen's characters all felt so real to me--and much cooler than my friends and I were at Columbia! A very enjoyable read."
— Jill Santopolo, USA Today bestselling author of THE LIGHT WE LOST

"Do not miss this charming, funny debut. Leslie Cohen is a new writer to watch."
— Julie Klam, New York Times bestselling author of The Stars in Our Eyes

"Cohen creates characters who feel real enough to jump off the page… Although this is Eve and Ben's love story, it's also an ode to New York City, an exploration of loss, a rumination on 9/11's effects on a generation, and a tale of two people navigating their 20s. An edgy, updated take on Nora Ephron that's full of humor and wit."
— Kirkus Reviews, starred review

"When Harry Met Sally for a new generation, with all the humor, heart, and smarts that writing neo-Ephron entails."
— Booklist

"This Love Story Will Self-Destruct by Leslie Cohen beautifully demonstrates a profound truth about growing up... It's a book about the journey, not the destination. It's about the changes within. It's about a woman finding the courage and strength she needs to become who she is meant to be. While reading it, I found that maybe I could find the courage to accept my past — the parts that are gone and the parts that remain — and forge ahead on my new path."
— Melissa Ragsdale, Bustle.com

"What's better than love at first sight? A surprise romance, growing over time. This is a Big Apple confection worthy of its dazzling backdrop."
— People Magazine

"Cohen's debut is a traditional romance with a contemporary twist, a truly 21st-century love story that's as complex and challenging as the times in which it's set."
— Bookreporter.com

"Think When Harry Met Sally... updated."
— The New York Post, "This Week's Must-Read Books" feature
Gallery Books, 9781501168536, 336pp.
Publication Date: January 23, 2018
About the Author
Leslie Cohen was born and raised in New York. She studied fiction at Columbia University, and wrote a weekly music column for a newspaper in Colorado before working in publishing for several years. This is her debut novel.