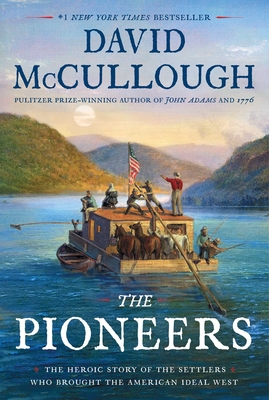 The Pioneers
The Heroic Story of the Settlers Who Brought the American Ideal West
Hardcover

* Individual store prices may vary.
Other Editions of This Title:
Digital Audiobook (5/6/2019)
Paperback (5/5/2020)
Paperback, Large Print (5/13/2020)
CD-Audio (5/7/2019)
Library Binding, Large Print (5/22/2019)
Description
The #1 New York Times bestseller by Pulitzer Prize–winning historian David McCullough rediscovers an important chapter in the American story that's "as resonant today as ever" (The Wall Street Journal)—the settling of the Northwest Territory by courageous pioneers who overcame incredible hardships to build a community based on ideals that would define our country.

As part of the Treaty of Paris, in which Great Britain recognized the new United States of America, Britain ceded the land that comprised the immense Northwest Territory, a wilderness empire northwest of the Ohio River containing the future states of Ohio, Indiana, Illinois, Michigan, and Wisconsin. A Massachusetts minister named Manasseh Cutler was instrumental in opening this vast territory to veterans of the Revolutionary War and their families for settlement. Included in the Northwest Ordinance were three remarkable conditions: freedom of religion, free universal education, and most importantly, the prohibition of slavery. In 1788 the first band of pioneers set out from New England for the Northwest Territory under the leadership of Revolutionary War veteran General Rufus Putnam. They settled in what is now Marietta on the banks of the Ohio River.

McCullough tells the story through five major characters: Cutler and Putnam; Cutler's son Ephraim; and two other men, one a carpenter turned architect, and the other a physician who became a prominent pioneer in American science. They and their families created a town in a primeval wilderness, while coping with such frontier realities as floods, fires, wolves and bears, no roads or bridges, no guarantees of any sort, all the while negotiating a contentious and sometimes hostile relationship with the native people. Like so many of McCullough's subjects, they let no obstacle deter or defeat them.

Drawn in great part from a rare and all-but-unknown collection of diaries and letters by the key figures, The Pioneers is a uniquely American story of people whose ambition and courage led them to remarkable accomplishments. This is a revelatory and quintessentially American story, written with David McCullough's signature narrative energy.
Praise For The Pioneers: The Heroic Story of the Settlers Who Brought the American Ideal West…
"A tale of uplift, with the antislavery settlers embodying a vision of all that was best about American values and American ideals."
— The New York Times Book Review Editor's Choice

"David McCullough has become perhaps our best-loved chronicler of America's past. . . . The Pioneers is the account not just of one Ohio settlement but of myriad such places across America, where innumerable immigrants (as the settlers were known) came to make a fresh start in a strange land. It is a story as resonant today as ever."
— Gerard Helferich

"McCullough is among the most thoughtful and thorough historians of the past two generations. . . . [A] great American mind."
— John S. Gardner

"McCullough is a master of research along with being a wonderful storyteller. He takes the history of the area and turns what could be dry and dull into vibrant and compelling tales. . . . Lovers of history told well know that McCullough is one of the best writers of our past, and his latest will only add to his acclaim."
— Jeff Ayers

"To read The Pioneers is to understand that the settlement of the Northwest Territory was, in some ways, a second phase of the American Revolution – a messy experiment, touched by high ideals and bitter conflicts, that still resonates in ways we're only beginning to grasp."

— Danny Heitman

"Like McCullough's other books, The Pioneers succeeds because of the author's strength as a storyteller. The book reads like a novel, with a cast of fascinating characters that the average reader isn't likely to know about. . . . A worthy addition to McCullough's impressive body of work."
— Michael Schaub

"Readers will immediately recognize that storytelling is one of Mr. McCullough's great literary strengths. He consistently produces engaging prose about a particular period of time, and makes history come alive."

— Michael Taube

"A lively history of the Ohio River region in the years between the Revolution and the Civil War. . . . [McCullough's] narrative abounds with well-recognized figures in American history—John Quincy Adams, Harriet Beecher Stowe, Johnny Appleseed—while highlighting lesser-known players. . . . Vintage McCullough and a book that students of American history will find captivating."
— Kirkus Reviews (starred review)

"In his usual revealing style, McCullough has crafted another dynamic volume of American history. With clarity and incisiveness, he details the experience of a brave and broad-minded band of people who crossed raging rivers, chopped down forests, plowed miles of land, suffered incalculable hardships and braved a lonely frontier to forge a new American ideal. They were indeed the pioneers."


— Dave Kindy
Simon & Schuster, 9781501168680, 352pp.
Publication Date: May 7, 2019
About the Author
David McCullough (1933–2022) twice received the Pulitzer Prize, for Truman and John Adams, and twice received the National Book Award, for The Path Between the Seas and Mornings on Horseback. His other acclaimed books include The Johnstown Flood, The Great Bridge, Brave Companions, 1776, The Greater Journey, The American Spirit, The Wright Brothers, and The Pioneers. He was the recipient of numerous honors and awards, including the Presidential Medal of Freedom, the nation's highest civilian award. Visit DavidMcCullough.com.