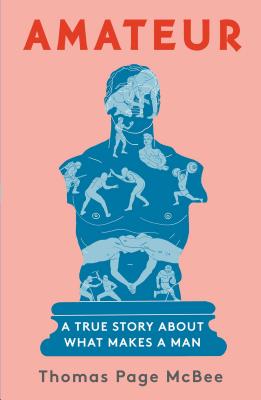 Amateur
A True Story About What Makes a Man
Hardcover

* Individual store prices may vary.
Other Editions of This Title:
Digital Audiobook (8/13/2018)
Paperback (5/14/2019)
Compact Disc (8/14/2018)
Description
*Shortlisted for the Baillie Gifford Prize for Nonfiction
*Shortlisted for the Lambda Literary Award in Transgender Memoir/Biography
*Shortlisted for the Wellcome Book Prize

One of The Times UK's Best Memoirs of 2018, BuzzFeed's Best Nonfiction of 2018, Autostraddle's Best LGBT Books of 2018, Book Riot's Best Queer Books of 2018, and 52 Insight's Favorite Nonfiction Books of 2018

From an award-winning writer whose work bristles with "hard-won strength, insight, agility, and love" (Maggie Nelson), an exquisite and troubling narrative of masculinity, violence, and society.

In this groundbreaking new book, the author, a trans man, trains to fight in a charity match at Madison Square Garden while struggling to untangle the vexed relationship between masculinity and violence. Through his experience boxing—learning to get hit, and to hit back; wrestling with the camaraderie of the gym; confronting the betrayals and strength of his own body—McBee examines the weight of male violence, the pervasiveness of gender stereotypes, and the limitations of conventional masculinity. A wide-ranging exploration of gender in our society, Amateur is ultimately a story of hope, as McBee traces a new way forward, a new kind of masculinity, inside the ring and outside of it.

In this graceful, stunning, and uncompromising exploration of living, fighting, and healing, we gain insight into the stereotypes and shifting realities of masculinity today through the eyes of a new man.
Praise For Amateur: A True Story About What Makes a Man…
"In an age when identity feels so splintered and fractional, McBee's empathy with men feels refreshing, but it's his determination to be accountable that is radical. He resolves his own masculinity crisis by doing the things men often think they're doing, but so often are not: listening, asking questions, seeking help, being vulnerable."
—The Guardian

"This examination of masculinity and violence from writer Thomas Page McBee is utterly readable. McBee…interviews sociologists, trains for a boxing match himself, and writes about his relationships to the important people in his life, especially his late mother, all in pursuit of a greater understanding of masculinity."
—Los Angeles Review of Books

"This book relays a subtle, profound personal investigation into masculinity and personhood ... McBee's great twist is to treat masculinity itself as an anthropological phenomenon, represented by this bloody, extreme sport. Inside the fight, McBee finds reconciliation."
—The New Republic

"A no-holds-barred examination of masculinity. McBee describes the journey as a way of grappling with his newish place in the world of toxic (and privileged) masculinity ... a compassionate look at what it means to be a man and the circumstances that have engendered our expectations. It is in many ways a happy dismantling of these expectations, an opening of masculinity to make room for love, support, and tenderness — something McBee is pleasantly surprised to find along the way."
—Buzzfeed

"Thomas Page McBee's new memoir, Amateur, is a powerful exploration of the costs of toxic masculinity and the joys of an authentic life. It is also a classic fight story. Superbly written and keenly observed, Amateur manages to juggle all of these elements with grace and wit."
—The Rumpus

"McBee is consistently vulnerable—both physically and in how he shares his experience. Yet at the end of Amateur, after all the punches, interviews, and introspection, the author does not arrive at any simple answers. Instead, that initial question about men and fighting multiplies into larger ones ... While he gets closer and closer to that eventual fight night in New York, his investigation of men is made more powerful by this lack of certainty—ultimately asking whether anyone, including those who flaunt their political strength in Washington D.C., truly comprehends the meaning of masculinity."
—Bitch Magazine

"It is no coincidence that the terms "masculinity crisis" and "toxic masculinity" have become current at a time when leaders such as presidents Putin and Trump strut the world stage like parodies of the archetypal alpha male. Who better to explore this crisis than someone who has had to interrogate, with every cell of their body, what it means to become a man? ... With exhilarating clarity and tenderness, Amateur exposes patriarchy for the construct that it is."
—Sydney Morning Herald

"[McBee's] writing asks questions about gender that he believes are relevant to all people, trans or not ... [Amateur] probes the culture (or cult) of masculinity through, among other things, his experience as the first trans man to enter the boxing ring at Madison Square Garden, where he competed in a 2015 charity event when he was 34."
—Newsday

"Elegantly demonstrate[s] how men can fight for a better definition of manhood—one that includes vulnerability, empathy, and self-expression—simply by fighting to be themselves ... [McBee] finds the answer not in knocking out another man's mouthguard, but rather in moments of vulnerability and the nurturing gestures of other men."
—Quartz

"The hot center of this book, the new work that it does, is McBee's search to identify and adopt ways to be a "better" man. He wants to know, as a man, how to fight gender inequity ... At a time when equity of all kinds is being suppressed, Amateur is a reminder that the individual can still come forward and fight."
—The A.V. Club

"Amateur is Thomas Page McBee's poetic exploration of (sometimes toxic) masculinity as he trained to become the first trans man to box in Madison Square Garden. Author of the award-winning memoir Man Alive, McBee expected men drawn to boxing were motivated by bloodlust. Instead, he discovers mentorship among men overcoming weaknesses. In finding the vulnerability guys hope to hide, McBee finds hope for all men."
—The Advocate

"Thomas Page McBee is a trans man who opts to train as a boxer in order to fight in a charity match. The training sends him into uncomfortable territory as he works to unpack whether violence is a necessary component of the maleness to which he has transitioned. He provides readers with a fascinating, poignant account of his desire to push at the constructions of what it means to be a man in order to better understand himself."
—Signature Reads

"This is an extraordinary, humane and compassionate book about aggression, selfhood and love. Nothing short of superb."
—Attitude Magazine

"When men fight, they are fighting the parts of themselves they hate, as McBee, himself a victim of abuse, discovers ... [the account] is interspersed with insights from a wide range of commentators and experts on issues relating to masculinity, race, gender and violence. It all adds up to a gripping and fascinating journey."
—The Press Association

"[One of] the hottest memoirs to pre-order for fall ... In this memoir from Scribner, [McBee] grapples with masculinity, gender, and violence as he recounts his training to become a boxer."
—The Writer Magazine

"Reading Amateur is watching someone try to simultaneously figure out who they are, who the world wants them to be, and why. It's deeply personal and politically vital, a calm and contemplative antidote to male toxicity."
—The Skinny

"Sharp and precise, open and honest … It's hard to overstate how important and profound it feels to read a personal account of a man actively examining his own masculinity and privilege in such an honest way."
—Women's Review of Books

"[McBee's] writing is marvelous, pinning ideas that could so easily be abstract to the visceral, physical poetry of boxing…McBee displays tenacity on the page and in the gym, sizing up formidable concepts and engaging them with savvy and sensitivity. Amateur is more than a boxing story, just as it's more than a trans narrative. It's a highly recommended case study in manhood."
—Shelf Awareness

"This powerful book chronicles McBee's training and his attempts at understanding why violence is accepted as an aspect of American masculinity…McBee's lyrical, achingly honest exploration of loss and maturation offers a hopeful antidote to more toxic forms of masculinity."
—Publishers Weekly, starred review

"Riveting. [McBee] is a compelling narrator. A heartfelt glimpse of a trans person's life, with a very dramatic boxing match bringing into focus the gender binary…Readers will be able to relate and gain new perspectives."
—Library Journal

"This timely memoir explores male-female power dynamics in an uplifting story of someone who becomes a new man in ways even he couldn't anticipate."
—Booklist

"In this lyrical, courageous book, the author eloquently probes his inner life as he searches for the meaning of gender identity in a world limited by binary thinking. Provocative and illuminating—a winning follow-up to McBee's acclaimed debut."
—Kirkus Reviews

"Until I read this book, I didn't realize how tired I was of reading about masculinity as cold, hard, and fixed. Amateur is a warm hug. It's also an invitation to everyone who's ever struggled to accept failure, searched for a sense of belonging, or said 'Ugh, men' in an exasperated tone to think harder and be kinder. I want the world to read it."
—Ann Friedman, New York Magazine columnist and cohost of Call Your Girlfriend

"Amateur is a brutally honest look at the problems with masculinity, laced through with hope, and joy, and possibility. Thomas McBee confronts fears and realities with grace, toughness, and poetry. A beautiful book."
—Michelle Tea, author of Black Wave and How to Grow Up

"Thomas Page McBee's Amateur takes a classic, well-worn subject—a man whose fight with other men is ultimately a confrontation with the self—and completely revitalizes, renews, and enriches it. McBee grapples with enormous issues such as masculinity, identity, transformation, and loss with great depth and intelligence, and in doing so, explores so many of the tough questions we should all be asking ourselves. Though slim and sharply concise, Amateur enlarges the world by opening up greater, more hopeful realms of possibility. I am a better man for having read this book."
—Isaac Fitzgerald, founding editor of Buzzfeed Books, cohost of #AMtoDM and coauthor of Pen & Ink and Knives & Ink

"Thomas Page McBee is a fighter—and not only in a ring in Madison Square Garden. Amateur shows us a warrior of the human spirit, courageously investigating masculinity itself. His prose—both fierce and delicate—reveals a struggle to become a better man, and to create a better self. Amateur is urgent, generous, and fearless."
—Jennifer Finney Boylan, author of Long Black Veil and She's Not There

"With Thomas as your gloved guide, you'll peer into locker rooms, through ropes, and at douchebags challenging strangers to sidewalk beat downs. Watch Thomas spar with masculinity as he takes on his, yours, and America's manhood. While tracing his journey from uninitiated fighter to Madison Square boxer, McBee explores why men so frequently confuse violence with power and why being a man ought to rely on a willingness to spar, first and foremost, with one's own shadow."
—Myriam Gurba, author of Mean

"A blazingly wise and beautiful book."
—A.L. Kennedy, author of All the Rage and Serious Sweet

"Amateur provocatively describes the ways in which an increasingly fragile patriarchal culture needs to keep men in their place. A quest for self-liberation, this loving and deeply intelligent exploration of contemporary masculinities is essential reading."
—Deborah Levy, author of Swimming Home and Hot Milk
Scribner, 9781501168741, 224pp.
Publication Date: August 14, 2018
About the Author
Thomas Page McBee was the first transgender man to ever box in Madison Square Garden. He is the author of Amateur and an award-winning memoir, Man Alive: A True Story of Violence, Forgiveness, and Becoming a Man, which was named a best book of 2014 by NPR Books, BuzzFeed, Kirkus Reviews, and Publishers Weekly. Thomas's writing has appeared in The Rumpus, Pacific Standard, The New York Times, Playboy, and Glamour.
or
Not Currently Available for Direct Purchase