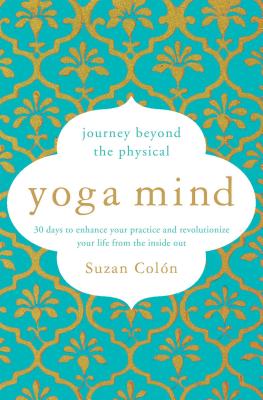 Yoga Mind
Journey Beyond the Physical, 30 Days to Enhance your Practice and Revolutionize Your Life From the Inside Out
Paperback

* Individual store prices may vary.
Other Editions of This Title:
Digital Audiobook (2/26/2018)
Description
Suzan Colon, yoga teacher and former senior editor at O, The Oprah Magazine, digs deep into the spiritual philosophy behind yoga and distills thirty essential components to enrich your practice and revolutionize your life from the inside out.

We live in an increasingly stressful world, and we know about the hazardous effects stress can have on our health. But meditating and mindfulness can sometimes seem elusive, unattainable, and impossible to fit into our busy days. Even the word "yoga" usually makes many people think of complicated, twisty poses—but that's not everything. In its complete sense, yoga is a collection of life lessons for wellness and well-being and a spiritual technology from ancient times that is now more relevant, and necessary, than ever.

In Yoga Mind, Suzan Colon shares thirty essential components to increase self- awareness and inner balance to use throughout your day—in traffic, on the train, at your job, and home. She outlines how we can use yoga to cultivate resilience in challenging times, reduce stress, and enrich our relationships with family, work, and ourselves.

This guide contains a 30-day program designed to create subtle yet powerful shifts in awareness and attitude that lead to real, lasting change. Whether you're a hardcore yogi or a beginner to the practice, Yoga Mind can help you unite your body, mind, and heart to become your best self and cultivate lasting happiness in your life.
Praise For Yoga Mind: Journey Beyond the Physical, 30 Days to Enhance your Practice and Revolutionize Your Life From the Inside Out…
Yoga Mind takes us on a deep and delightful 30 day (and lifetime) journey on how yoga can benefit our day-to-day lives. There is practical wisdom on each page, delivered with such wit that I found myself laughing out loud while reading on the subway. The format of the book is ingenious: It is a personal story of dealing with tragedy, mixed with specific day-by-day lesson plans for spiritual growth, and one of the most concise and clear summaries of the yogic path that you will find anywhere. You will savor this book for a long, long time.
— Swami Asokananda, President, Integral Yoga Institute of New York City

"I'd read anything Suzan Colón writes—her words are always full of heart, soul, and smarts. Now she takes that talent to the topic of Yoga, organizing our way to centeredness, steadiness, easefulness, mindfulness, and balance from the inside out. Who couldn't use more of that every day?"
— Julie Morgenstern, NY Times bestselling author of Organizing from the Inside Out and the forthcoming Time to Parent

Most books on yoga explain how to achieve peace through teaching about body postures. Although Yoga Mind includes physical techniques, this book does much more. Through her engaging, accessible style, Suzan Colón explains the principles and attitudes that lead to true inner transformation by sharing practices that anyone can do—no matter what age you are or what shape your body is in. I highly recommend this book.
— James Baraz, author of Awakening Joy and co-founder of Spirit Rock Meditation Center, Woodacre, CA

What a refreshing read! It is the yoga that we practice off the mat and in our hearts and minds that can truly transform ourselves and our world. Suzan Colón has written the yoga book that the world most needs right now.
— Jo Sgammato, New York Times bestselling author

Yoga Mind gets to the heart of yoga by exploring practical and accessible ways anyone can bring yoga into their life, even if they can't do a single pose. It's wonderful to have a resource that exposes these powerful tools and shows us how to implement them in order to bring more peace and ease into our everyday life.
— Jivana Heyman, founder, Accessible Yoga

What a refreshing and empowering book. Suzan's embodiment of yoga through her book gives readers permission to make peace with ourselves and our bodies through this practice. Thank you for this inspiring read.
— Dianne Bondy, Yoga Educator, Creator of the Yoga for All Movement

Suzan Colón is a wise, sensitive, and irresistibly sane guide who shares the true meaning and deeper gifts of yoga, and friendship. Reading this beautiful offering of a book and working with the practices described here will change your life. A balm for anyone who is struggling to live better and more truly.
— Jessica Berger Gross, author of Estranged: Leaving Family and Finding Home and enLIGHTened: How I Lost 40 Pounds with a Yoga Mat, Fresh Pineapples, and a Beagle Pointer

Long before yoga became a popular form of exercise, it was considered a state of being. The physical postures that have been popularized in the West emerged much later than the original practices to still and quiet the mind. In Yoga Mind, Suzan Colon brings us back to the tools of yoga that are too often forgotten in modern yoga practice, and that are accessible to anyone with a mind, regardless of the body's limitations. She draws the reader in with an utterly relatable story; while we may not have experienced paralysis, most of us have been touched by the types of challenges in life that she shares about so honestly. The book's practical tools provide a way into yoga practice that can be woven into daily life, with or without a yoga mat. It serves as a beautiful reminder to lifelong yoga professionals and practitioners, or a lovely entry point for those just beginning.
— Steffany Moonaz, PhD, C-IAYT, Founder of Yoga for Arthritis
Scribner, 9781501168864, 288pp.
Publication Date: February 27, 2018
About the Author
A former senior editor at O, The Oprah Magazine, Suzan Colon has written ten books, including the inspirational memoir Cherries in Winter: My Family's Recipe for Hope in Hard Times (Doubleday, 2009) and Yoga Mind. Suzan has been practicing yoga for nearly twenty-five years and has been teaching since 2002, with certificates in basic and intermediate Hatha Yoga, Therapeutic Yoga, and Yoga for Arthritis. Her writing has been featured in Good Housekeeping, USA TODAY's Hispanic Living, Woman's Day for Latinas, and Latina magazine, as well on Huffington Post, Oprah.com, YogaCityNYC.com, and other websites. She has appeared on the Today show, The Early Show, NPR, and other media outlets.