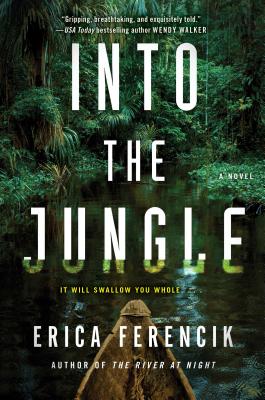 Into the Jungle
Hardcover

* Individual store prices may vary.
Other Editions of This Title:
Digital Audiobook (5/27/2019)
Digital Audiobook (5/27/2019)
Paperback (3/3/2020)
Mass Market (1/26/2021)
Library Binding, Large Print (6/5/2019)
Compact Disc (5/28/2019)
Description
Featured in the New York Times Book Review Summer Reading Guide * A Crime by the Book "Most Anticipated" Novel * Featured in the New York Post Summer Round Up * Starred Publishers Weekly Review * A Publishers Weekly "Big Summer Books" * A Kirkus Reviews "Creepy Thrillers" Pick

In this pulse-pounding thriller from the author of the "haunting, twisting thrill ride" (Megan Miranda, New York Times bestselling author) The River at Night, a young woman leaves behind everything she knows to take on the Bolivian jungle, but her excursion abroad quickly turns into a fight for her life.

Lily Bushwold thought she'd found the antidote to endless foster care and group homes: a teaching job in Cochabamba, Bolivia. As soon as she could steal enough cash for the plane, she was on it.

When the gig falls through and Lily stays in Bolivia, she finds bonding with other broke, rudderless girls at the local hostel isn't the life she wants either. Tired of hustling and already world-weary, crazy love finds her in the form she least expected: Omar, a savvy, handsome local man who'd abandoned his life as a hunter in Ayachero—a remote jungle village—to try his hand at city life.

When Omar learns that a jaguar has killed his four-year-old nephew in Ayachero, he gives Lily a choice: Stay alone in the unforgiving city, or travel to the last in a string of ever-more-isolated river towns in the jungles of Bolivia. Thirty-foot anaconda? Puppy-sized spiders? Vengeful shamans with unspeakable powers? Love-struck Lily is oblivious. She follows Omar to this ruthless new world of lawless poachers, bullheaded missionaries, and desperate indigenous tribes driven to the brink of extinction. To survive, Lily must navigate the jungle--its wonders as well as its terrors—using only her wits and resilience.

Primal, gripping, and terrifying, Into the Jungle features Erica Ferencik's signature "visceral, white-knuckle" (Entertainment Weekly) prose that will sink its fangs into you and not let go.
Praise For Into the Jungle…
"Erica Ferencik paints a picture of a jungle ripe with the amorality of nature, where dropping one's guard or losing focus means death from any number of sources... As the greenery flowers and bursts and rots from within so, too, does the prose."
— The New York Times Book Review

"Gripping, breathtaking, and exquisitely told—Into The Jungle pulls you into another world, returning you forever transformed."
— Wendy Walker, USA Today bestselling author of The Night Before

"I read Erica Ferencik's Into the Jungle in one breathless sitting and when I finished, I wanted to stand up and cheer. Not only for Lily Bushwold's amazing resilience and courage in the face of unimaginable hardships and challenges, but most of all, for Ferencik's astonishing storytelling ability. Rich, raw, and real, Into the Jungle is a rip-roaring adventure like nothing I've read, with a heroine readers won't soon forget. Highly recommended!"
— Karen Dionne, international bestselling author of The Marsh King's Daughter

"Lush, arresting, and uniquely terrifying, Into the Jungle is an unforgettable story of love and survival set in a Bolivian jungle so vividly rendered that you can practically hear the howler monkeys."
— Kathleen Barber, author of Are You Sleeping

"Riveting, real, and drenched in adventure and magic, Into the Jungle transports the reader to a wet, lush world of jaguars and anacondas, shamans and poachers, terror and wonder. The action is non-stop, the characters unforgettable, and Erica Ferencik's prose dazzles. I couldn't put it down!"
— Sy Montgomery, National Book Award finalist of The Soul of an Octopus

"Relentless and frightening, Into the Jungle hurtles us down a treacherous river of piranhas and poisonous snakes into the strange, terrifying Bolivian jungle. A hypnotic, violent, unsparing portrayal of a naïve young American woman's torturous coming-of-age in the unforgiving Amazon wilderness. A nail-biter."
— USA Today and Publishers Weekly bestselling author A.J. Banner

"Into the Jungle nails with great verve the rigors and joy of travel into the uncharted depths of South America's rainforest and the spiritual lives of its people. Erica Ferencik has written a gem of a book. I couldn't put it down."
— Scott Wallace, bestselling author of The Unconquered: In Search of Amazon's Last Uncontacted Tribes

"Take a deep breath—Into the Jungle is a vivid plunge into a wondrous and eerie world. Gorgeously written, richly atmospheric, and absolutely enthralling."
— Taylor Adams, international bestselling author of No Exit

"From page one, I was completely under the spell of Erica's prose. Her protagonist, Lily, is instantly compelling--tough, wounded, brave, terrified, lost, and--once she enters the jungle--found, to her surprise. Like the jungle of the title, the moment you step into Erica's novel, it closes around you and demands that you pay attention. I feel lucky to be among the very first readers of Into the Jungle, and I can't wait to sing its praises to anyone who will listen!"
— Jamey Bradbury, author of The Wild Inside

"[A] ferocious fever dream of a thriller… Ferencik delivers an alternately terrifying and exhilarating tale."
— Publishers Weekly, starred review

"A death-defying Bolivian adventure in the primordial forest… The setting of Ferencik's second female-driven adventure thriller is hair-raisingly vivid... The closest thing to an actual hell ride you'll ever experience (one hopes.) Thrilling, bloody, and ferocious."
— Kirkus Reviews

"Into the Jungle is a haunting and authoritative exploration of the power and limitations of love--not only between two people, but between individuals and communities, and the wild and unpredictable earth they inhabit. Compulsively readable, this book takes you deep into the fierce and fragile Amazon, and you'll be riveted till the very end."
— Katrin Schumann, bestselling author of The Forgotten Hours

"Wild and ferocious and incredibly brave! The talented Erica Ferencik ventures into the deepest recesses of passion, fear, and primal survival. This tale of resilience and power will haunt and inspire you— and sometimes terrify you. A complete tour de force and rivetingly compelling, this dark adventure reveals the astonishing risks people take for love."
— Hank Phillippi Ryan, national bestselling author of Trust Me

"Into the Jungle is a vivid, terrifying fever dream. Erica Ferencik has imagined the Amazon rain forest as a psychological, physical and moral testing ground for outcast Lily Bushwold—a survivor longing for love and purpose in Bolivia. This gripping thriller will awaken readers to the wonders and perils of the world's most mysterious forest."
— Chris Feliciano Arnold, author of The Third Bank of the River: Power and Survival in the Twenty-First Century Amazon

"With its fascinating characters and its unique setting--a steaming, chattering, enchanted world of rich green where darkness lures beneath the surface--this is not just any story. It is a journey into the heart of the jungle and the brutal, life-altering wisdom that can be found there. I find this book as mesmerising as the gaze of an acaonda. "


— Caroline Eriksson, author of The Watcher

"A compelling read. The author pulls you into her narrator's gorgeous but ominous world. You can't stop reading until you have finished the last page long after everyone else's lights are out."
— Holly FitzGerald, author of Ruthless River

"I was lured in, caught off guard, and ensnared by Lily and Omar, their love story, and their journey deep into the pulsing heart of Bolivia and the Amazon. The menacing pace and ripe, dripping prose made every brush with danger—the two-, four-, six-, and eight-legged variety; the whispering, biting, slithering kind—that much more enthralling. I spent hours balled up and tense, hunched over every word, deliciously creeped out, and finally out for blood. Stay alert: You won't want to miss one thrilling detail of Into The Jungle."
— Susan Bernhard, author of Winter Loon

"Absolutely intense! Into the Jungle plunges the reader deep into the heart of the Amazon in an adventure as lush and layered as the foliage itself. An extraordinary book with an unusual love story at its center, you'll be on the edge of your seat until the very last word."




— Crystal King, author of The Chef's Secret and Feast of Sorrow, long-listed for the Center for Fiction First Novel Prize

"There is magic in these pages. Ferencik takes you on an intense journey deep into the Bolivian jungle in a thrilling saga full of vibrant, memorable characters and electrifies you with the nerve-jangling challenges they face. You will smell the creeping moss and feel the eyes of the jungle upon you. Transformative and vivid."
— Joanna Schaffhausen, author of No Mercy

"At its heart this is a love story between Lily and Omar whose unlikely bond lasts through terrifying obstacles and life-threatening challenges in the blistering heat of the Bolivian jungle. The magic and menace of the Amazon is brought to life by Erica Ferencik's lush prose as Lily fights gargantuan spiders, screeching howler monkeys, killer pigs, and her own past demons in an alien atmosphere. But this novel also skillfully reveals how the collision of poachers with the inhabitants of a complex ecosystem endangers the way of life and livelihoods of native communities. Gripping, riveting, and absolutely heart-racing, Into the Jungle demonstrates love's endurance and its ability to build strength and astonishing resilience."
— Marjan Kamali, author of The Stationary Shop

"Under the spell of Ferencik's stunning powers of description, you'll find yourself outfitting your reading nook with mosquito netting and a machete. This portrait of female strength and guile in the face of the unfamiliar, the exhilarating, and the dangerous is utterly convincing. Like all great adventure stories, it's about making a home in a beautiful, bewildering, and sometimes hostile world. A thrilling novel."


— Andy Mozina, author of Contrary Motion and The Women Were Leaving the Men

"Packed with excitement and adventure, this is a riveting tale of a true life adventure in the steaming jungles of the Amazon. You won't be able to turn the pages fast enough."
— Dr. Paul Beaver, Director of Amazonia Expeditions and author of Diary of an Amazon Jungle Guide

"A surging thriller . . . helmed by a tenacious, resourceful woman. The book teems with a heavy-aired fecundity, giving entry to a primordial state that moves deeper into the mind as it moves deeper into the jungle."
— The Boston Globe

"Author Erica Ferencik brings readers a love story that is anything but ordinary. The main characters are literally worlds apart, and a danger-filled jungle is not your usual backdrop for romance. Ferencik's writing style is fast-paced and suspenseful, making readers impatient to turn the page and find out what happens next. She herself spent some time in the Peruvian jungle where she did research for this book, and these experiences lend great authenticity to her narrative."
— Bookreporter

Praise for The River at Night

"A gal-pal vacation goes over the falls and into hell. You won't put it down."
— Kirkus Reviews

"[An] adrenaline rush of a novel."
— Publishers Weekly

"The River at Night is both a haunting, twisting thrill-ride through the Maine wilderness, and a story of friendship, humanity, and the will to survive. Terrifyingly real and impossible to put down."
— New York Times bestselling author Megan Miranda

"Raw, relentless and heart-poundingly real, this book knocked me off my feet like a river in spate."
— New York Times bestselling author Ruth Ware

"A twisting, turning thrill ride of a novel, The River at Night will sweep you along, pull you under and not let you come up for air until you've turned the last page. Erica Ferencik expertly captures the wild, untouched Maine landscape and the ferocity of both nature and humankind."
— New York Times bestselling author Jennifer McMahon

"Lost in the brutal Maine wilderness, four women struggle to survive, testing the boundaries of their friendship and the limitations of their own strength and mortality. Terrifying and wholly visceral, The River at Night will leave you gasping, your heart racing, eyes peering over your shoulder to see what follows from behind. Take a deep breath before you begin because it's the last you'll have until you're through."
— New York Times and USA Today bestselling author Mary Kubica

"The River at Night is a dark, twisting, unrelenting thriller that kept me frantically turning the pages well into the night. Erica Ferencik skillfully combines jolting plot twists, lyrical prose, and a beautifully brutal setting, cementing The River at Night as my favorite debut novel of the year."
— New York Times bestselling author Heather Gudenkauf

"With a title like The River at Night, the plot had to be swift and twisting, yet what enraptured me completely was Wini's bigger triumph over the wilderness of the heart, a vivid journey amplified by a deeply textured depiction of both the devastating and glorious ways that true friendship can tear us down ... and build us back up again. Ferencik's writing pulses with a dangerous energy akin to the river she depicts."
— New York Times and USA Today bestselling author Vicki Pettersson

"The River at Night is a white water thrill ride to be sure. But it's more than than that. Erica Ferencik digs deep into friendship, midlife angst, and how we can surprise ourselves when the worst things happen. Wini is a character I can imagine myself knowing, sharing secrets over coffee. I pulled for her the whole way, through all the rapids, all the bends and twists of this terrific debut."
— New York Times bestselling author Lisa Unger

"Erica Ferencik's The River at Night is a high-octane debut, a thriller that combines the watery adventure of Deliverance with the twisting psychological suspense of Lisa Unger. This is a taut, tense novel that rushes like the fastest rapids. Grab a hold now and enjoy the ride!"
— Bestselling author David Bell

"In the tradition of James Dickey's Deliverance, this exciting survival tale hooks from the first page."
— Library Journal

"This novel quickly becomes a dark, more-twisted-than-the-river tale of secrets as night falls in the wilderness."
— Marie Claire

"Author Erica Ferencik's storytelling [is]…brutally effective…hurtling River's harrowing narrative along in a visceral, white-knuckle rush."
— Entertainment Weekly

"[A] ferocious fever dream of a thriller… Ferencik delivers an alternately terrifying and exhilarating tale."
— Publishers Weekly, starred review
Gallery/Scout Press, 9781501168925, 336pp.
Publication Date: May 28, 2019
About the Author
Erica Ferencik is the award-winning author of the acclaimed thrillers The River at Night, Into the Jungle, and Girl in Ice, which The New York Times Book Review declared "hauntingly beautiful." Find out more on her website EricaFerencik.com and follow her on Twitter @EricaFerencik.
or
Not Currently Available for Direct Purchase