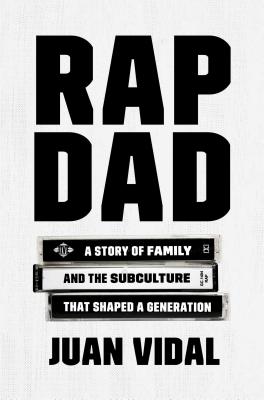 Rap Dad
A Story of Family and the Subculture That Shaped a Generation
Hardcover

* Individual store prices may vary.
Other Editions of This Title:
Digital Audiobook (9/24/2018)
Compact Disc (9/25/2018)
Description
A timely reflection on identity in America, exploring the intersection of fatherhood, race, and hip-hop culture.

Just as his music career was taking off, Juan Vidal received life-changing news: he'd soon be a father. Throughout his life, neglectful men were the rule—his own dad struggled with drug addiction and infidelity—a cycle that, inevitably, wrought Vidal with insecurity. At age twenty-six, with only a bare grip on life, what lessons could he possibly offer a kid? Determined to alter the course for his child, Vidal did what he'd always done when confronted with life's challenges. He turned to the counterculture.

"The counterculture took the place of a father I could no longer touch. Since things like school and church couldn't get through to me, I was being trained up outside of organized institutions. What I gravitated to were these movements that not only felt redeeming, but also freeing. They were almost everything I needed."

In Rap Dad, the musician-turned-journalist takes a thoughtful and inventive approach to exploring identity and examining how we view fatherhood in a modern context. To root out the source of his fears around parenting, Vidal revisits the flash points of his juvenescence, a feat that transports him, a first-generation American born to Colombian parents, back to the drug-fueled streets of 1980s–90s Miami. It's during those pivotal years that he's drawn to skateboarding, graffiti, and the music of rebellion: hip-hop. As he looks to the past for answers, he infuses his personal story with rap lyrics and interviews with some of pop culture's most compelling voices—plenty of whom have proven to be some of society's best, albeit nontraditional, dads. Along the way, Vidal confronts the unfair stereotypes that taint urban men—especially Black and Latino men—in today's society.

An illuminating journey of discovery, Rap Dad is a striking portrait of modern fatherhood that is as much political as it is entertaining, personal as it is representative, and challenging as it is revealing.
Praise For Rap Dad: A Story of Family and the Subculture That Shaped a Generation…
"In Rap Dad, Juan Vidal captures all of the angles of being a rap fan who falls in love with the genre and then fights to stay in love with it at all costs, despite life's many twists. In reading this book, I learned a greater love for what I already love, I learned that there is a future in which that love can remain abundant, limitless, and endlessly fulfilling. I am thankful for this personal, funny, insightful ride."— Hanif Abdurraqib, author of They Can't Kill Us Until They Kill Us

"Rap Dad is a page-turner. It's drenched in history and encompasses the energy, fire, and passion that is hip-hop. Vidal is a brilliant storyteller with a knack for prose. This book is a reminder of why I can't live without writing."— D. Watkins, New York Times bestselling author of The Beast Side and The Cook Up

"Rap Dad is a tender, occasionally heartbreaking, and exceedingly honest look at what it means to be a modern father in America (and, really, what it's meant to be a father in America in decades past). Vidal writes with all the grace and insight you'd want from someone untangling such intricate, intimate subject matter."—Shea Serrano, New York Times bestselling author of The Rap Yearbook and Basketball And Other Things

"A heartfelt examination of the damage that wayward fathers can leave in their wake."— Washington Post

"Vidal's writing on diverse topics is thoughtful and funny… a complex take on the often simplified topic of contemporary manhood, with relevance to current cultural controversies regarding immigration and identity."— Kirkus Reviews

"Between narrative passages of memoir that relate his life as a child, father, and writer, Vidal discusses rap tracks, albums, and artists, with energy and soul."— Booklist

"An inspiring debut . . . Rap Dad is not only entertaining, it is socially and politically important for the way it challenges stereotypes."— Shelf Awareness

"Rich with symbolism . . . a poetic chronicle of beats, rhymes and life."— NPR
Atria Books, 9781501169397, 256pp.
Publication Date: September 25, 2018
About the Author
Juan Vidal is a writer, journalist, and cultural critic, who reviews books for NPR and contributes to Vibe, Esquire, Rolling Stone, and GQ. His work has been mentioned in The New York Times and has appeared in Billboard, Complex, HuffPost, and others. Rap Dad is his debut book.
or
Not Currently Available for Direct Purchase