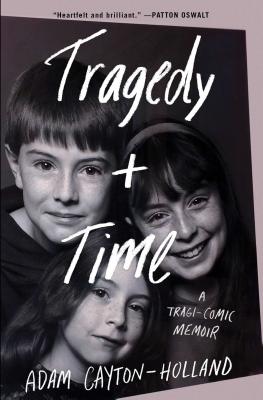 Tragedy Plus Time
A Tragi-comic Memoir
Hardcover

* Individual store prices may vary.
Other Editions of This Title:
Digital Audiobook (8/20/2018)
Digital Audiobook (8/20/2018)
Paperback (12/31/2045)
Description
"Inspiring, tragic, and at times heart-rendingly funny." —People

Unsentimental, unexpectedly funny, and incredibly honest, Tragedy Plus Time is a love letter to every family that has ever felt messy, complicated, or (even momentarily) magnificent.

Meet the Magnificent Cayton-Hollands, a trio of brilliant, acerbic teenagers from Denver, Colorado, who were going to change the world. Anna, Adam, and Lydia were taught by their father, a civil rights lawyer, and mother, an investigative journalist, to recognize injustice and have their hearts open to the universe—the good, the bad, the heartbreaking (and, inadvertently, the anxiety-inducing and the obsessive-compulsive disorder-fueling).

Adam chose to meet life's tough breaks and cruel realities with stand-up comedy; his older sister, Anna, chose law; while their youngest sister, Lydia, struggled to find her place in the world. Beautiful and whip-smart, Lydia was witty, extremely sensitive, fiercely stubborn, and always somewhat haunted. She and Adam bonded over comedy from a young age, running skits in their basement and obsessing over episodes of The Simpsons.

When Adam sunk into a deep depression in college, it was Lydia who was able to reach him and pull him out. But years later as Adam's career takes off, Lydia's own depression overtakes her, and, though he tries, Adam can't return the favor. When she takes her own life, the family is devastated, and Adam throws himself into his stand-up, drinking, and rage. He struggles with disturbing memories of Lydia's death and turns to EMDR therapy to treat his post-traumatic stress disorder when he realizes there's a difference between losing and losing it.

Adam Cayton-Holland is a tremendously talented writer and comedian, uniquely poised to take readers to the edges of comedy and tragedy, brilliance and madness. Tragedy Plus Time is a revelatory, darkly funny, and poignant tribute to a lost sibling that will have you reaching for the phone to call your brother or sister by the last page.
Praise For Tragedy Plus Time: A Tragi-comic Memoir…
"This book is so heartfelt and brilliant that I've informed my lawyers not to proceed with the lawsuit for plagiarism against the title. And it was looking like a big win, money-wise. Oh well."
—Patton Oswalt

"Adam has made me laugh many times. This is the first time he has made me cry. A gorgeous work about accepting the unthinkable with grace, humor, and love. Essential reading for anyone who has ever lost someone, anyone who has ever grieved someone, or anyone who has ever loved someone."
—Kumail Nanjiani, Academy Award-nominated writer and star of The Big Sick

"A fearless, heartbreaking, and healing book told with searing honesty, love and wit."
—Bobcat Goldthwait

"Tragedy Plus Time absolutely gutted me—then it filled me with hope. I hate that Adam has this story to tell, but he tells it so beautifully."
—Tig Notaro

"Inspiring, tragic and at times heart-rendingly funny."
–People

"This is Cayton-Holland's heartbreaking work of genius . . . an unforgettable read."
—Booklist

"Funny and darkly poignant."
—Kirkus Reviews

"Deeply moving."
–AV Club

"It amounts to an affecting portrait of a close-knit clan struggling to contain its feral grief, and finding themselves the more united for it... Silly and sad, clever and crude. And above all, true."
—Denver Post

"Self-mockery and true pathos make for a powerful mixture in this nuanced memoir … Cayton-Holland's wry and wiry voice here elegantly transitions from half-cynical stand-up pose to thoughtful interpretation of the contradictions of grief ("I like to remember her constantly; I try not to think of her at all") without losing a beat. This is a vivid and heartbreaking account of two bright lives, one blessed with hard-fought success and one cut painfully short."
—Publishers Weekly
Gallery Books, 9781501170164, 256pp.
Publication Date: August 21, 2018
About the Author
Adam Cayton-Holland is a national touring comic who has appeared on Conan, @midnight, The Meltdown with Jonah and Kumail, Happy Endings, Deadbeat, Flophouse, Hidden America with Jonah Ray, and was named one of Esquire's "25 Comics to Watch" and Variety's "10 Comics to Watch." Adam co-created, writes, and stars in truTV's Those Who Can't along with his fellow members of the comedy troupe, The Grawlix. His albums I Don't Know If I Happy and Backyards are available on iTunes, and his writing has appeared in Village Voice, Spin, The A.V. Club, and The Atlantic. Adam has been described as "genial" and "with pretty decent teeth." He is the author of Tragedy Plus Time.
or
Not Currently Available for Direct Purchase