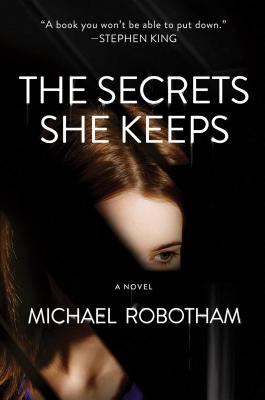 The Secrets She Keeps (Hardcover)
A Novel
Scribner, 9781501170317, 384pp.
Publication Date: July 11, 2017
Other Editions of This Title:
Digital Audiobook (7/10/2017)
Mass Market (4/28/2020)
Paperback (1/2/2018)
Paperback, Korean (8/19/2019)
Compact Disc (12/10/2019)
* Individual store prices may vary.
Description
"Two terrific female characters, both with secrets. Add Michael Robotham's clean prose and whipcrack pacing. The result? A book you won't be able to put down, although you may occasionally want to hide your eyes." —Stephen King

"A premium delivery." —People

Meghan doesn't know Agatha, but Agatha knows Meghan. And the one thing Agatha looks forward to each day is catching a glimpse of her, the effortlessly chic customer at the grocery store where she works stocking shelves. Meghan has it all: two adorable children, a handsome and successful husband, a happy marriage, a beautiful house, and a popular parenting blog that Agatha reads with devotion each night as she waits for her absent boyfriend, the father of the baby growing inside her, to return her calls.

Yet if Agatha could look beyond the gloss and trappings of Meghan's "perfect life," she'd see the flaws and doubts. Meghan has her secrets too, especially one that she dare not ever tell. Soon the lives of these two women will collide in the most spellbinding and intimate of ways, until their secrets are exposed by one shocking act that cannot be undone. From internationally bestselling author Michael Robotham, The Secrets She Keeps is a dark, exquisite, and twisted page-turner so full of surprises, you'll find it impossible to put down.
About the Author
Michael Robotham is a former investigative journalist whose psychological thrillers have been translated into twenty-three languages. In 2015 he won the prestigious UK Gold Dagger for his novel Life or Death, which was also shortlisted for the 2016 Edgar Allan Poe Award for best novel. Michael has twice won a Ned Kelly Award for Australia's best crime novel for Lost in 2015 and Shatter in 2008. He has also twice been shortlisted for the CWA UK Steel Dagger in 2007 for The Night Ferry and 2008 with Shatter. He lives in Sydney with his wife and three daughters. His recent novels include The Secrets She Keeps and Good Girl, Bad Girl.
Praise For The Secrets She Keeps: A Novel…
Praise for The Secrets She Keeps:

"Robotham captures the physical misery that often characterizes late-term pregnancies and writes convincingly in a female voice, but where this book excels is in the increasing sense of threat he crafts so well. With its interestingly imperfect characters and escalating sense of urgency, this novel will keep you reading as fast as you can." —Kirkus Reviews, starred review

"[An] emotionally charged domestic thriller...Robotham's narrative is intimate and insightful. Brilliantly rendered characters, relentless tension, and numerous plot twists make this a winner." —Publishers Weekly

"Two terrific female characters, both with secrets. Add Michael Robotham's clean prose and whipcrack pacing. The result? A book you won't be able to put down, although you may occasionally want to hide your eyes."
—Stephen King

"Skillfully placed twists give a fresh take to this well-plotted tale of psychological suspense...Readers will find themselves frantically turning pages to see just how this is all going to end." —Booklist

"A can't-put-down mama drama . . . Each woman reveals her tale in riveting, alternating chapters that merge into a series of chilling twists...A premium delivery." —People

"Robotham's book is well-paced and his lead characters are compelling." —USA Today

"Impressively compelling… Robotham is stealthy."
—Bookreporter

"An insightful psychological thriller about the joys and fears of impending motherhood." —Marilyn Stasio, The New York Times Book Review

"Robotham's latest psychological thriller puts him on my list of must-read authors." —The Oklahoman

"As a fan of Michael Robotham's books, I was pleased to come across yet another book of his that involves strong female characters, psychological suspense, and just a little bit of horror. I recommend this book to all readers who enjoy reading on the edge of their seats!" —The Missourian