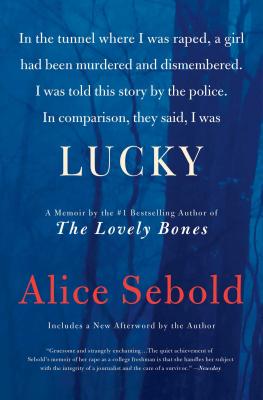 Lucky
Paperback

* Individual store prices may vary.
Description
The timeless, fearless, #1 New York Times bestselling memoir from the author of The Lovely Bones—a powerful account of her sexual assault at the age of eighteen and the harrowing trial that followed, now with a new afterword by the author.

In a memoir hailed for its searing candor, as well as its wit, Alice Sebold reveals how her life was transformed when, as an eighteen-year-old college freshman, she was brutally raped and beaten in a park near campus. What ultimately propels this chronicle of sexual assault and its aftermath is Sebold's indomitable spirit, as she fights to secure her rapist's arrest and conviction and comes to terms with a relationship to the world that has forever changed. With over a million copies in print, Lucky has touched the lives of a generation of readers. Sebold illuminates the experience of trauma victims and imparts a wisdom profoundly hard-won: "You save yourself or you remain unsaved." Now reissued with a new afterword by the author, her story remains as urgent as it was when it was first published more than twenty years ago.
Praise For Lucky…
"An important book for learning to say 'me too.'"
— Elena Ferrante

"A rueful, razor-sharp memoir…funnier than you'd think was possible....Sebold's commanding skill as a narrator (at her best, describing the awful crime itself, she brings to mind a fierce young Joan Didion) forces you to relive her terror....This is a brave and modest work of demystification.... She tells what it's like to go through a particular kind of nightmare in order to tell what it's like—slowly, bumpily, triumphantly—to heal."


— Sarah Kerr

"In the midst of each wrenching episode, from the initial attack to the ensuing courtroom drama, Sebold's wit is as powerful as her searing candor... a fiercely observed memoir about how an incident of such profound violence can change the course of one's life."
— Publishers Weekly

"A stunningly crafted and unsparing account... a memoir that reads like detective fiction... told with mettle and intelligence, Sebold's story of fierce determination to wrest back her life from her rapist will inspire and challenge."
— Kirkus Reviews

"Lucky-- which reads like a John Grisham page-turner-- can't help but haunt you... Sebold's is a story about having the courage to speak about the unspeakable."

— Sheryl Altman

"Reading Lucky, which I did in a single sitting, I was struck by the awful solitude that violence brings, both at the moment and in its aftermath. In this brilliant, eloquent, funny, precise account of how she survived rape and the pursuit of justice, Alice Sebold has triumphantly broken that solitude. We, her readers, are the fortunate beneficiaries."
— Margot Livesey

"This book proves at once the astounding bravery of Alice Sebold in the face of dreadful circumstance and the extraordinary power of words to heal. Sebold has made beauty out of agony."
— Carolyn See

"Sharp-eyed and unsentimental... It's hard to believe that a book about brutal rape and its aftermath could actually be inspirational. But despite its disturbing subject, Alice Sebold's Lucky is exhilirating to read. Raped in a tunnel when she was a freshman at Syracuse University, the ironic, nervy Sebold refused to let the experience diminish her... or her sense of humor... Reading Lucky, you understand how Sebold succeeded in persuading a judge that what happened to her occurred precisely-- word for word, detail for detail-- the way she described it."
— Francine Prose

"This carefully detailed memoir is a tour de force of memory and rage."
— Self

"A harrowing story that's still vibrating and flexible... Give Alice Sebold your attention for her first five pages and you're in for the whole ride."
— Sally Eckhoff

"A vivid account of Sebold's rape and its effect on her and her family... the rape is only the beginning of Sebold's story."
— Dennis McLellan

"A literary memoir that shines with personality. There is such openness in Sebold's brash, vibrant style that the book feels like the long version of a friend's breathless account of an ordeal."
— Carmen Schneidel

"Gruesome and strangely enchanting... A controlled and meticulous account... The quiet achievement of Sebold's memoir is that she handles her subject with the integrity of a journalist and the care of a survivor... It succeeds not just as a record of one woman's pain and healing, but as fine creative nonfiction."
— Casey Greenfield

"Eloquent... Sebold's opening scene is as gripping and terrifying as any in a film....Her voice is a powerful new plea to break the silence that still clings to this taboo, and little understood, subject... this powerful memoir leaves it to readers to decide how lucky Sebold was."
— Joan Ullman
Scribner, 9781501171635, 288pp.
Publication Date: May 2, 2017
About the Author
Alice Sebold is the author of three #1 bestselling books, including Lucky, and the novels The Lovely Bones and The Almost Moon. Her work has been translated into more than fifty languages and has appeared in The New York Times and The Guardian, among other publications. She is a member of the National Leadership Council for RAINN.org (Rape, Abuse & Incest National Network). She lives in California.
or
Not Currently Available for Direct Purchase