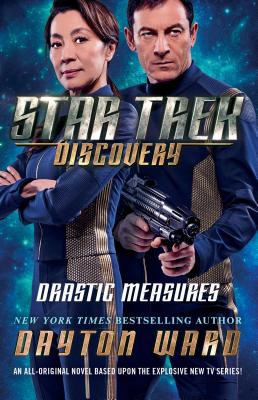 Star Trek
Discovery: Drastic Measures (Star Trek: Discovery #2)
Paperback

* Individual store prices may vary.
Other Editions of This Title:
Digital Audiobook (2/5/2018)
Description
An all-new novel based upon the explosive Star Trek TV series!

It is 2246, ten years prior to the Battle at the Binary Stars, and an aggressive contagion is ravaging the food supplies of the remote Federation colony Tarsus IV and the eight thousand people who call it home. Distress signals have been sent, but any meaningful assistance is weeks away. Lieutenant Commander Gabriel Lorca and a small team assigned to a Starfleet monitoring outpost are caught up in the escalating crisis, and bear witness as the colony's governor, Adrian Kodos, employs an unimaginable solution in order to prevent mass starvation.

While awaiting transfer to her next assignment, Commander Philippa Georgiou is tasked with leading to Tarsus IV a small, hastily assembled group of first responders. It's hoped this advance party can help stabilize the situation until more aid arrives, but Georgiou and her team discover that they're too late—Governor Kodos has already implemented his heinous strategy for extending the colony's besieged food stores and safeguarding the community's long-term survival.

In the midst of their rescue mission, Georgiou and Lorca must now hunt for the architect of this horrific tragedy and the man whom history will one day brand "Kodos the Executioner"….
Pocket Books/Star Trek, 9781501171741, 400pp.
Publication Date: February 6, 2018
About the Author
Dayton Ward is the New York Times bestselling author or coauthor of nearly forty novels and novellas, often working with his best friend, Kevin Dilmore. His short fiction has appeared in more than twenty anthologies, and he's written for magazines such as NCO Journal, Kansas City Voices, Famous Monsters of Filmland, Star Trek, and Star Trek Communicator, as well as the websites Tor.com, StarTrek.com, and Syfy.com. A native of Tampa, Florida, he currently lives in Kansas City, Missouri with his wife and two daughters. Visit him on the web at DaytonWard.com.