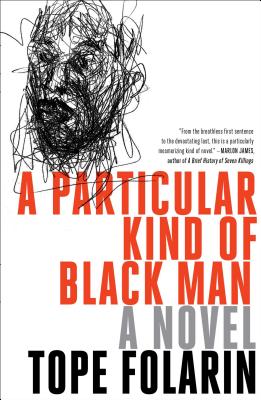 A Particular Kind of Black Man
A Novel
Hardcover

* Individual store prices may vary.
Other Editions of This Title:
Digital Audiobook (8/5/2019)
Paperback (8/11/2020)
Compact Disc (8/6/2019)
Description
An NPR Best Book of 2019

A New York Times, Washington Post, Telegraph, and BBC's most anticipated book of August 2019

One of Time's 32 Books You Need to Read This Summer

A stunning debut novel, from Rhodes Scholar and winner of the Caine Prize for African Writing, Tope Folarin about a Nigerian family living in Utah and their uncomfortable assimilation to American life.

Living in small-town Utah has always been an uneasy fit for Tunde Akinola's family, especially for his Nigeria-born parents. Though Tunde speaks English with a Midwestern accent, he can't escape the children who rub his skin and ask why the black won't come off. As he struggles to fit in and find his place in the world, he finds little solace from his parents who are grappling with their own issues.

Tunde's father, ever the optimist, works tirelessly chasing his American dream while his wife, lonely in Utah without family and friends, sinks deeper into schizophrenia. Then one otherwise-ordinary morning, Tunde's mother wakes him with a hug, bundles him and his baby brother into the car, and takes them away from the only home they've ever known.

But running away doesn't bring her, or her children, any relief from the demons that plague her; once Tunde's father tracks them down, she flees to Nigeria, and Tunde never feels at home again. He spends the rest of his childhood and young adulthood searching for connection—to the wary stepmother and stepbrothers he gains when his father remarries; to the Utah residents who mock his father's accent; to evangelical religion; to his Texas middle school's crowd of African-Americans; to the fraternity brothers of his historically black college. In so doing, he discovers something that sends him on a journey away from everything he has known.

Sweeping, stirring, and perspective-shifting, A Particular Kind of Black Man is a beautiful and poignant exploration of the meaning of memory, manhood, home, and identity as seen through the eyes of a first-generation Nigerian-American.
Praise For A Particular Kind of Black Man: A Novel…
"Wild, vulnerable, lived…A study of the particulate self, the self as a constellation of moving parts." —New York Times Book Review

"Tope Folarin's A Particular Kind of Black Man stopped me dead in my tracks and consumed my day in a helpless trance. One feels as if someone else's mirror has appeared, and the longer one stares into it, the more something reflected becomes...oneself. A radical act." —Luis Alberto Urrea, author of The House of Broken Angels

"From the breathless first sentence, to the devastating last, this is a particularly mesmerizing kind of novel." —Marlon James, author of A Brief History of Seven Killings

"Tope Folarin's writing is smart, spry, tender, funny and inventive, much like the unforgettable main character of A Particular Kind of Black Man himself. Through this narrative of one young man's childhood and adolescence, Folarin urges us to think about belonging, family, memory and the very act of storytelling anew. An energetic, accomplished debut."—Angela Flournoy, author of The Turner House

"This searing, powerful novel is a stunning debut by Tope Folarin, offering a look into the disorienting life of a first-generation Nigerian-American…Folarin has written a compelling, lyrical story about alienation and identity, the kind that sticks inside you long after you've finished reading."—Nylon

"Deeply observed and abundant with strange poetry, Folarin's novel charts a terrifying and radiant journey of growing up in an identity and family that is perpetually in flux. I tore through this book as if in a fever dream... its uncanny reality remained with me long after it was over."—Jenny Zhang, author of Sour Heart

"A young man grows up distanced from family, country and his beloved mother; so begins the attrition of his sense of self. In this emotionally evocative and immensely moving story, Tope Folarin shows how the need to belong lives first in the heart. By combining the immigrant's tale with a coming-of-age story Folarin has brought new power to both narratives. He is a writer of talent and great promise."—Aminatta Forna, author of The Devil That Danced on the Water and Ancestor Stones

"A Particular Kind of Black Man is an audacious debut, a book that is many things at once: a profound immigration narrative, a moving coming of age story, and an appraisal and defense of the novel as an essential 21st-century art form. The structure—fluid, slippery, a suspended chord in search of resolution--echoes the journey of the protagonist, and, indeed, of America. In these brilliant, searing, heartbreaking and hopeful pages, Tope Folarin has given us a novel that many of us will revisit for years to come."—Jeffery Renard Allen, author of the novels Song of the Shank and Rails Under My Back

"In A Particular King of Black Man, Tope Folarin shows the deeply personal geography of migration, and the points on this map are shaped by the hopes and terrors that the mind conjures. Each stop on Tunde Akinola's journey shows him a new layer of self. He bridges the physical distance from his grandmother with calls to Nigeria, but the emotional, racial, and cultural distances in America bring a different set of challenges. Tope Folarin writes with a mosaic of perspectives, and the fluidity and insight make this a well-layered and deeply felt debut."—Ravi Howard, author of Driving the King

"Arresting and insightful, Folarin's A Particular Kind of Black Man is one of those books that refuses to let you go till the very end. Tunde's world - broken and alive, vivid and painful - bursts from these pages with unforgettable honesty and heart. This is a story about exiles and departures, about the continual search for what has been in front of us all along. A gripping, achingly beautiful debut."—Maaza Mengiste, author of Beneath the Lion's Gaze

"[A] tender, cunning debut…Folarin pulls off the crafty trick of simultaneously bringing scenes to sharp life and undercutting their reliability, and evokes the complexities of life as a second-generation African-American in simple, vivid prose. Folarin's debut is canny and electrifying."—Publishers Weekly


Simon & Schuster, 9781501171819, 272pp.
Publication Date: August 6, 2019
About the Author
Tope Folarin is a Nigerian-American writer based in Washington, DC. He won the Caine Prize for African Writing in 2013 and was shortlisted once again in 2016. He was also recently named to the Africa39 list of the most promising African writers under 40. He was educated at Morehouse College and the University of Oxford, where he earned two Masters degrees as a Rhodes Scholar. He is the author of A Particular Kind of Black Man.
Coverage from NPR
or
Not Currently Available for Direct Purchase