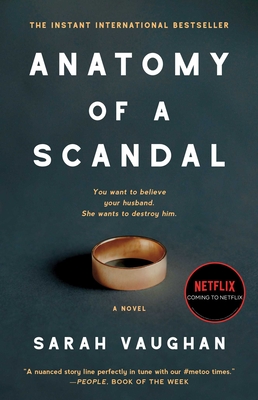 Anatomy of a Scandal (Paperback)
A Novel
Atria/Emily Bestler Books, 9781501172175, 400pp.
Publication Date: October 2, 2018
Other Editions of This Title:
Paperback, Large Print (4/3/2019)
* Individual store prices may vary.
Description
Instant International Bestseller

"A nuanced story line perfectly in tune with our #metoo times." —People, Book of the Week

"One of the season's most buzzed-about thrillers." —Bookish

"A strong choice for book clubs. Former political correspondent Vaughan makes an impressive debut with this savvy, propulsive courtroom drama." —Kirkus Reviews (starred review)

"Vaughan offers gripping insight into a political scandal's hidden machinations and the tension between justice and privilege…Absorbing, polished." —Booklist (starred review)

"Skillfully interweaving the story of the unfolding scandal, Vaughan gradually reveals just how shockingly high the stakes are…Sinewy…engrossing, twist-filled." —Publishers Weekly (starred review)

Some people's secrets are darker than others.

Sophie Whitehouse has a lovely home, two adorable children, and a handsome, successful husband. In other words, she has the "perfect" life. But everything changes the night her husband James comes home and confesses an indiscretion. Suddenly, her neat, ordered world is turned upside down. Did she ever really know the man she married?

James's revelation, as it turns out, is just the tip of the iceberg: a larger scandal is about to explode. James stands accused of a terrible crime, and their family is shoved into the spotlight as his trial begins. Meanwhile, behind the scenes, another woman is working to destroy Sophie's husband. Sophie remains convinced of James's innocence and is desperate to protect her precious family from the rumors that threaten to rip them apart. She's kept his darkest secret ever since their university days. And if she stood by him then, she can do it now. But, the truth is even more shocking than anyone ever could have thought. Is James the guilty perpetrator or an innocent victim of a toxic agenda?

In this riveting story of power, revenge, and deception, no one's motives are pure, but some people's secrets are much darker than others.
About the Author
Sarah Vaughan studied English at Oxford and went on to become a journalist. She spent eleven years at The Guardian as a news reporter, health correspondent, and political correspondent. Sarah lives in Cambridge with her husband and two children.
Praise For Anatomy of a Scandal: A Novel…
"Sarah Vaughan is sensational."
— Clare Mackintosh, internationally bestselling author of I LET YOU GO

"I cared about both women—couldn't put it down . . . really, really, really, really good."
— Marian Keyes, Internationally bestselling author of THE BREAK

"ANATOMY OF A SCANDAL is a compelling and cautionary story about how we can never truly know someone else; how even after twelve years of marriage, a wife might not know everything about her husband. Brilliant, shocking, and gripping, once I started, I couldn't stop reading."
— Claire Fuller, award-winning author of OUR ENDLESS NUMBERED DAYS and SWIMMING LESSONS

"The world has gone mad for this book. I'm so excited. What an outstanding premise."
— Rosie Walsh, New York Times bestselling author of GHOSTED

"Shocking. Compelling. Completely brilliant."
— Eve Chase, bestselling author of BLACK RABBIT HALL

"Compelling and timely."
— Shari Lapena, internationally bestselling author of THE COUPLE NEXT DOOR

"I was hooked right from the start. So beautifully written, clever and compelling. I was gripped right up to the final page."
— Claire Douglas, bestselling author of The Sisters and Local Girl Missing

"I enjoyed ANATOMY OF A SCANDAL immensely – a very elegant dissection of a very messy affair. Loved it."
— Louise Candlish, author of THE SWIMMING POOL

"ANATOMY OF A SCANDAL is a stunningly compelling read--utterly gripping from the first page, beautifully written and expertly plotted. Vaughan brilliantly captures the cloistered world of Britain's elite, which is packed with suspicion, lies, and terrible betrayals. This book is a must-read for 2018--it's impossible to put down and will stay with you long afterwards."
— Sarah J. Harris, author of THE COLOR OF BEE LARKHAM'S MURDER

"A gripping dissection of deceit and desire . . . The definition of a page-turner."
— Elizabeth Day, award-winning author of THE PARTY

"ANATOMY OF A SCANDAL is superb. Bitingly truthful, intelligent, gripping. All round class act."
— Gilly Macmillan, New York Times bestselling author of WHAT SHE KNEW

"Sarah Vaughan's Anatomy of a Scandal is just that — a gradual unearthing of long-held secrets and betrayals, followed by a front-row seat for the lives that unravel as a result. Suspenseful and shocking, centered around an important moral issue that makes it especially intense, Anatomy of a Scandal is a nuanced, highly addictive read that resonates long after the final word."
— Kimberly Belle, New York Times bestselling author of THE MARRIAGE LIE

"Deftly plotted and superbly well researched, with an eerie relevance to the current debate surrounding the attitudes to and experiences of women in Westminster, Hollywood, and beyond. An intelligent, absorbing page-turner that avoids all knee-jerk assumptions and easy answers."
— Laura Barnett, internationally bestselling author of THE VERSIONS OF US

"Sarah Vaughan writes about the heartbreaking consequences of sexual abuse and the abuse of power with real compassion as she takes us on a journey from modern day Westminster to 1990s Oxford University and back again."
— Karin Salvaloggio, critically-acclaimed author of SILENT RAIN

"This exhilarating novel, which switches between Sophie's, Kate's, and James' points of view, will have readers thinking about justice and truth and whether you can ever really, fully know someone."
— Real Simple "Best Books of 2018"

"Fascinating and suspenseful."
— Bluestocking Reviews

"This is an extraordinarily written tale about power, prestige, and the skeletons in the closet. Highly recommended!"
— "Dee"va with a Blog

"Incredibly authentic, highly involving character drama here, in a story that could easily be ripped from the headlines."
— Goodreads, 5 Stars

"Sarah Vaughan's ANATOMY OF A SCANDAL is a must read for anyone who has any fascination with sex scandals and the corridors of power. It is sharp, insightful, clever and thoroughly fresh. It takes your breath away. Highly recommended!"
— Goodreads, 5 Stars

"I need to say WOW what an incredible debut novel."
— Goodreads, 5 Stars

"When does consensual sex cross the line into rape? This is the question at the heart of this breathtaking novel . . . Lovely prose with a raw and poignant tone made this a one-sitting read!"
— Goodreads, 5 Stars

"Un-put-down-able. This has the intrigue and suspense of GONE GIRL or GIRL ON THE TRAIN, but is extra chilling because it lacks the extremism that makes those situations pure fiction. The events of this book - the political scandal, the affair, the criminal trial, the personal repercussions of every decision - could happen just as they're laid out, and that makes this book just that much more chilling."
— Goodreads, 5 Stars

"This is an outstanding book, wonderfully written and a sensitive portrayal of an all too topical issue. Deserves every one of its five stars and should be huge when it's published."
— Goodreads, 5 Stars

"Through a series of flashbacks and present-day accounts, Sarah Vaughan spins a chilling tale of appearance versus reality, lies versus the truth, and where we all fall in between."
— Goodreads, 5 Stars

"You don't know what the word 'gripping' means until you've read ANATOMY OF A SCANDAL. Wow."
— Goodreads, 5 Stars

"This engrossing, masterfully crafted thriller is a story of money, abuse of power, revenge, and the pursuit of justice. This story feels like it has been ripped from the headlines."


— Goodreads, 5 Stars