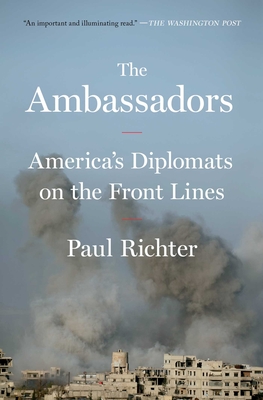 The Ambassadors
America's Diplomats on the Front Lines
Paperback

* Individual store prices may vary.
Other Editions of This Title:
Digital Audiobook (11/11/2019)
Hardcover (11/12/2019)
Compact Disc (11/12/2019)
Description
Veteran diplomatic correspondent Paul Richter goes behind the battles and the headlines to show how American ambassadors are the unconventional warriors in the Muslim world—running local government, directing drone strikes, building nations, and risking their lives on the front lines.

The tale's heroes are a small circle of top career diplomats who have been an unheralded but crucial line of national defense in the past two decades of wars in the greater Middle East. In The Ambassadors, Paul Richter shares the astonishing, true-life stories of four expeditionary diplomats who "do the hardest things in the hardest places."

The book describes how Ryan Crocker helped rebuild a shattered Afghan government after the fall of the Taliban and secretly negotiated with the shadowy Iranian mastermind General Qassim Suleimani to wage war in Afghanistan and choose new leaders for post-invasion Iraq. Robert Ford, assigned to be a one-man occupation government for an Iraqi province, struggled to restart a collapsed economy and to deal with spiraling sectarian violence—and was taken hostage by a militia. In Syria at the eruption of the civil war, he is chased by government thugs for defying the country's ruler. J. Christopher Stevens is smuggled into Libya as US Envoy to the rebels during its bloody civil war, then returns as ambassador only to be killed during a terror attach in Benghazi. War-zone veteran Anne Patterson is sent to Pakistan, considered the world's most dangerous country, to broker deals that prevent a government collapse and to help guide the secret war on jihadists.

"An important and illuminating read" (The Washington Post) and the winner of the prestigious Douglas Dillon Book Award from the American Academy of Diplomacy, The Ambassadors is a candid examination of the career diplomatic corps, America's first point of contact with the outside world, and a critical piece of modern-day history.
Praise For The Ambassadors: America's Diplomats on the Front Lines…
"An important and illuminating read."—Washington Post review by Eliot A. Cohen, former State Department counselor and dean, Johns Hopkins University School of Advanced International Studies

"Richter provides a gripping, wistful, and ultimately inspiring portrait of the courage, patriotism, skill, and wisdom of America's finest diplomats at a difficult hour for our country and profession."—Ambassador William J. Burns (ret.), former deputy secretary of state, president, Carnegie Endowment for International Peace.

"The book captures an era in which Middle East policy was carried out by a robustly staffed diplomatic corps who may not have had all answers but were able to discern, better than most, 'which of Washington's decisions brought progress and which led to disaster.' "—The New Yorker

"Paul Richter has done Americans a great service in reminding us of the need for a skilled, non-partisan career Ambassadorial corps at a dangerous moment in our history. The Ambassadors is a clarion call for the revival of the American Foreign Service gutted by the Trump Administration."—Ambassador Nicholas Burns (ret,) former undersecretary of state, professor, Harvard University

"Finally, a book that captures the incredible courage, sacrifice and unwavering patriotism of the unsung heroes of the war on terrorism. They represent the very finest of the diplomatic corps and of America. Paul Richter has brilliantly portrayed these remarkable icons of the Foreign Service. A must-read for anyone interested in U.S. foreign policy and what it takes to be an American hero!"—Adm. William H. McRaven (retired), former commander of U.S. Special Operations Command and overseer of the raid that killed Osama Bin Laden.

"A compelling and poignant glimpse at an often-overlooked and misunderstood profession...easily digestible and meticulously researched."—Foreign Policy magazine

"Paul Richter takes you on an enthralling ride through the dramatic and dangerous world of diplomacy. The Ambassadors is a story of courage and dedication during some of the most challenging and deadly times in our nation's history. Grab it fast and dive in."—Martha J. Raddatz, Chief Global Affairs correspondent for ABC News, and best-selling author of The Long Road Home

"Part intriguing spy story, gripping war story, and compassionate love story, the book brings the reader right into the action...This book needed to be written, especially in this time when diplomatic peacemakers are mocked, their opinions are ignored, and their accomplishments are not well known. Paul Richter has brought them from the shadows to the main stage so everyone can hear their remarkable story."—Robert N. Macomber, New York Journal of Books

"An intriguing look at U.S. diplomats in the greater Middle East. [J. Christopher Stevens] paid the ultimate price for his service, and Richter's depiction of his demise is both captivating and heartbreaking. "There are no ticker tape parades for diplomats," a State Department official once said. This book gives them the recognition they deserve."—Kirkus
Simon & Schuster, 9781501172434, 352pp.
Publication Date: October 27, 2020
About the Author
Paul Richter has written about foreign policy and national security for three decades. As a Washington-based correspondent for the Los Angeles Times, he reported from sixty countries and appeared in US and international media. He covered the State Department for the Los Angeles Times from 2001 to 2015, and before that, the Pentagon and the White House. He was raised in the Washington, DC, area and Minneapolis, and graduated from Clark University in Worcester, Massachusetts. He is also the principal author of California and the American Tax Revolt: Prop 13 After Five Years. He lives in the Washington, DC area.
or
Not Currently Available for Direct Purchase