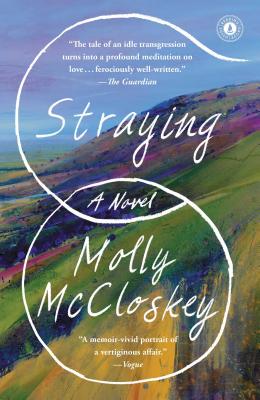 Straying
A Novel
Paperback

* Individual store prices may vary.
Other Editions of This Title:
Digital Audiobook (2/19/2018)
Hardcover (2/20/2018)
Description
"A memoir-vivid portrait of a vertiginous affair" (Vogue) for readers of Jenny Offill, Garth Greenwell, and Anne Enright, an unforgettable novel about a young American expat who settles in Ireland, marries, and lives through the consequences of an affair—by "an extravagantly gifted writer" (Rachel Cusk).

In this "humane and lucid novel" (The New York Times), Alice, a young American, arrives in the West of Ireland with no plans and no strong attachments. She meets and falls in love with an Irishman, quickly marries him, and settles down in a place whose customs are unfamiliar. And then, in the course of a single hot summer, she embarks on an affair that breaks her marriage and sets her life on a new course.

Years later, in the immediate aftermath of her beloved mother's death, Alice, having worked in war zones around the world, finds herself back in Ireland, contemplating the forces that led her to put down roots and then tear them up again. What drew her to her husband, and what pulled her away? Was her husband strangely complicit in the affair? Was she always under surveillance by friends and neighbors who knew more than they let on?

"Short, intense, and emotionally precise" (Star Tribune, Minneapolis), Straying is at once a "ferociously well written" (The Guardian) account of passion and ambivalence and an exquisite rumination on the things that matter most.
Praise For Straying: A Novel…
"Molly McCloskey . . . brings a hyper-lucid wistfulness to [Straying]. . . . A wise, discomfiting novel."
–The New York Times Book Review

"A memoir-vivid portrait of a vertiginous affair."
—Vogue

"Short, intense and emotionally precise ... Such is McCloskey's powerful control of the novel and meticulous, economical observations, that in little more than 200 pages she can show the exact nature of a life not wasted, but not fully inhabited — Alice ends up with no settled home as an aid worker for refugees — as well as the character of one marriage, of an affair and, not least, of the transformation of Ireland herself."
—Minneapolis Star Tribune

"This dual citizen of Ireland and America doesn't simply decode cultural mores, or love, or the way grief unfurls over decades. She translates those abstractions into a language all can understand, and in so doing turns her readers into code-breakers of the heart."
—Florida Times-Union

"This slow-burning novel . . . is a moving meditation on rootlessness and love. . . . McCloskey is a keen, sympathetic observer; her tight, controlled prose meticulously details Alice's honest consideration of her flaws and desires. The melancholic complexity of Alice's very human struggle carries this elegant novel with no easy answers."
—Publishers Weekly

"McCloskey excels ... Elegant prose and nuanced self-awareness, reminiscent of early Edna O'Brien, enhance this intensely focused story of memory and self-imposed loss."
—Kirkus Reviews

"Moving and propulsive ... Perfect for fans of deep-dive character studies in strong, moody settings."
—Booklist

"In Straying, Molly McCloskey gives us the moving portrait of a young woman adrift through a troubled world and in her own heart. Discovering that the unknowable desires and passions that move her are somehow related to those that drive people to war and conflict, she, and the reader, move closer to a difficult wisdom."
—Viet Thanh Nguyen, author of The Sympathizer

"Straying is a powerful and deeply affecting novel in which the psychology of love and the anatomy of adultery are forensically examined. In writing that sparkles with intelligence and insight the ordinary moments of everyday existence are charged with a beauty and tenderness that render them only just bearable. It is a profound reflection on love, loss, mortality and how certain people in our lives – lovers, mothers, friends – alter us, as we slowly, painfully, try to beget our better selves."
—Mary Costello, author of Academy Street and The China Factory

"Straying is as gripping as a memoir and as intimate as a poem. Molly McCloskey has written a novel that is both urgent and reflective, a tender and unsentimental exploration of love's dark corners. It is brilliant: her finest book yet."
—Anne Enright, author of The Green Road

"This is a short but powerful novel about love—love for a mother, love for a husband, love for a lover. The narrator knows her feelings but not quite her desires; she is passionate, wonderfully attentive but confused. Straying will be read for many years to come for its wisdom and precision."
—Edmund White

"I loved Straying. It is absorbing, tense, and beautifully written. Molly McCloskey has written a wonderful novel."
—Roddy Doyle

"McCloskey describes everything with a luminous exactitude ... It's entirely beguiling."
—Irish Daily Mail

"Molly McCloskey's prose has such immense authority, precision and seriousness, and her storytelling is powered by an exquisite sense of writerly tact as much as by the ability to drop your jaw. This shimmering, beautiful, restless work will stir recognitions without seeming to try. If you've ever fallen in love with someone you shouldn't have fallen in love with – as who hasn't, once or twice, and that's if you're lucky - be prepared to encounter the novel as mirror, her finest book to date, a triumph."
—Joseph O'Connor, author of Star of the Sea

"The tale of an idle transgression turns into a profound meditation on love in this ferociously well-written novel ... McCloskey writes with shattering insight on loss, and the way that it can make us feel tender towards the world."
—The Guardian

"Elegiac and wistful in its backward gaze, it's a novel nonetheless light in its touch. Fans of Anne Enright will find much to admire and enjoy."
—Daily Mail

"The writing's the thing. Oh, the writing . . . McCloskey is the master of the metaphor. There are impressive moments on almost every page."
—Business Post

"Luminous."
—Irish Times Magazine

"I was left enchanted, meditative and a little pink and raw from the bracing honesty and precision."
—Headstuff

"McCloskey writes with such care and craft; every description of the landscape of the west and the life of her captivating narrator is imbued with poetry and truth. Straying is fresh and raw and completely entrancing."
—Sara Baume, author of Spill Simmer Falter Wither

"Wherever one has strayed, reading these pages one feels in a familiar place, almost as though one is reading the story of one's own betrayals, one's own loneliness, one's own plunge into the ocean of life."
—Sheila Kohler, author of Once We Were Sisters

Praise for Molly McCloskey:

"Molly McCloskey is an extravagantly gifted writer…McCloskey demonstrates a beautiful, confident, metaphorical prose, always attentive to the concrete, and yet capable of sustained interior illumination. She is a writer who deserves to be widely read."
—Rachel Cusk, The Telegraph

"Molly McCloskey is one of Ireland's finest writers."
—Colum McCann

"Every once in a while, a writer's voice hits such a clear note, the resulting book has the kind of sweetness that makes you hold it in your hands a moment before finding a place for it on your shelves."
—Anne Enright, The Guardian
Scribner, 9781501172472, 240pp.
Publication Date: February 19, 2019
About the Author
Molly McCloskey is the author of four works of fiction and the memoir Circles Around the Sun: In Search of a Lost Brother. Straying is her first work of fiction to be published in the US. She has served as writer-in-residence at Trinity College Dublin and University College Dublin, and in 2013, she held the Jenny McKean Moore Fellowship at George Washington University in Washington, DC. In 2015, she served as a judge for the PEN/Faulkner Award for Fiction. She is a citizen of both Ireland and the US, and she now lives in Washington, DC.
or
Not Currently Available for Direct Purchase