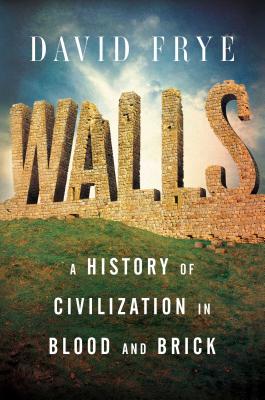 Walls
A History of Civilization in Blood and Brick
Hardcover

* Individual store prices may vary.
Other Editions of This Title:
Digital Audiobook (8/20/2018)
Paperback (8/27/2019)
Compact Disc (8/21/2018)
Compact Disc (8/21/2018)
Description
In Walls historian David Frye tells the epic story of history's greatest manmade barriers, from ancient times to the present. It is a haunting and frequently eye-opening saga—one that reveals a startling link between what we build and how we live.

With Frye as our raconteur-guide, we journey back to a time before barriers of brick and stone even existed—to an era in which nomadic tribes vied for scarce resources, and each man was bred to a life of struggle. Ultimately, those same men would create edifices of mud, brick, and stone, and with them effectively divide humanity: on one side were those the walls protected; on the other, those the walls kept out.

The stars of this narrative are the walls themselves—rising up in places as ancient and exotic as Mesopotamia, Babylon, Greece, China, Rome, Mongolia, Afghanistan, the lower Mississippi and even Central America. As we journey across time and place, we discover a hidden, thousand-mile-long wall in Asia's steppes; learn of bizarre Spartan rituals; watch Mongol chieftains lead their miles-long hordes; witness the epic siege of Constantinople; chill at the fate of French explorers; marvel at the folly of the Maginot Line; tense at the gathering crisis in Cold War Berlin; gape at Hollywood's gated royalty; and contemplate the wall mania of our own era.

A masterpiece of historical recovery and preeminent storytelling, Walls is alternately evocative, amusing, chilling, and deeply insightful as it gradually reveals the startling ways that barriers have affected our psyches. The questions this book summons are both intriguing and profound: Did walls make civilization possible? And can we live without them?
Praise For Walls: A History of Civilization in Blood and Brick…
"[Told] with eloquence and panache . . . [Frye] is enviably good at turning historical and archaeological evidence into vivid prose, and his writing is as clear as on any wall."
—Wall Street Journal

"[A] lively history."
—The New Yorker

"These are good stories and Frye tells them well...a timely and interesting book."
—Financial Times

"Insights abound in every chapter…The book is helpfully peppered with maps and a timeline for historical orientation and packs an impressive amount of scholarship and storytelling into its relatively compact perimeter. Walls could add a level of context to the current heated discussion of walls in the U.S."
—Booklist

"Readers will find Frye's rumination—on the reasons walls exist and will continue to exist, what they can and cannot do, and their contribution to the growth of civilization—informative, relevant, and thought-provoking."
—Publishers Weekly

"A sturdy historical tour of walls and their builders—and their discontents as well. Provocative, well-written, and—with walls rising everywhere on the planet—timely."
—Kirkus Reviews

"A lively popular history of an oft-overlooked element in the development of human society."
—Library Journal

"A colorful crash course in world history . . . insightful and entertaining, [Frye] offers a perspective for understanding the reemergence of these barriers today."
—Shelf Awareness

"I walked Hadrian's Wall as a teenager, ran some miles along China's Great Wall as a fit young man, stood transfixed in horrified awe beneath the Berlin Wall…I love stories of walls, and David Frye's marvelous book—timed to coincide with the building of yet another engagingly hateful structure on our southern frontier—was a perfect delight. A mur de force, indeed."
—Simon Winchester, New York Times bestselling author of The Professor and the Madman, Krakatoa, and The Map That Changed the World

"David Frye's Walls turns 5,000 years of history outside in. Instead of focusing on the centers of civilizations, he illuminates the boundaries where civilizations collide. From ancient Mesopotamia through Rome to the presidency of Donald Trump, Frye brilliantly crafts a unique view of history with valuable lessons for today."
—Jack Weatherford, New York Times bestselling author of Genghis Khan and the Making of the Modern World

"This is history with all the eerie qualities of a poem by Cavafy or a short story by Borges: emperors wait for barbarians, labyrinthine complexes of walls are discovered in mysterious deserts. A haunting and brilliant achievement."
—Tom Holland, author of Rubicon: The Last Years of the Roman Republic and Persian Fire: The First World Empire and the Battle for the West

"David Frye gives us an unusual and provocative take on the past by focusing on its much-neglected and often ignored walls. We learn of well-known and obscure fortifications, of the sufferings of the poet Ovid, of the historic tensions between ancient nomads and those living behind walls of all kinds. This is a remarkable journey from the past to the present, ranging from the fall of Constantinople to the notorious Berlin Wall to the frontier barriers of today. Anyone contemplating Donald Trump's notorious Mexican wall should read this entertaining, thoroughly researched, and well-written book on our obsessive concern with walling ourselves off. So should Trump."
—Brian Fagan, author of The Little Ice Age: How Climate Made History—1300-1850 and Floods, Famines, and Emperors: El Nino and the Fate of Civilizations

"David Frye writes about walls, and what lies on either side of them, with so much grace and insight that you hardly notice that 4,000 years of history have passed and now you have to rethink all your preconceptions. Read this book."
—Barry Strauss, author of The Death of Caesar: The Story of History's Most Famous Assassination

"A humorous and profound exploration of a central tension of history—our competing desires for security and freedom. With a novelist's eye for the illuminating detail, Frye illustrates the great paradox of walls—that fear builds them, but it's only behind them that civilizations develop. It's a lesson both relevant and timeless. Love your neighbor, but don't pull down the hedge."
—Lars Brownworth, author of Lost to the West: The Forgotten Byzantine Empire that Rescued Western Civilization
Scribner, 9781501172700, 304pp.
Publication Date: August 21, 2018
About the Author
David Frye received his PhD from Duke University and currently teaches ancient and medieval history at Eastern Connecticut State University. The author of Walls, he has participated in several international archeological digs and has contributed to Military History, MHQ, Archeological Odyssey, and McSweeney's.
or
Not Currently Available for Direct Purchase