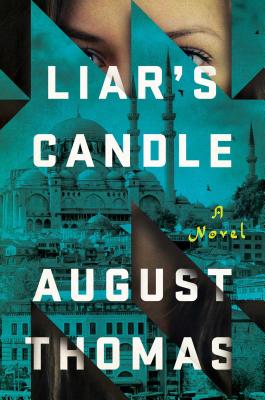 Liar's Candle
A Novel
Hardcover

* Individual store prices may vary.
Other Editions of This Title:
Digital Audiobook (5/16/2018)
Digital Audiobook (4/16/2018)
Library Binding, Large Print (6/20/2018)
Compact Disc (4/17/2018)
Description
In this brilliant debut thriller, reminiscent of the works of John le Carre and Olen Steinhauer and infused with the authenticity of the author's travels, a young American State Department intern based in Turkey becomes "the woman who knows too much" and is marked for death.

Penny Kessler, an intern at the US Embassy in Ankara, Turkey, wakes up in a hospital on the morning of July 5th to find herself at the center of an international crisis. The day before, the Embassy was the target of a devastating terrorist attack that killed hundreds of Penny's friends and colleagues. Not only has a photograph of Penny as she emerged from the rubble become the event's defining image, but for reasons she doesn't understand, her bosses believe she's a crucial witness.

Suddenly, everyone is intensely interested in what Penny knows. But what does she know? And whom can she trust? As she struggles to piece together her memories, she discovers that Zach Robson, the young diplomat she'd been falling for all summer, went missing during the attack. And one of the CIA's most powerful officials, Christina Ekdahl, wants people to believe Zach was a traitor.

What actually happened?

Penny barely has time to ask before she discovers that her own government wants her dead. Soon, with only a single ally—a rookie intelligence officer fresh out of the Navy—she is running a perilous gauntlet, ruthlessly pursued by Turkey's most powerful forces and by the CIA.

To survive, Penny must furiously improvise. Tradecraft takes a lifetime to master. She has less than thirty-six hours. And she's only twenty-one years old. This is her first real test—one she can't fail.
Praise For Liar's Candle: A Novel…
"[The author] has a good eye for detail and a clear affection for the country and the people… [a] romp through a convincingly described Turkey."
—Kirkus Reviews

"A James Bond-style thriller…For a young summer intern, [Penny] proves surprisingly resourceful. The cinematic action sweeps the reader along, and [there's] a strong sense of place."
—Publishers Weekly

"Liar's Candle is a stunning debut, a novel that brings the le Carré and Follett traditions into the 21st century. Breakneck pacing, sharply observed detail, an all-too-plausible plot and a protagonist to cheer for—well done, August Thomas, well done."
—Joseph Finder, New York Times bestselling author of The Switch and Judgment

"August Thomas is a fresh, exciting new voice in international thrillers."
—Chris Pavone, New York Times bestselling author of The Expats, The Accident, and The Travelers

"Tightly-plotted, well-written, and astute, Liar's Candle is a remarkable debut. August Thomas delivers an atmospheric and twisty spy thriller that manages to be both assured and fresh. With a colorful, authentic sense of place, a rocket-paced plot full of deception and betrayal, and a young, naive heroine, Penny Kessler, at its center, this is both an exciting story of espionage and a compelling coming of age tale."
—Lisa Unger, New York Times bestselling author of The Red Hunter

"A high-energy thriller that takes Penny Kessler, a likable and reluctant American heroine wrongly accused of terrorist sympathies, on a non-stop adventure across Turkey in a quest to clear her name. The tension and relentless action ratchet higher from the very first chapter to the climatic ending as one terrifying escape follows the next and everywhere friends and foes change places. Thomas has eerily evoked not only the intrigue and brutality of terrorism in Turkey, but the country itself. Liar's Candle is a very impressive debut."
—Paul Vidich, author of An Honorable Man and The Good Assassin

"August Thomas offers a fresh voice and a unique perspective. Liar's Candle is a tight and well-crafted novel with a compelling heroine and a breakneck-paced story that will keep you turning the pages until the early morning hours. What an extraordinary debut!"
—Mathew Palmer, author of Secrets of State and Enemy of the Good

"Liar's Candle is the kind of debut novel that makes you want to cheer for the hero, Penny Kessler. Author August Thomas is new to the scene, and clearly she's a very talented writer."
—Robert Rotenberg, author of Heart of the City

"A propulsive, heart-in-your-throat thriller that's loaded with unexpected twists and turns. Liar's Candle is a shockingly good debut novel that kept this reader up much later than anticipated!"
—Daniel Kalla, international bestselling author of Pandemic and The Far Side of the Sky

"Impressively mature and assured writing . . . Colored by failed—and successful—attacks on US embassies and installation around the world, Liar's Candle is a whirlwind of American diplomacy and espionage in modern-day Turkey that's jam packed with intrigue, conspiracy, and surprises."
—Todd Moss, bestselling author of The Golden Hour and Minute Zero

"Readers who love [Thomas'] breathless pace will be eager for her next effort in the espionage fiction sweepstakes."
—Library Journal (starred review)
Scribner, 9781501172847, 320pp.
Publication Date: April 17, 2018
About the Author
August Thomas began her first novel, Liar's Candle, at age twenty three. Fluent in Turkish, she has traveled and studied in Turkey as the recipient of a Fulbright Scholarship, and holds Master's degrees from Bogaziçi, Istanbul's top public university, as well as the University of Edinburgh. She also has two degrees from the University of Massachusetts. A travel writer as well as a novelist, she lives in Massachusetts. You can find her at AugustThomasBooks.com.
or
Not Currently Available for Direct Purchase