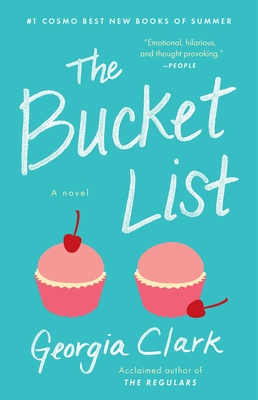 The Bucket List (Paperback)
A Novel
Atria/Emily Bestler Books, 9781501173035, 352pp.
Publication Date: October 1, 2019
Other Editions of This Title:
Hardcover (8/7/2018)
Compact Disc (8/7/2018)
MP3 CD (8/7/2018)
* Individual store prices may vary.
Description
"Emotional, hilarious, and thought-provoking." —People
"Witty, sexy." —Los Angeles Times
#1 Cosmopolitan Best New Books of Summer
PureWow Best Reads of Summer

From the author of the critically acclaimed "lively and engrossing parable for women of all generations" (Harper's Bazaar) The Regulars­, comes a deeply funny and thoughtful tale of a young woman who embarks on an unforgettable bucket list adventure.

Twenty-five-old Lacey Whitman is blindsided when she's diagnosed with the BRCA1 gene mutation: the "breast cancer" gene. Her high hereditary risk forces a decision: increased surveillance or the more radical step of a preventative double mastectomy. Lacey doesn't want to lose her breasts. For one, she's juggling two career paths. Secondly, small-town Lacey's not so in touch with her sexuality: she doesn't want to sacrifice her breasts before she's had the chance to give them their hey-day. To help her make her choice, she (and her friends) creates a "boob bucket list": everything she wants do with and for her boobs before a possible surgery.

This kicks off a year of sensual exploration and sexual entertainment for the quick-witted Lacey Whitman. The Bucket List cleverly and compassionately explores Lacey's relationship to her body and her future. Both are things Lacey thought she could control through hard work and sacrifice. But the future, it turns out, is more complicated than she could ever imagine.

Featuring the pitch-perfect "compulsively delicious" (Redbook) prose of The Regulars, The Bucket List is perfect for fans of Amy Poeppel and Sophie Kinsella.
About the Author
Georgia Clark is an author, performer, and screenwriter. She wrote the critically acclaimed novels, The Bucket List, The Regulars, and others. Georgia is the host and founder of the popular storytelling night, Generation Women. A native Australian, she lives in Brooklyn with her wife and a fridge full of cheese.
Praise For The Bucket List: A Novel…
"After learning that she's genetically predisposed to breast cancer, Lacey vows to let her girls go wild before it's too late in Georgia Clark's poignant THE BUCKET LIST."
— Cosmopolitan

"The Bucket List is a touching read women everywhere can find a way to relate to."
— Popsugar, "This Summer's Hottest New Books for Every Type of Read"

"Heartfelt and sexy…Clark navigates the reality that comes along with this type of diagnosis with sensitivity and wit."
— Publishers Weekly

"A compelling, thoughtful take on a very real women's health issue; both confidently sexy and lighthearted at the same time."
— Kirkus Reviews

"Wonderfully eye-opening, clearly well researched, and handled delicately, this is sure to make summer a little hotter."
— Library Journal

19 Funny New Novels to Read with Your Book Club
— BookBub

"Georgia Clark at once creates a compelling, likable narrator, and sheds light on an important issue. You'll be staying up past your bedtime to follow Lacey's journey of the heart and body."
— Refinery 29

"THE BUCKET LIST is the sweet, sexy, and sex positive women's fiction book you need to read before summer is over."
— Hello Giggles

"Combining the heat of Sally Thorne and the wit of Maria Semple, THE BUCKET LIST is poignant, super sexy, and hilarious."
— Amy Poeppel, author of LIMELIGHT

"THE BUCKET LIST is hilarious, charming, and teeming with heart--storytelling that is completely unafraid. Don't miss it."
— Kayla Rae Whitaker, author of The Animators

"Expertly paced and beautifully told, THE BUCKET LIST delivers a perfect balance of poignancy and hilarity. Georgia Clark has the uncanny ability to create characters that already feel like friends and to explore dark decisions with just the right amount of empathy and nerve. An absolute knock(ers) out!"
— Corinne Sullivan, author of INDECENT

"This sexy, funny coming-of-age tale looks at a young woman facing the most difficult decision of her life and renegotiating her relationship with love, sex, work, friendship, and herself. A fresh and candid look at the beauty and burdens of having a female body."
— Andrea Dunlop, author of SHE REGRETS NOTHING

"Fearless, wise, and downright hilarious, THE BUCKET LIST cements Georgia Clark as one of contemporary fiction's wryest observers. Her characters will make you laugh and break your heart. You'll want to throw back a glass of wine, and you'll miss them terribly once they're gone."


— Grant Ginder, Author of THE PEOPLE WE HATE AT THE WEDDING

"THE BUCKET LIST is the first book I read from Georgia Clark and it definitely won't be my last...I would highly recommend this novel to anyone who enjoys contemporary novels that will give you a lasting impact."
— Asha Reads

"Georgia Clark's THE BUCKET LIST explores a deep and complex theme with humor and insight."
— Brooke Reviews