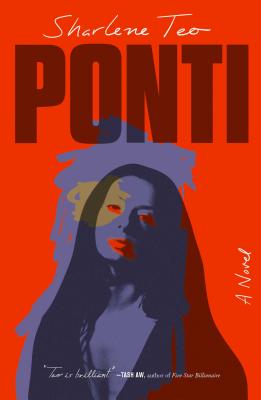 Ponti
Hardcover

* Individual store prices may vary.
Other Editions of This Title:
Digital Audiobook (9/3/2018)
Paperback (9/24/2019)
Description
An award-winning fiction debut about the value of friendships in present-day Singapore—a surprising and powerful portrait of Asia that shows the unique blend of modern and traditional cultures coming together—for fans of Elena Ferrante and Emma Cline.

"I am Miss Frankenstein, I am the bottom of the bell curve." So declares Szu, a teenager living in a dark, dank house on a Singapore cul-de-sac, at the beginning of this richly atmospheric and endlessly surprising tale of non-belonging and isolation.

Friendless and fatherless, Szu lives in the shadow of her mother Amisa, once a beautiful actress—who gained fame for her portrayal of a ghost—and now a hack medium performing séances with her sister in a rusty house. When Szu meets the privileged, acid-tongued Circe, an unlikely encounter develops into a fraught friendship that will haunt them both for decades to come.

With remarkable emotional acuity, dark comedy, and in vivid prose, Sharlene Teo's Ponti traces the suffocating tangle the lives of four misfits, women who need each other as much as they need to find their own way. It is an astounding portrayal of the gaping loneliness of adolescence, the surrealness of the modern city, and the strangeness of living with and loving other people.
Praise For Ponti…
"With brilliant descriptive power and human warmth, Sharlene Wen-Ning Teo summons the darker currents of modernity – environmental degradation, the suffocating allure of the sparkling modern city and its cataracts of commodities and corrupted language. Against this, her characters glow with life and humour and minutely observed desperation. I read this extract longing for more." –Ian McEwan, author of The Children Act and Atonement

"This haunting debut hopscotches between decades and cultures, eschewing the usual moves of the coming-of-age story for something truer to the desperate, surreal stakes of adolescence. Sharlene Teo is a daring and genuinely original novelist." —Garth Greenwell, author of What Belongs to You

"A radiant, achingly beautiful novel about relationships between women." —Megan Hunter, author of The End We Start From

"Ponti is darkly hilarious. It offers up all the anxiety, snark, sadness, and wonder of being a teenager. Teo guides us through the grunge of growing up. She asks what it means to be a monster and what it means to be beautiful. Is it possible to be both?" —Rowan Hisayo Buchanan, author of Harmless Like You

"Witty, moving and richly evocative, Ponti paints a portrait of a country and a people negotiating the throes of modernity. It also announces a major talent — Sharlene Teo has produced not just a singular debut, but a milestone in South East Asian literature." —Tash Aw, author of Five Star Billionaire

"Sensuous . . . The Singapore in Sharlene Teo's Ponti is vivid and immediate, its people complex, beautifully sketched and captivating." —The Times Literary Supplement

"Everything about Ponti suggests it's the rare, real deal and Teo's a writer we'll be reading for many years to come." —Financial Times

"At once a subtle critique of the pressures of living in a modern Asian metropolis; a record of the swiftness and ruthlessness with which Southeast Asia has changed over the last three decades; a portrait of the old juxtaposed with the new (and an accompanying dialogue between nostalgia and cynicism); an exploration of the relationship between women against the backdrop of social change; and, occasionally, a love story—all wrapped up in the guise of a teenage coming-of-age novel. . . . Teo is brilliant." —The Guardian
Simon & Schuster, 9781501173110, 304pp.
Publication Date: September 4, 2018
About the Author
Sharlene Teo is a Singaporean writer based in the UK. She is the winner of the inaugural Deborah Rogers Writers' Award for Ponti, her first novel. Her writing has appeared in publications such as Esquire UK, Magma Poetry, and Eunoia Review. She is the recipient of the 2013 David T.K. Wong Creative Writing Fellowship and the 2014 Sozopol Fiction Fellowship.
or
Not Currently Available for Direct Purchase