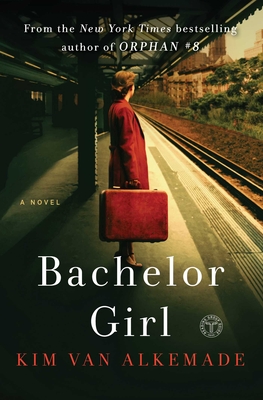 Bachelor Girl
A Novel by the Author of Orphan #8
Paperback

* Individual store prices may vary.
Other Editions of This Title:
Digital Audiobook (3/5/2018)
Description
NOW AN INTERNATIONAL BESTSELLER

"Bachelor Girl plunges the reader deep into life during the Jazz Age…and the revealing of other secrets and confessions will keep readers up all night looking for answers." —Booklist (starred review)

From the New York Times bestselling author of Orphan #8 comes a fresh and intimate novel in the vein of Lilac Girls and The Alice Network about the destructive power of secrets and the redemptive power of love—inspired by the true story of Jacob Ruppert, the millionaire owner of the New York Yankees, and his mysterious bequest in 1939 to an unknown actress, Helen Winthrope Weyant.

When the owner of the New York Yankees baseball team, Colonel Jacob Ruppert, takes Helen Winthrope, a young actress, under his wing, she thinks it's because of his guilt over her father's accidental death—and so does Albert Kramer, Ruppert's handsome personal secretary. Helen and Albert develop a deepening bond the closer they become to Ruppert, an eccentric millionaire who demands their loyalty in return for his lavish generosity.

New York in the Jazz Age is filled with possibilities, especially for the young and single. Yet even as Helen embraces being a "bachelor girl"—a working woman living on her own terms—she finds herself falling in love with Albert, even after he confesses his darkest secret. When Ruppert dies, rumors swirl about his connection to Helen after the stunning revelation that he has left her the bulk of his fortune, which includes Yankee Stadium. But it is only when Ruppert's own secrets are finally revealed that Helen and Albert will be forced to confront the truth about their relationship to him—and to each other.

Inspired by factual events that gripped New York City in its heyday, Bachelor Girl is a hidden history gem about family, identity, and love in all its shapes and colors.
Praise For Bachelor Girl: A Novel by the Author of Orphan #8…
From the first paragraphs, BACHELOR GIRL plunges the reader deep into life during the Jazz Age… [T]he mystery of Ruppert's largesse and the slow revealing of other secrets and confessions will keep readers up all night looking for answers alongside Winthrope and Kramer.
— Booklist, starred review

Set against a vivid rendering of turn-of-the-century New York City, BACHELOR GIRL Is a vibrant story filled with long-held secrets and well-intentioned betrayals. It is a triumphant and well-woven tale that deftly explores the complexities of the human bond. Albert and Helen will steal your heart!
— Lauren Francis-Sharma, author of 'TIL THE WELL RUNS DRY

A vivid, surprising, remarkable trip to New York City in the first half of the 20th Century. BACHELOR GIRL invites us into a familiar house, then shows us all the rooms we've never gotten to see before. I loved it from beginning to end.
— Susan Perabo, author of THE FALL OF LISA BELLOW

Reading BACHELOR GIRL I played at being a spectator behind the secret scenes of interwar Broadway. An unlikely fan gazing at baby Yankee Stadium. A crossdressing shiner at a Village speakeasy. A secretary pining for my soldier. A lovelorn heiress. Kim Van Alkemade, you're a conductor. Thanks for this jazz ride.
— Catherine Zobal Dent, author of UNFINISHED STORIES OF GIRLS

BACHELOR GIRL is a great novel—smart, deep, and a pleasurable to read. It took me places and moved me in just the way I yearn for fiction to do. I couldn't put it down, and I can't wait to buy it for everyone I know!
— Amy Farrell, author of YOURS IN SISTERHOOD

An utterly compelling novel about love's many dimensions—its curiosities, letdowns and limitations; and its uplift, endurance and vigor. In a sweeping look back to New York City in the Roaring Twenties, BACHELOR GIRL takes a forward stance against everything that stands in love's way."


— Silas Dent Zobal

Praise for Orphan #8:

"Kim van Alkemade has moxie. In her provocative novel, family is saturated with betrayal, care is interrupted by ambition and desire, and the past is intimately explored, invoking the abandoned child in all of us. Orphan # 8 brims with complicated passions and pitch-perfect historical details. A riveting, memorable debut." —Catherine Zobal Dent, author of Unfinished Stories of Girls

"Inspired by actual events, van Alkemade crafts a powerful story of festering vengeance and redemption that touches readers on many levels. Alkemade has managed to incorporate many emotions into her thoughtful debut, emotions that linger long after the last page is turned." —RT Book Reviews

"This book is utterly unputdownable. At once atmospheric, disturbing and absolutely engrossing, it poses a host of moral questions; I fully anticipate that it will become popular with book clubs." —Historical Novels Review

"…van Alkemade succeeds in bringing to light a fascinating and little-known chapter of history...she vividly chronicles her heroine's pain, resilience and capacity to be honest with those who loved her, with those who betrayed her, and ultimately with herself." —Lillith Magazine

"A sure book club pick and a strong debut." —Lambda Literary Review

"Even non-aficionados of historical fiction will find much to savor in this remarkable novel. Its themes and artistry will linger in reader memory. Orphan #8 is a remarkable work, well rooted in some little-known history... a broad landscape of issues, superbly rendered." —GLBT Reviews, American Library Association's LGBT Round Table

Gallery Books, 9781501173349, 416pp.
Publication Date: March 6, 2018
About the Author
Kim van Alkemade is the author of the historical novels Orphan #8 and Bachelor Girl. Her creative nonfiction essays have appeared in literary journals including Alaska Quarterly Review, CutBank, and So To Speak. Born in New York City, she earned a BA in English and history from the University of Wisconsin-Parkside, and an MA and PhD in English from the University of Wisconsin-Milwaukee. She is a Professor in the English Department at Shippensburg University of Pennsylvania, where she teaches writing.