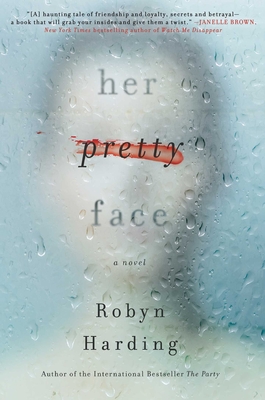 Her Pretty Face (Hardcover)
Gallery/Scout Press, 9781501174247, 352pp.
Publication Date: July 10, 2018
* Individual store prices may vary.
Description
The author of the bestselling novel The Party—lauded as "tense and riveting" by New York Times bestselling author Megan Miranda—returns with a chilling new domestic drama about two women whose deep friendship is threatened by dark, long-buried secrets.

Frances Metcalfe is struggling to stay afloat.

A stay-at-home mom whose troubled son is her full-time job, she thought that the day he got accepted into the elite Forrester Academy would be the day she started living her life. Overweight, insecure, and lonely, she is desperate to fit into Forrester's world. But after a disturbing incident at the school leads the other children and their families to ostracize the Metcalfes, she feels more alone than ever before.

Until she meets Kate Randolph.

Kate is everything Frances is not: beautiful, wealthy, powerful, and confident. And for some reason, she's not interested in being friends with any of the other Forrester moms—only Frances. As the two bond over their disdain of the Forrester snobs and the fierce love they have for their sons, a startling secret threatens to tear them apart.

Because one of these women is not who she seems. Her real name is Amber Kunik. And she's a murderer.

In her masterful follow-up to The Party, Robyn Harding spins a web of lies, deceit, and betrayal, asking the question: Can people ever change? And even if they can, is it possible to forgive the past?
About the Author
Robyn Harding's novels include The Party, Her Pretty Face, and The Arrangement, and she has written and executive produced an independent film. She lives in Vancouver, British Columbia, with her husband and two children.
Praise For Her Pretty Face…
"Robyn Harding has once again proven herself to be a master of domestic suspense, weaving a complex tale of friendship, parenthood, and long-hidden secrets that forces us to consider whether we can ever truly leave our pasts behind. In the compulsively readable HER PRETTY FACE, everyone is hiding something, and the only question is whether anyone will survive unscathed as the action reaches its dramatic conclusion."
— Kathleen Barber, author of ARE YOU SLEEPING

"Robyn Harding's Her Pretty Face is a fierce and blazing one-sitting read that will make you question even your closest friendships. With prose elegantly woven between sinister, humorous, brutally honest, and downright horrifying, Harding crafts an all-too-believable narrative that preys upon every parent's greatest vulnerability: their children. Her Pretty Face will undoubtedly spike paranoia levels in school car lines everywhere."

— Carter Wilson

"This one might be the thriller of the summer."

"a diverting domestic suspense novel [with] three-dimensional characters, well-timed plot twists, and a sea of convincing red herrings…"

"Harding expertly builds subtle menace... reepy and compelling"

"The tony setting and the slowly revealed secrets make this a good read-alike for Liane Moriarty's Big Little Lies."


"A spine-chilling domestic suspense about two mothers."


"Robyn Harding knows exactly what she's doing, and she did NOT come to play."

"A domestic thriller perfect for fans of B.A. Paris, Megan Miranda and Liane Moriarty...[an] enjoyable novel, with just the right amount of suspense to make it a real page-turner, as well as a few smaller reveals along the way that will truly shock you."

"Harding is an adept and skillful writer who writes suspense remarkably well, with seemingly little effort."