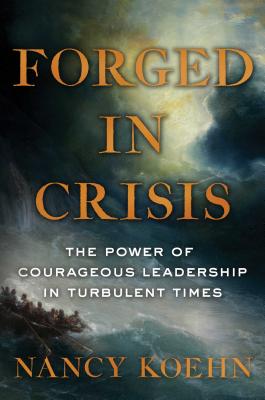 Forged in Crisis
The Power of Courageous Leadership in Turbulent Times
Hardcover

* Individual store prices may vary.
Other Editions of This Title:
Digital Audiobook (10/2/2017)
Paperback (5/15/2018)
Description
This "engaging, unusually rewarding book…[which] will foster a new appreciation for effective leadership and prompt many readers to lament the lack of it in the world today" (Kirkus Reviews, starred review), by celebrated Harvard Business School historian Nancy Koehn, examines five masters of crisis: explorer Ernest Shackleton; Abraham Lincoln; abolitionist Frederick Douglass; Nazi-resisting clergyman Dietrich Bonhoeffer; and environmental crusader Rachel Carson.

What do such disparate figures have in common? Why do their extraordinary stories continue to amaze and inspire? In her "enthralling…fascinating look at a varied group of heroes" (Publishers Weekly), Nancy Koehn offers a remarkable template by which to measure our aspirations and, also, to judge those in our time to whom we've given our trust.

Featuring "five stand-alone case studies that are well-written and interesting" (The New York Times), Koehn begins each section by showing her protagonist on the precipice of a great crisis: Shackleton marooned on an Antarctic ice floe; Lincoln on the verge of seeing the Union collapse; escaped slave Douglass facing possible capture; Bonhoeffer agonizing over how to counter absolute evil with faith; Carson racing against the cancer ravaging her in a bid to save the planet. Readers then learn about each person's childhood and see the individual growing—step by step—into the person he or she will ultimately become. Significantly, as we follow each leader's against-all-odds journey, we begin to glean an essential truth: leaders are not born but made. In a book dense with epiphanies, the most galvanizing one may be that the power and courage to lead resides in each of us.

Providing both great insight and exceptionally rendered human drama, Forged in Crisis is "a highly engaging (and well documented)…book that quietly surpasses many so-called leadership tomes" (Booklist, starred review).
Praise For Forged in Crisis: The Power of Courageous Leadership in Turbulent Times…
"Enthralling . . . a fascinating look at a varied group of heroes . . . Koehn's call for her audience to emulate them strikes a pleasingly hopeful note for an era of partisan discord and lack of faith in leaders."
—Publishers Weekly

"Koehn skillfully weaves together [her five leaders'] stories and the lessons, primary of which is 'great leaders are made, not born.' . . . [The] stories are highly engaging (and well documented); in fact, many are transformed into nail-biting adventures . . . A book that quietly surpasses many so-called leadership tomes."
—Booklist (Starred Review)

"[An] engaging, unusually rewarding book . . . Throughout, Koehn underscores the great humanity and depth of understanding of these leaders . . . Wise, thoughtful, and valuable, this book will foster a new appreciation for effective leadership and prompt many readers to lament the lack of it in the world today."
—Kirkus (Starred Review)

"Each of the five stand-alone case studies is well-written and interesting . . . there is much to enjoy [here]."
—New York Times

"Leadership is difficult to define, but we know it when we see it. At a time when it has become almost invisible at the national level, Nancy Koehn has performed the invaluable service of reminding us what it looks like in five superbly told tales of inspirational human courage. This book is dense with epiphanies that defy our current cowardly condition."
—Joseph J. Ellis, author of the Pulitzer Prize-winning Founding Brothers and the National Book Award-winning American Sphinx

"This book moved me deeply and will stay with me. Forged in Crisis is a compelling historical work and a vital analysis of the skills required to lead in the most important—and often dire—situations."
—Howard Schultz, executive chairman of Starbucks Coffee Company

"As important and inspiring as it is urgent."
—Michael Bloomberg, founder of Bloomberg LP and three-term mayor of New York City

"A double triumph, artfully telling us the stories of five major historical figures while also providing wise insights into how they seized upon crises to grow as leaders."
—David Gergen, Co-Director of the Center for Public Leadership at the Harvard Kennedy School and author of Eyewitness to Power

"A close analysis of five gritty leaders whose extraordinary passion and perseverance changed history . . . a gripping read on a timeless and timely topic!"
—Angela Duckworth, #1 New York Times bestselling author of Grit

"Emotionally gripping—so much so that it's easy to forget one is reading nonfiction. The scenes have the pull of a great novel, continually coaxing us to turn pages. . . Long after Forged in Crisis has been set down, we reflect on what it teaches us about managing crisis."
—Joseph Nye, former dean of Harvard's Kennedy School and author of The Powers to Lead

"Koehn's well-written and incisive study helps to show us the way to a better nation. . . a very perceptive look at leadership in the modern era that taps leadership qualities from the past."
—Bruce Chadwick, author of Law and Disorder, James and Dolly Madison, and The General and Mrs. Washington

"Nancy Koehn is a seriously talented historian who has a gift for mining the past to elucidate the present. She writes with verve and vivid detail."
—Graham Allison, Founding Dean of the Harvard Kennedy School, former Assistant Secretary of Defense, and author of Essence of Decision and Destined for War

"A remarkably insightful book, written in a style that is consistently engaging and absorbing, which reminds us that leaders are made not born, and that the crucibles from which they emerge are, above all, tests of character . . . This book is a wonder—exactly the leadership roadmap needed for these challenging times."
—Les Wexner, Chairman and CEO of L Brands

"An outstanding rebuttal of the myth that leaders somehow have different DNA than ordinary people. Koehn's profiles of legendary figures reveal that, in fact, none of these people were leadership naturals—rather, their abilities were forged by the challenges they confronted."
—William P. Lauder, Executive Chairman, The Estée Lauder Companies

"Vividly recreates the anguish and urgency felt by five trailblazing leaders in times of great adversity. With spirited prose that highlights crucial moments of testing and triumph, Nancy Koehn breathes life into the past as she shows what it takes to lead."
—Zoë Baird, CEP and President, The Markle Foundation

"Koehn does not use her narrative to compare these five leaders to America's current leadership class. To be sure, that would hardly be fair – America has only produced one Frederick Douglass. Nonetheless, it's impossible to read Forged in Crisis and not consider the leadership void in our country today. Who calls upon Americans to sacrifice for the greater good? Who appeals to our better angels? Who conveys valor, projects humility, and inspires by deed and word? If none of our political leaders springs to mind, I recommend that you read Forged in Crisis. Nancy Koehn has convened an exquisite group to remind us that courageous leadership is indeed possible, in turbulent times or any time."
—James S. Hirsch, for ExploreBestsellers.com
Scribner, 9781501174445, 528pp.
Publication Date: October 3, 2017
About the Author
Nancy Koehn is an historian at the Harvard Business School where she holds the James E. Robison chair of Business Administration. She has coached leaders from many organizations and speaks frequently at the World Economic Forum in Davos, the Aspen Ideas Festival, and the World Business Forum. An accomplished author and scholar (she earned her MA and PhD degrees in history from Harvard), she spent ten years writing Forged in Crisis, her first book aimed at a popular audience. She lives in Concord, Massachusetts, and is a dedicated equestrian.