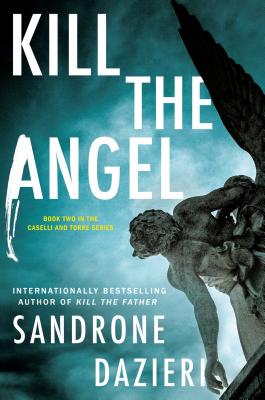 Kill the Angel (Hardcover)
A Novel (Caselli and Torre Series #2)
Scribner, 9781501174650, 464pp.
Publication Date: February 20, 2018
Other Editions of This Title:
Digital Audiobook (5/2/2018)
Digital Audiobook (2/19/2018)
Library Binding, Large Print (9/9/2020)
* Individual store prices may vary.
Description
From the wildly inventive mind of thriller master Sandrone Dazieri, whose first novel featuring investigators Colomba Caselli and Dante Torre, Kill the Father, was an international bestseller, comes the ingenious second novel in the series, Kill the Angel.

In Rome, a high-speed train hurtles into the city's main station with a carriage full of dead bodies, the macabre discovery of which falls to Deputy Police Commissioner Colomba Caselli. Subsequently, the police receive a claim of responsibility and the threat of more murders to come. But neither Caselli nor her eccentrically brilliant ally, Dante Torre, are yet ready to buy the terrorist link.

As the two maverick investigators puncture the façade of what the perpetrator wants everyone to believe, they come close to dying several times.

Not for the first time, Dante's bizarre childhood, during which he was kept confined for years in a concrete silo, enables him to see what others miss, and in this case, to connect with a kindred spirit of sorts, a woman named Giltine who experienced an equally bizarre childhood from which she emerged damaged, lethal, and full of murderous intent.

Adding to Giltine's eerie fierceness is that, as the victim of a rare mental illness, she believes she's already dead. She's unacquainted with fear. And that makes her the most formidable foe Colomba and Dante have faced yet.

As the story climaxes, the duo finds themselves utterly on their own, on the outs with law enforcement and the only ones with a chance to make sure the waters of Venice don't turn red with blood.
About the Author
Sandrone Dazieri is the bestselling author of numerous novels and screenplays. Kill the Father, the first novel in his series featuring Colomba Caselli and Dante Torre, was an international bestseller and received spectacular praise for its highly unconventional detective duo. Kill the Angel was also a bestseller, and Kill the King is the third and final novel in the series. You can follow him on Twitter @SandroneDazieri.
Praise For Kill the Angel: A Novel (Caselli and Torre Series #2)…
"Explosive . . . [With] unrelentingly suspenseful effect, [Dazieri] once again exits with a cliff-hanger. With complex and fallible characters and nonstop action, this is prime international crime fiction and a great fit for followers of David Hewson's Rome-set Nic Costa series."
—Booklist (Starred Review)

Praise for Kill the Father:

"If you want to study how a novel is written, look no further than Italian newcomer Sandrone Dazieri. His American debut, Kill the Father, is impeccable, from the buildup of characters and place to the crisp narrative…Do not pass this one up; it's a terrific crime drama."
—Durango Telegraph

"Outstanding…[an] unrelenting, adrenaline-fueled novel, with a final twist serving as a setup for a sequel. Don't be surprised if Kill the Father becomes the next Big Thing in international crime fiction."
—Booklist, starred review

"Dazzling … told in brutal, often wrenching detail."
—Publishers Weekly

"One of the nastier crimes in recent memory…There are twists aplenty as Dante and Colomba track down The Father, even as he spins an ever finer trap for them…A dark treat for mystery buffs."
—Kirkus Reviews

"Colomba Caselli and Dante Torre are certainly the most audacious characters to emerge in crime fiction in many moons…. [The book] has more climaxes than a brothel on a Saturday night. It's almost like those 15 chapter serials we saw at the movies when we were kids…with each episode ending with a cliffhanger…Dazieri is an inventive and original writer."
—David Rothenberg on WBAI Radio

"A big psychological suspense novel that captures the reader from the first page…Shocks, surprises, horrors, twists, and revelations abound in this long, compelling thriller."
—Otto Penzler, LitHub

"Absorbing, disturbing, clever, bizarre, original and brutal. The outline of the plot is simple, its execution thrilling."
—The Times of London (Book of the Month)

"This [debut] introduces us to two of the most intriguing detectives to have emerged in recent years… Brutal and frighteningly realistic, it never loses its grip."
—Daily Mail

"Already a bestseller throughout Europe, and receiving fantastic advance praise… [a] fascinatingly complex thriller."
—i newspaper

"An intelligent thriller… very entertaining."
—Jake Kerridge, Sunday Express

"Dark and twisty."
—Peterborough Evening Telegraph

"Kill the Father is a mind-bending, stunningly original page-turner that twists the concept of psychological thriller in a terrifying and wonderful way. In Dante and Colomba, Sandrone Dazieri has created two of the most memorable characters in modern crime fiction, a pair of damaged, noble heroes compelled to confront unimaginable evil. Bravo."
—Jonathan Kellerman, New York Times bestselling author of When the Bough Breaks, A Cold Heart, Dr. Death, and Breakdown

"Sandrone Dazieri's American debut is an epic tale that surprises at every turn—a twisty, mind-boggler that introduces not one but two memorable protagonists and hurls them into circumstances that threaten both their lives and sanity. The rollercoaster ride continues to the very last page, leaving me impatient for the sequel."
—Joseph Finder, New York Times bestselling author of Guilty Minds and Suspicion

"Absolutely electrifying. Kill the Father is one of those rare treasures: a page-turning thriller—in every sense of the phrase—that is also brilliantly nuanced and rich with insight into the complex and compelling minds of those, good and bad, who inhabit its pages. This novel is the new definition of a one-sitting read."
—Jeffery Deaver, New York Times bestselling author of The Bone Collector and The Steel Kiss

"Kill the Father is an intense, gripping, and entirely unforgettable story—part psychological puzzle, part police procedural, and part conspiracy theory. Mr. Dazieri has written a thriller of the highest order. Highly recommended."
—Christopher Reich, New York Times bestselling author of Numbered Account and Rules of Deception

"This ingenious thriller features a pair of protagonists with personal demons as unnerving as the vicious monster they're pursuing. And it's a wonderfully twisty and chilling pursuit, leading not only to the monster's shocking identity but to his equally shocking links to powerful and dark enablers."
—John Verdon, internationally bestseller author of Think of a Number, Shut Your Eyes Tight, Peter Pan Must Die, and Wolf Lake

"Kill the Father starts with the investigation of a murder-kidnapping then shows its two intriguing heroes following surprising twists and turns to an unexpected ending. Truly original thrillers are rare, but Sandrone Dazieri has written one."
—Phillip Margolin, New York Times bestselling author of Violent Crimes