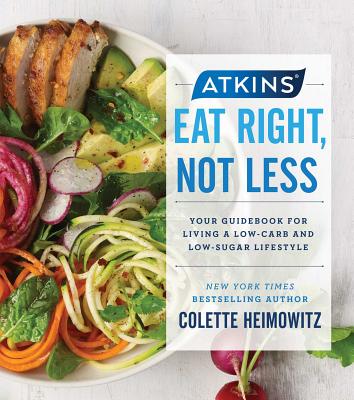 Atkins
Eat Right, Not Less: Your Guidebook for Living a Low-Carb and Low-Sugar Lifestyle
Hardcover

* Individual store prices may vary.
Description
Enjoy the benefits of a lower-carb lifestyle on your own terms—including a better keto diet: This is Atkins® your way.

For more than forty years, Atkins has used proven scientific research to help millions achieve weight-loss goals and improve their health by controlling carbohydrate consumption. Dr. Atkins actually introduced the concept of "ketosis" to the general public in 1972 in his first book, Dr. Atkins' Diet Revolution. With this book, you too can live a low-carb and low-sugar lifestyle that's as flexible as it is inspiring.

A BETTER KETO DIET AND SO MUCH MORE: This all-new Atkins guidebook focuses on eating right—not less—for painless weight management and better overall health. Choose the program that works for you: Atkins' classic approach (Atkins 20®), a better keto diet (Atkins 40®), or small changes that lead to big results (Atkins 100™).

100 DELICIOUS WHOLE-FOOD RECIPES: Not only are the recipes in this book low in carbs and sugar, they contain a healthy balance of proteins and healthy fats, and they are nutrient-dense.

MEAL PLANS TO HELP YOU ACHIEVE YOUR GOALS: Six full weeks of meal plans packed with variety, these healthy takes on classic comfort foods offer simple solutions for eating the foods we love in a healthier way.

Plus, learn about the Hidden Sugar Effect and how to avoid it, and read real-life tips for creating a low-carb kitchen and for setting achievable goals. You'll see how easy it is to eat right—not less—to reach your weight-management goals and achieve optimal health.
Praise For Atkins: Eat Right, Not Less: Your Guidebook for Living a Low-Carb and Low-Sugar Lifestyle…
"As the science continues to support low-carb eating as a healthy and therapeutic lifestyle, there is a critical need to help people make the behavioral switch to limiting carbs while embracing fat. This book lays out a simple set of principles that can be tailored to meet the unique metabolism and preferences of different people. Colette shares her decades of practical experience by providing delicious recipes and valuable tips to make this life-changing transition safe, easy, sustainable, and most importantly, pleasurable."–Jeff Volek, PhD, RD

"Atkins was the spiritual godfather of everything you see happening now in the world of cutting edge nutrition. High-fat diets, paleo, keto, low-carb—it all started with Atkins, one of the most brilliant figures in weight loss. No one is more qualified to set the Atkins record straight than Colette Heimowitz and she does just that in this wonderful book!"—Jonny Bowden, PhD, bestselling author of Living Low Carb and The 150 Healthiest Foods on Earth
Atria Books, 9781501175442, 336pp.
Publication Date: December 12, 2017
About the Author
As vice president of nutrition and education, Colette Heimowitz is the driving force for nutrition information at Atkins Nutritionals, Inc. She is the nutritionist face to the Atkins Community, which is dedicated to helping people reach their weight management goals. As part of this initiative, she publishes a weekly nutritionist blog, creates content devoted to educating new members about the program, and stays up to date on emerging research on human nutrition. Colette has been a guest on radio programs nationwide, as well as on television networks including CNN, Fox News, and MSNBC. She has more than twenty-five years of experience as a nutritionist and received her MSc in clinical nutrition from Hunter College of the City University of New York.
or
Not Currently Available for Direct Purchase