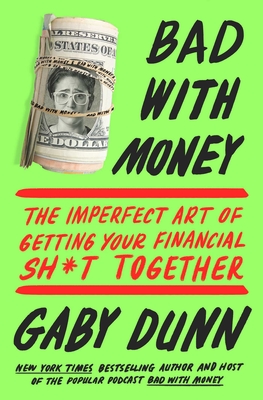 Bad with Money
The Imperfect Art of Getting Your Financial Sh*t Together
Paperback

* Individual store prices may vary.
Other Editions of This Title:
Digital Audiobook (12/31/2018)
Compact Disc (1/1/2019)
Compact Disc (1/1/2019)
Description
"Humorous and forthright...[Gaby] Dunn makes facing money issues seem not only palatable but possibly even fun....Dunn's book delivers." —Publishers Weekly

The beloved writer-comedian expands on her popular podcast with an engaging and empowering financial literacy book for Millennials and Gen Z.

In the first episode of her "Bad With Money" podcast, Gaby Dunn asked patrons at a coffee shop two questions: First, what's your favorite sex position? Everyone was game to answer, even the barista. Then, she asked how much money was in their bank accounts. People were aghast. "That's a very personal question," they insisted. And therein lies the problem.

Dunn argues that our inability to speak honestly about money is our #1 barrier to understanding it, leading us to feel alone, ashamed and anxious, which in turns makes us feel even more overwhelmed by it. In Bad With Money, she reveals the legitimate, systemic reasons behind our feeling of helplessness when it comes to personal finance, demystifying the many signposts on the road to getting our financial sh*t together, like how to choose an insurance plan or buy a car, sign up for a credit card or take out student loans. She speaks directly to her audience, offering advice on how to make that #freelancelyfe work for you, navigate money while you date, and budget without becoming a Nobel-winning economist overnight.

Even a topic as notoriously dry as money becomes hilarious and engaging in the hands of Dunn, who weaves her own stories with the perspectives of various comedians, artists, students, and more, arguing that—even without selling our bodies to science or suffering the indignity of snobby thrift shop buyers—we can all start taking control of our financial futures.
Praise For Bad with Money: The Imperfect Art of Getting Your Financial Sh*t Together…
"Dunn weaves together memoir, social commentary, and financial advice in a humorous self-help book for anyone white-knuckling it towards economic independence. She doesn't condemn bad fiscal decisions but rather offers manageable how-tos for getting yourself out of a bad situation and planning for the future."— Booklist

"In a humorous and forthright manner, podcaster Dunn makes facing money issues seem not only palatable but possibly even fun. With wisdom earned through making almost every conceivable mistake, Dunn coherently explains such topics as credit history, the workings of banks and credit cards, and estate planning. Whether read as candid memoir or as utilitarian financial primer, Dunn's book delivers."— Publishers Weekly

"Anyone overwhelmed by the murky, flawed system of finances in America will find an honest, helpful guide in Dunn." —BookPage

"[A] gloriously helpful book on modern-day financial literacy." — Entertainment Weekly

"There can be multiple queer women in the financial space, and we can have a diversity of opinions on how to best handle money. I hope that we stop pushing all kinds of marginalized people out of this world that needs to be open to us. We deserve a spot at the table too, even if the money world is traditionally so white and cis and able-bodied and straight and male. It's our time now." —them

"Dunn's approach undeniably speaks to a generation caught between outdated boomer visions of success and the harsh realities of a world that increasingly makes basic financial survival a luxury only a few are entitled to . . . . This is our collective wheelhouse now, and that's what Dunn faces head on in Bad With Money."—VICE

"A frank, no nonsense book about money, Dunn adds the spice of humor to get through the skull of even those who think they are truly hopeless. Buckle up, you're about to adult hard and successfully."— Refinery29

"Communicates personal finance in a way that's accessible, and doesn't chastise the reader for not starting a retirement fund in utero like some other financial guru might. Dunn seamlessly oscillates between the personal and pragmatic, sharing her stories of her own upbringing that influenced her outlook on finance well into adulthood, all while breaking down the flawed power structures that benefit some more than others, and teaching us the difference between a 401(k) and a Roth I.R.A.—in a way that doesn't make you want to scream into a pillow."—Vanity Fair

"Comically candid and . . . full of takeaway lessons for just about everyone." —The Simple Dollar
Atria Books, 9781501176333, 304pp.
Publication Date: January 1, 2019
About the Author
Gaby Dunn is a bestselling author, journalist, television writer, actress, and LGBTQ activist living in Los Angeles. Her podcast "Bad With Money" was named one of the top ten podcasts of 2016 by The New York Times. Along with her comedy partner Allison Raskin, Gaby stars in, writes, and produces the YouTube channel Just Between Us, which has been viewed over 140 million times. Their 2017 novel I Hate Everyone But You was a New York Times bestseller. She is on Twitter as @GabyDunn and on Instagram as @GabyRoad.