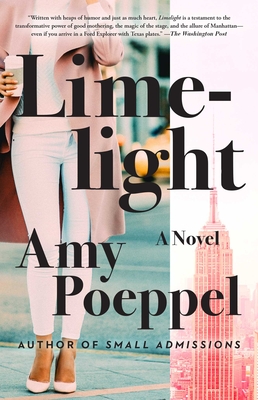 Limelight
A Novel
Paperback

* Individual store prices may vary.
Other Editions of This Title:
Digital Audiobook (4/30/2018)
Description
In a smart and funny novel by the award-winning author of the critically acclaimed "big-hearted, charming" (The Washington Post) Small Admissions, a family's move to New York City brings surprises and humor.

Allison Brinkley—wife, mother, and former unflappable optimist—discovers that her decision to pack up and move her family from suburban Dallas to the glittery chaos of Manhattan may have been more complicated than she and her husband initially thought. New York is more unruly and bewildering than she expected, defying the notions she developed from romantic movies and a memorable childhood visit. After a humiliating call from the principal's office and the loss of the job she was counting on, Allison begins to accept that New York may not suit her after all.

When she has a fender-bender, witnessed by a flock of mothers at her son's new school, she is led to the penthouse apartment of a luxurious Central Park West building and encounters a spoiled, hungover, unsupervised teenager who looks familiar. It doesn't take long to recognize him as Carter Reid—a famous pop star who has been cast in a new Broadway musical. Through this brush with stardom, Allison embraces a unique and unexpected opportunity that helps her find her way in the heart of Manhattan.

"A tribute to Broadway, teen celebrity life, and a mother who has now seen it all, this work is tough love at its finest and a great read for those wanting a ride on the wild side" (Booklist, starred review).
Praise For Limelight: A Novel…
"Will strike a chord in every reader."
— US Weekly

"Such a delight! I rise to a standing ovation for Limelight, especially for dialogue that had me marveling on every page. Carter Reid has to be the most wonderfully/perfectly rendered spoiled celebrity brat I've encountered on the page. Brava, Amy Poeppel!"
— Elinor Lipman, author of ON TURPENTINE LANE and THE INN AT LAKE DIVINE

"A delightful, twist-of-fate tale of a suburban transplant whose new Manhattan life collides with that of a troubled pop star on the cusp of his Broadway debut. LIMELIGHT is a quintessential New York story of motherhood, family, and fairy-tale possibilities. A must-read for fans of Lauren Weisberger and Sophie Kinsella."
— Jamie Brenner, bestselling author of The Husband Hour

"An absolute delight! Celebrity culture and modern motherhood collide in a warm and witty love letter to Broadway, told with Poeppel's pitch-perfect wit and smart, breezy style. Allison and Carter are the odd couple you've been waiting for. Hysterical!"
— Georgia Clark, author of THE REGULARS and THE BUCKET LIST

"Amy Poeppel has pulled out all the stops to create an authentic inside glimpse into the theater world."
— Tony Shalhoub, actor

"The story of a Broadway primadonna and the behind-the-scenes theatrical world made Amy Poeppel's novel very special for me . . . A wonderful read!"
— Roger Horchow, Tony Award-winning Broadway producer

"Witty, assured, and remarkably tender, Limelight is a grade-A delight. Once again, Poeppel shows us that she's a master of observation. With her as a guide, everything--ranging from motherhood, to New York City, to hilariously spoiled teen idols--takes on a new, refreshing glean."
— Grant Ginder, Author of PEOPLE WE HATE AT THE WEDDING

"LIMELIGHT is a fun peek into the world of teen idols and Manhattan life."
— MSN.com, "Best New Books You Should Read This Spring"

"With well-developed characters and an engaging plot, Poeppel's sophomore effort (after Small Admissions) is sure to please the many fans of the her first novel."
— Library Journal

"Readers, prepare to be surprised by this unexpected and unique novel. Told from the perspective of a middle-age substitute teacher, Limelight explores the theme of family in all of its interesting and unconventional forms. The characters are breathtakingly open and honest."
— RT Book Reviews

"Outstanding...A tribute to Broadway, teen celebrity life, and a mother who has now seen it all, this work is tough love at its finest and a great read for those wanting a ride on the wild side."
— Booklist (starred review)

Best New Books You Should Read This Spring
— Popsugar

"When I saw the glamourous scene on this cover, I thought it might be an escape—and it was a hilarious one! ...This read was so fun! I laughed out loud at the over-the-top celebrity antics—it left me grateful for my low-drama life!"
— First for Women

Best New Books You Should Read This Spring
— PopSugar
Atria/Emily Bestler Books, 9781501176388, 416pp.
Publication Date: May 14, 2019
About the Author
Amy Poeppel is the award-winning author of the novels The Sweet Spot, Musical Chairs, Limelight, and Small Admissions. Her writing has appeared in The New York Times, The Rumpus, Literary Hub, and Working Mother. She and her husband have three sons and split their time between New York City, Germany, and Connecticut. She would love to hear from you on Twitter or Instagram: @AmyPoeppel or at AmyPoeppel.com.