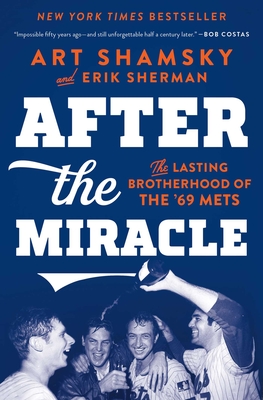 After the Miracle
The Lasting Brotherhood of the '69 Mets
Paperback

* Individual store prices may vary.
Other Editions of This Title:
Digital Audiobook (3/18/2019)
Hardcover (3/19/2019)
Compact Disc (3/19/2019)
Description
"A great and insightful" (Keith Hernandez, New York Mets legend and broadcaster) New York Times bestselling account of an iconic team in baseball history: the 1969 New York Mets—a last-place team that turned it all around in just one season—told by '69 Mets outfielder Art Shamsky, Hall of Fame pitcher Tom Seaver, and other teammates who reminisce about that legendary season and their enduring bonds decades later.

The New York Mets franchise began in 1962 and the team finished in last place nearly every year. When the 1969 season began, fans weren't expecting much from "the Lovable Losers." But as the season progressed, the Mets inched closer to first place and then eventually clinched the National League pennant. They were underdogs against the formidable Baltimore Orioles, but beat them in five games to become world champions. No one had predicted it. In fact, fans could hardly believe it happened. Suddenly they were "the Miracle Mets."

Playing right field for the '69 Mets was Art Shamsky, who had stayed in touch with his former teammates over the years. He hoped to get together with star pitcher Tom Seaver (who would win the Cy Young award as the best pitcher in the league in 1969 and go on to become the first Met elected to the Hall of Fame), but Seaver was ailing and could not travel. So, Shamsky organized a visit to "Tom Terrific" in California, accompanied by the #2 pitcher, Jerry Koosman, outfielder Ron Swoboda, and shortstop Bud Harrelson. Together they recalled the highlights of that amazing season as they reminisced about what changed the Mets' fortunes in 1969.

In this "enjoyable tale of a storybook season" (Kirkus Reviews), and with the help of sportswriter Erik Sherman, Shamsky has written the "revealing" (New York Newsday) After the Miracle for the 1969 Mets. "This heartfelt, nostalgic memoir will delight baseball fans of all ages and allegiances" (Publishers Weekly). It's a book that every Mets fan must own.
Praise For After the Miracle: The Lasting Brotherhood of the '69 Mets…
"I just finished reading Art Shamsky's new book about those '69 Miracle Mets and their upset victory over the vaunted Baltimore Orioles. I was a sophomore in high school and this book brought back all those vivid memories of that series. A great and insightful read."
— Keith Hernandez

"Charming. . . . a touching rendering of loving comrades reuniting to share memories of past glory. Messrs. Seaver and Harrelson are also astonishingly open about their ailments. I can only express my gratitude, as someone who grew up adoring these two great athletes from afar, for the glimpse this book affords into their elegance and bravery in the face of hard times."
— Alva Noë

"Not since Halberstam's The Teammates: Portrait of a Friendship, have I read a more heartfelt and inspiring book about what it means to be linked forever. I personally know the kindness of the author, Art Shamsky, only he could pull off this hilarious and melancholy look at getting old but remaining forever young because of their shared 'miracle' in 1969."
— Ron Darling

"Impossible fifty years ago — and still unforgettable half a century later."


— Bob Costas

"After the Miracle is touching and beautiful—a magical book about a magical team."
— Jonathan Eig, author of Luckiest Man, Opening Day, and Ali: A Life

"Wasn't that a time? When the last became first and anything seemed possible, in baseball and in life? After the Miracle recalls those thrilling days for now-old boys like me, and shows a new generation of fans that losing serves only to sweeten victory. Warmly and wistfully, Art Shamsky and Erik Sherman reunite the boys of summer, fifty years later."
— John Thorn, Official Historian of Major League Baseball and author of Baseball in the Garden of Eden

"A revealing look at The Franchise."
— Steven Marcus

"Terrific. . . . After the Miracle will quickly become one of the better, if not one of the very best, baseball books of 2019. The clarity with which it's told, its ability to engage readers and make them feel like they are a part of the magical history, and its powerful attention to detail not only gives Mets fans new insight into the history of the 1969 season, but also stands as a testament to how a motley crew of baseball players inadvertently bridged the political and social divides that were so commonplace in 1969, even if it was only for a few days in October 1969."
— R. Zachary Sanzone
Simon & Schuster, 9781501176531, 336pp.
Publication Date: March 17, 2020
About the Author
Art Shamsky was a Major League baseball player for eight years, and an integral part of the World Championship team in 1969. Since his retirement from baseball, he has been involved in various businesses and worked as a sports broadcaster at WNEW-TV in New York City and on ESPN, and as a broadcaster for the NY Mets.

Erik Sherman is the author of the critically acclaimed Kings of Queens: Life Beyond Baseball With The '86 Mets, and is also the coauthor of four highly acclaimed baseball autobiographies with Glenn Burke, Steve Blass, Mookie Wilson, and Davey Johnson. Erik is an annual lecturer at the National Baseball Hall of Fame in Cooperstown, New York.