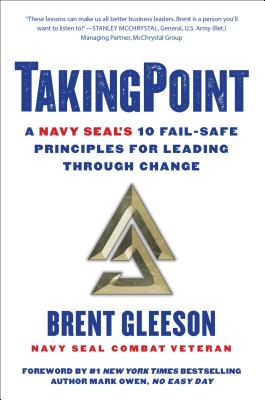 TakingPoint
A Navy SEAL's 10 Fail Safe Principles for Leading Through Change
Hardcover

* Individual store prices may vary.
Other Editions of This Title:
Digital Audiobook (2/26/2018)
Paperback (12/31/2050)
Description
Decorated Navy SEAL, successful businessman and world-renowned speaker Brent Gleeson shares his revolutionary approach to navigating and leading change in the workplace—with a foreword by #1 New York Times bestselling author Mark Owen.

Inspired by his time as a Navy SEAL and building award-winning organizations in the business world, Brent Gleeson has created a powerful roadmap for today's existing and emerging business leaders and managers to improve their ability to successfully navigate organizational change. Over the past ten years since leaving the SEAL Teams, Gleeson has become a well-respected thought leader and expert in business transformation. He has spoken to and consulted with hundreds of organizations across the globe and inspired thousands of business leaders through his highly insightful philosophies on leadership, culture and building high-performance teams that achieve winning results.

In TakingPoint, Gleeson shares his ten-step program that he has implemented in his own companies and for his high-profile clients—giving leaders and managers actionable insights and a framework for successful execution. TakingPoint brilliantly captures the structures, behaviors and mindsets required to build successful twenty-first century organizations. With a strong emphasis on communication, culture, engagement, accountability, trust, and resiliency, Gleeson's methods have helped hundreds of companies around the world transform the way they think about change, and can help yours do the same.

For the last five years, Gleeson has shared his philosophies through his weekly columns on Forbes and Inc. And now, for the first time ever, they are captured in this entertaining and highly prescriptive book.

Steps include:

-Culture: The Single Most Important Enabler
-Trust: Fueling the Change Engine
-Accountability: Ownership at All Levels
-Mindset: Belief in the Mission
-Preparation: Gathering Intelligence and Planning the Mission
-Transmission: Communicating the Vision
-Inclusion: The Power of Participation and Acceptance
-Fatigue: Managing Fear and Staying Energized
-Discipline: Focus and Follow-Through
-Resiliency: The Path of Lasting Change

Never has change been more consistent and disruptive as it is now. Business leaders and managers at all levels can't just react to change. They have to lead change. They have to take point.
Praise For TakingPoint: A Navy SEAL's 10 Fail Safe Principles for Leading Through Change…
"For those that want to deepen their understanding of the lessons today's veterans have learned, and how those lessons can make us all better business leaders, Brent is a person you'll want to listen to!" —Stanley McChrystal General, U.S. Army (Ret.) Managing Partner, McChrystal Group

"Victorious warriors win first and then go to war. So should business leaders. No matter what industry you're in, it will face change. By outfitting you with a set of brilliant, battlefield-proven principles, TakingPoint will help you meet that change head-on and guide your team to success." —Brad Thor, #1 New York Times bestselling author of Use of Force

"Not just another leadership book. It is an inspirational shot of adrenaline with clearly defined tenets upon which to build and transform organizations." —Jack Carr, former Navy SEAL and author of The Terminal List

"I was struck by how much Brent Gleeson's 10 Principles applied to the entrepreneurs and business leaders we serve at Inc…one of the most credible business books I've seen in a long while." —Eric Schurenberg, President and Editor-in-Chief, Inc. Media

"Gleeson's philosophy about the importance of culture and engagement – light years beyond the traditional lazy platitudes about empowerment – are ideas that desperately need to be put to work in this new century." —Jeff Campbell Former Chairman/CEO of Burger King Corporation Chairman Emeritus at San Diego's Chairmen's Roundtable

"In TakingPoint – inspired by Navy SEAL principles of discipline, accountability, resiliency and agility - Gleeson shares his unique combination of tactics and strategies all leaders and managers need in today's more volatile and unsettled business environment." —Congressman Scott Taylor, Former Navy SEAL

"In TakingPoint – inspired by Navy SEAL principles of discipline, accountability, resiliency and agility - Gleeson shares his unique combination of tactics and strategies all leaders and managers need in today's more volatile and unsettled business environment." —Congressman Scott Taylor, Former Navy SEAL

"This book is a must-read for any business leader or manager! In a rapidly evolving business environment driven by new innovations and increasing consumer expectations, the Navy SEAL philosophy of 'becoming comfortable being uncomfortable' is a key message." —Todd Hymel, CEO, Volcom

"Brent's vivid storytelling perfectly captures the Navy SEAL experience and makes it relatable to any business leader by defining leadership, culture, discipline, accountability and most importantly - adaptability." —Quinn Lyzuun, Deputy CEO, Optos

"With humor and deep insight about how to effect crucial changes necessary to lead teams in an accelerating world, Brent takes point once again to show business leaders the way." —Mark Divine, Navy SEAL, Commander (Retired) New York Times bestselling author of The Way of the SEAL

"This is the best book on culture and leading change in an organization I have ever read." —Matthew Koder, President, Asia Pacific, Major Global Bank

"The ten principles in TakingPoint provide an extremely valuable roadmap for any leader to successfully navigate their teams through the rapid waters of change. —Alisha L. Nowlin Senior Executive, Global Aerospace and Defense Company
Atria Books, 9781501176784, 256pp.
Publication Date: February 27, 2018
About the Author
Brent Gleeson is a highly sought-after business consultant, a serial entrepreneur, and a decorated Navy SEAL. He has degrees in finance and economics from Southern Methodist University, English and history from Oxford University, and a graduate business degree from the University of San Diego. As a member of SEAL Team 5, Gleeson's platoon had some of the first SEALs deployed to Iraq in early 2003. He served several tours in Iraq, Africa, and other theaters of war. After returning to civilian life, he built award-winning, multi-million dollar organizations that were repeatedly named in the Inc. 500 list of fastest growing private companies. He has been featured on many business podcasts and local and national news channels such as CNBC, Fox, CBS, NBC, ABC, TMZ, and the Discovery Channel. For the past five years he's written about business and change in his two regular business columns in Forbes and Inc. TakingPoint is his first book.
or
Not Currently Available for Direct Purchase