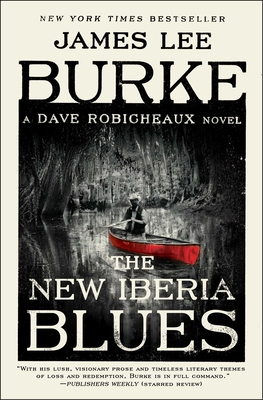 The New Iberia Blues
A Dave Robicheaux Novel
Paperback

* Individual store prices may vary.
Other Editions of This Title:
Digital Audiobook (1/9/2019)
Digital Audiobook (1/7/2019)
CD-Audio (1/7/2020)
Library Binding, Large Print (2/27/2019)
Hardcover (1/8/2019)
CD-Audio (1/8/2019)
Description
Named one of the best crime novels of 2019 by The New York Times Book Review.

The shocking death of a young woman leads Detective Dave Robicheaux into the dark corners of Hollywood, the mafia, and the backwoods of Louisiana in this New York Times bestselling mystery from "modern master" (Publishers Weekly) James Lee Burke.

Detective Dave Robicheaux's world isn't filled with too many happy stories, but Desmond Cormier's rags-to-riches tale is certainly one of them. Robicheaux first met Cormier on the streets of New Orleans, when the young, undersized boy had foolish dreams of becoming a Hollywood director.

Twenty-five years later, when Robicheaux knocks on Cormier's door, it isn't to congratulate him on his Golden Globe and Academy Award nominations. Robicheaux has discovered the body of a young woman who's been crucified, wearing only a small chain on her ankle. She disappeared near Cormier's Cyrpemort Point estate, and Robicheaux, along with young deputy, Sean McClain, is looking for answers. Neither Cormier nor his enigmatic actor friend Antoine Butterworth are saying much, but Robicheaux knows better.

As always, Clete Purcel and Davie's daughter, Alafair, have Robicheaux's back. Clete witnesses the escape of Texas inmate, Hugo Tillinger, who may hold the key to Robicheaux's case. As they wade further into the investigation, they end up in the crosshairs of the mob, the deranged Chester Wimple, and the dark ghosts Robicheaux has been running from for years. Ultimately, it's up to Robicheaux to stop them all, but he'll have to summon a light he's never seen or felt to save himself, and those he loves.

Stephen King hailed New York Times bestselling author James Lee Burke "as good as he ever was." With The New Iberia Blues, Burke proves that he "just keeps getting better" (Booklist, starred review), and is "one of a small handful of elite suspense writers whose work transcends the genre, making the leap into capital-L Literature" (BookPage).
Praise For The New Iberia Blues: A Dave Robicheaux Novel…
"With his lush, visionary prose and timeless literary themes of loss and redemption, Burke is in full command in this outing for his aging but still capable hero."—Publishers Weekly, Starred Review

"James Lee Burke is one of a small handful of elite suspense writers whose work transcends the genre, making the leap into capital-L Literature. You don't have to get past the opening paragraph of The New Iberia Blues to see his mastery of the craft...I read it slowly, pausing from time to time to digest the first-rate prose, the atmospheric bayou setting and the complex interactions of people I feel I have known for 30-plus years." —Bookpage

"At 82, Burke just keeps getting better, his familiar theme of an idyllic past at war with a demon-drenched present taking on more subtle levels of meaning…And, yet, there are signs of hope here—even a glimmer of marriage between past and present—that give the novel a new dimension, but not before an all-stops-out finale with the power of cannon fire in the 1812 Overture."—Booklist, Starred Review

"Indeed, filled with spookiness, spirituality, and slayings a-plenty, this may be the best, most hard-to-figure-out Robicheaux novel yet. Get your hands on it today, because 'The New Iberia Blues' positively pops."—The Guam Daily Post

"Burke is an old hand at this game, and he juggles deeply flawed characters, several subplots, and dark humor with the vivid prose that draws comparisons to William Faulkner."—New York Journal of Books

"We're hanging on for Robicheaux's pensées...and those angry outbursts when Robicheaux lets it rip: 'I don't think you get it,' he tells one of the movie people. 'Louisiana is America's answer to Guatemala. Our legal system is a joke. Our legislature is a mental asylum. How'd you like to spend a few days in our parish prison?' Only if there's a new James Lee Burke novel in the cell." —New York Times Book Review

"Many of the character types, plot devices, and oracular sentiments are familiar from Burke's earlier books. But the sentences are brand new, and the powerful emotional charge they carry feels piercingly new as well."—Kirkus, Starred Review

"Burke remains an icon of the crime fiction world and one of its truly great practitioners, packing more soul and more poetry into a paragraph than some authors can manage in a book." —CrimeReads
Simon & Schuster, 9781501176890, 464pp.
Publication Date: January 7, 2020
About the Author
James Lee Burke is a New York Times bestselling author, two-time winner of the Edgar Award, and the recipient of the Guggenheim Fellowship for Creative Arts in Fiction. He's authored thirty-nine novels and two short story collections. He lives in Missoula, Montana.