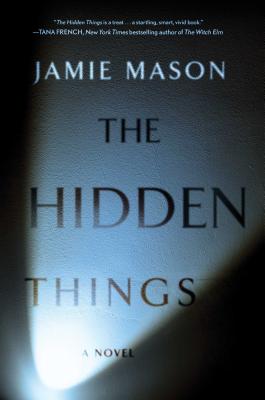 The Hidden Things (Hardcover)
Gallery Books, 9781501177316, 352pp.
Publication Date: August 13, 2019
Other Editions of This Title:
Compact Disc (8/13/2019)
Library Binding, Large Print (11/6/2019)
Paperback (3/3/2020)
Paperback (8/13/2019)
* Individual store prices may vary.
Description
A hair-raising, atmospheric thriller from the acclaimed author of the "ripping good" (The New York Times) novel Three Graves Full, inspired by the real-life unsolved theft of a seventeenth-century painting.

Twenty-eight seconds.

In less than half a minute, a home-security camera captures the hidden resolve in fourteen-year-old Carly Liddell as she fends off a vicious attack just inside her own front door. The video of her heroic escape appears online and goes viral. As the view count climbs, the lives of four desperate people will be forever changed by what's just barely visible in the corner of the shot.

Carly's stepfather is spurred to protect his darkest secret: how a stolen painting—four hundred years old, by a master of the Dutch Golden Age—has come to hang in his suburban foyer. The art dealer, left for dead when the painting vanished, sees a chance to buy back her life. And the double-crossed enforcer renews the hunt to deliver the treasure to his billionaire patrons—even if he has to kill to succeed.

But it's Carly herself, hailed as a social-media hero, whose new perspective gives her the courage to uncover the truth as the secrets and lies tear her family apart.
About the Author
Jamie Mason was born in Oklahoma City and grew up in Washington, DC. She's most often reading and writing, but in the life left over, she enjoys films, Formula 1 racing, football, traveling, and, conversely, staying at home. Jamie lives with her husband and two daughters in the mountains of western North Carolina. She is the author of Three Graves Full, Monday's Lie, and The Hidden Things.
Praise For The Hidden Things…
"Hidden Things is a treat: a heist story taken to pieces and expertly put back together at off-kilter angles into a startling, smart, vivid book."


— Tana French, New York Times bestselling author of The Witch Elm

"The Hidden Things confirms Jamie Mason's prodigious and wholly original talent. In a world of copycat writers chasing trends, she does her own thing -- and it's magnificent."


— Laura Lippman, New York Times bestselling author of SUNBURN

"Greed and revenge collide as Jamie Mason deftly explores an art theft gone terribly wrong. THE HIDDEN THINGS is a wholly original and deeply compelling read that will keep readers on the edge of their seats."


— Mary Kubica, New York Times bestselling author of The Good Girl and When the Lights Go Out

"A tense and captivating story of things both lost and found, THE HIDDEN THINGS puts an entirely unique twist on the aftermath of an art heist. A sharp, atmospheric thriller that lingered long after I turned the final page—I couldn't put it down."
— Megan Miranda, New York Times bestselling author of ALL THE MISSING GIRLS and COME FIND ME

"The Hidden Things is a model for superb thriller writing. It checks all the boxes: Grabbing us on the opening page, sending us on a roller coaster of plotting, taking us deep into a world (fine arts) that most of us only glimpse from the outside, and offering up a cast of brilliantly drawn characters, noble and evil and everything in between. Mason also proves to be an ace wordsmith, whose sharply drawn prose elevates the novel to an even higher peak."


— Jeffery Deaver, New York Times bestselling author of The Bone Collector and The Never Game

"A smart and hugely entertainingly thriller, with so many sharp twists and hairpin turns that you'll need to hold on for dear life. But it's the compelling, nuanced characters--dark, light, and every shade in-between--who will stay with you long after the last page."
— Lou Berney, author of November Road

"Relentlessly suspenseful and as hauntingly sinister as any book I have ever read. This dark domestic noir, with greed and bravery clashing over a priceless possession, is irresistibly sardonic and beautifully written, with a complex and textured cast , a twisty contemporary plot, and one of the most endearing and unforgettable main characters you will ever meet. A master class in character and a knockout of a story, this book is a rare treasure—terrifying, heartbreaking, and completely original."
— Hank Phillippi Ryan, nationally bestselling and award-winning author of THE MURDER LIST

"Suspenseful . . . the whip-smart, courageous Carly [is] hands down, the best part of the book. Those with an interest in the real-life museum theft may want to check this one out."
— Publishers Weekly

"[Mason] is wonderfully adept at creating multifaceted characters in emotionally complex relationships. Little black and white for these characters—just multiple shades of gray, causing readers to temper their allegiances as the plot thunders to its conclusion. Masterfully nuanced crime fiction."
— Booklist

"Captivating . . . Mason combines taut action with an intense character study and hauntingly memorable prose."
— Washington Independent Review of Books

"Mason's innovative plotting with touches of devious humor fuels the story, but The Hidden Things is driven by its perceptive character studies of criminals, the criminally inclined and two innocents whose worlds are about to implode…. Violence simmers throughout The Hidden Things, ready to explode at any moment."
— The Associated Press

"Mason delivers a well-paced thriller, steadily building suspense while unfolding a complex web of relationships. But the novel's greatest strength lies with the characters."
— Shelf Awareness

"Mason's skill in crafting plot is matched by her expertise in fashioning dialogue. . . . The twists and turns of the plot make this a reliably thrilling heist/betrayal/chase saga, but it is the twists and turns of the relationships that elevate [the story] . . . And the epilogue of The Hidden Things alone makes turning every page along the way well worth the journey."
— Washington Independent Review of Books