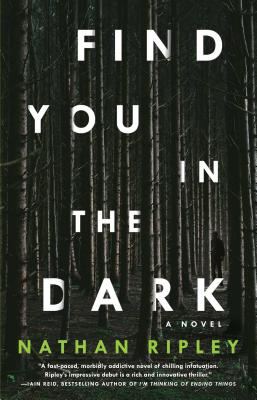 Find You in the Dark
A Novel
Paperback

* Individual store prices may vary.
Other Editions of This Title:
Digital Audiobook (6/18/2018)
Digital Audiobook (6/18/2018)
Library Binding, Large Print (12/26/2018)
Description
In this "fast-paced, morbidly addictive novel of chilling infatuation" (Iain Reid, bestselling author of I'm Thinking of Ending Things)—perfect for fans of Caroline Kepnes's Hidden Bodies and Jeff Lindsay's Dexter series—a family man with a habit of digging up the past catches the attention of a serial killer who is determined to keep his secrets uncovered.

For years, unbeknownst to his wife and teenage daughter, Martin Reese has been illegally buying police files on serial killers and obsessively studying them, using them as guides to find the missing bodies of victims. He doesn't take any souvenirs, just photos that he stores in an old laptop, and then he turns in the results anonymously. Martin sees his work as a public service, a righting of wrongs.

Detective Sandra Whittal sees the situation differently. On a meteoric rise in police ranks due to her case‑closing efficiency, Whittal is suspicious of the mysterious source she calls the Finder, especially since he keeps leading the police right to the bodies. How can he know where all these bodies are located if he's not the one putting them there?

On his latest dig, Martin searches for the first kill of Jason Shurn, the early 1990s murderer who may have been responsible for the disappearance of his wife's sister. But when he arrives at the site, he finds more than just bones. There's a freshly killed body—a young and missing Seattle woman—lying there. Someone else knew where Jason Shurn left the corpses of his victims…and that someone isn't happy that Martin has been going around digging up his work. And when a crooked cop with a tenuous tie to Martin vanishes, Whittal begins to zero in on the Finder.

"A wickedly smart thriller that manages to be both chilling and wry" (Amy Stuart, bestselling author of Still Mine), Find You in the Dark will haunt you long after you turn the final page.
Praise For Find You in the Dark: A Novel…
"A fast-paced, morbidly addictive novel of chilling infatuation. Ripley's impressive debut is a rich and innovative thriller."—Iain Reid, bestselling author of I'm Thinking of Ending Things

"A wickedly smart thriller that manages to be both chilling and wry. The page-turning plot . . . is thickened by a great cast of characters and Nathan Ripley's fantastic eye for detail and dialogue. Just when you think you've got a grasp on it, the story twists to new and darker places."—Amy Stuart, bestselling author of Still Mine

"It's not always easy diving into the mind of an obsessive protagonist, but Martin Reese's fixation on finding dead bodies makes for one heck of an addictive thriller. Find You in the Dark by Nathan Ripley is an original, inventive take on what happens when you go looking where you shouldn't. Start reading early in the day, or you'll be up all night like I was! A standout debut novel."—Jennifer Hillier, author of Jar of Hearts and Wonderland

"Find You in the Dark is an unsettling exploration of obsession you won't soon forget. Nathan Ripley delivers a first novel that fans of Patricia Highsmith psychological thrills and Thomas Harris cat-and-mouse suspense will devour. I certainly did."—Andrew Pyper, author of The Demonologist and The Only Child

"Crafty and dark, Nathan Ripley's novel toys with the lines between predator and prey, his sentences as careful and considered as the crimes he depicts…a truly exciting new voice in the thriller world."—Roz Nay, bestselling author of Our Little Secret

"A fresh angle to the serial murder game. There's a certain Silence of the Lambs feel to the twisty narrative."—Kirkus Reviews

"It's a classic crime setup…set within a thoroughly modern culture, all told by an author...with tremendous talent." – CrimeReads, Best Psychological Thrillers of 2018

"Gripping . . . . Dexter fans will enjoy the creepy vibe."— Publishers Weekly

"Ripley's debut offers a twist on the typical serial-killer story….This offers a unique spin with just enough creepy details to keep suspense readers interested."— Booklist

"This debut thriller by the pseudonymous Ripley (Journey Prize winner Naben Ruthnum) is highly recommended for fans of Lee Child and C.J. Box."— Library Journal

"A chilling story of a man who could've conceivably become a serial killer pitted against one who actually is."— New York Journal of Books

"This debut thriller is sure to have the crime community talking this summer, tapping into the true crime / amateur sleuth craze in a chilling way."— Crime Reads

"There is something unsettling about this story and readers will feel that tension growing as they consume Find You in the Dark. Contrasting and conflicting emotions will dominate, making it impossible to stop until the chase is complete. Just remember that Nietzsche has warned us: 'If you gaze long enough into an abyss, the abyss will gaze back into you.'"— BOLO Books
Atria Books, 9781501178214, 368pp.
Publication Date: May 21, 2019
About the Author
Nathan Ripley is the pseudonym of Toronto resident and Journey Prize winner Naben Ruthnum. Find You in the Dark, Ripley's first thriller, was an instant bestseller and an Arthur Ellis Awards finalist for Best First Novel. As Naben Ruthnum, he is the author of Curry: Eating, Reading, and Race. Follow him on Twitter @NabenRuthnum.
or
Not Currently Available for Direct Purchase